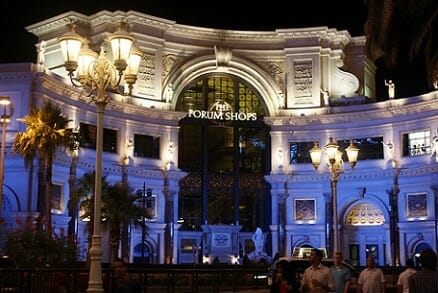 By Steve Beauregard (Updated February 2017)
In years past, a casino executive who suggested their Las Vegas resort develop a large section of potential gaming space into a shopping mall would have gotten either a drug test or a pink slip.
Yet with the opening of the Forum Shops in 1992, Caesars Palace's then-unique concept of adding a world-class shopping mall that competes for tourist dollars just steps away from the noisy slots and pit games has turned into a remarkable success, while revolutionizing the hotel/casino industry forever.
Whether it's because the incredible shopping mall is a draw for gamblers, or if it's simply another revenue source for the casino, the still-somewhat novel idea of encouraging patrons to walk away from their casino into a retail environment has been proven to work for Caesars Palace.
The Forum has over 600,000 of retail space, including 160 shops and 12 restaurants.
In terms of revenue per square foot, it is the most profitable shopping area in the United States. It's run by the Simon Property Group, which calls itself the largest real estate company in the world. By my count, they own 344 malls in the United States, including the Forum Shops.
Here you can break out the Visa and shop purchase authentic wares from famous designers like Gucci and Louis Vuitton. Other notable retailers include Versace, an Apple store, and Tiffany.
Yet it's not all high-end stores. Those with less expensive budgets can find your Nike stores, Gaps, Banana Republic, and those types of shops too.
Celebrate #ChineseNewYear at The Forum Shops! Visit our concierge desks to pick up your brochure for special deals: https://t.co/hJO3Jl35Qm pic.twitter.com/EQOCGjBv1v

— The Forum Shops (@TheForumShops) January 29, 2017
Those of you not into shopping can pleasantly kill time (or in my case, wait forever for my wife) by just grabbing a seat and watching all the fellow tourists stroll by. That in and of itself is a show. It's also fun, (and it never seems to get old), to just check out the architecture and the sights of the Forum Shops, like the spiral escalators for example.
Expansion
In 2004, during their third expansion, which extended the Form Shops out to the Las Vegas strip sidewalk, and which added 175,000 square feet of space, the shopping center became home to only the second spiral escalator in the United States. The escalators appear to be free-standing, and it's an experience to have them whisk you up to the multi-level shopping enclave in style.
The Forum also has these incredible sky ceilings are an attraction in their own right. So those tourists you see stopped in the middle of everyone's way staring up at the sky are doing it for a reason. This ceiling art shows a sky that gradually changes from day to night and back to day – all within around an hour or so.

There's also a variety of fountains, statues, and a very large aquarium (50,000 gallons), featuring a variety of over 300 exotic fish.
Then there's the visually-pleasing "Fall of Atlantis" animatronics show. This ten minute show features fire, flames, fog and talking statues. I'm not giving it justice, since it's a pretty cool way to kill time at the Forum Shops and something you don't see at the mall back home. It runs every hour on the hour near the Cheesecake Factory restaurant. The first showing of the day is at 11 AM.
Caesars Palace Forum Shops Hours
Sunday – Thursday: 10 a.m. to 11 p.m.
Friday and Saturday: 10 a.m. to Midnight.
Forum Shops Address & Phone Number
3500 Las Vegas Boulevard South
Las Vegas, NV. 89109
Phone number: (702) 893-4800
Website: www.simon.com/mall/the-forum-shops-at-caesars
Full List of Stores at Caesars Palace Forum Shops
For those of you interested, and even for those of you who aren't interested, here is a Caesars Palace Forum Shops List (not counting restaurants). These are in alphabetical order:
7 For All Mankind – Abercrombie & Fitch – Accso – Agent Provocateur – All Saints – Angl – Anne Fontaine – Antiquities – Apple – AX (Armani Exchange) – Baccarat – Balenciaga – Banana Republic – Bath & Body Works – BCBG Maxazria – Bebe – Blancpain – Hugo Boss – Breitling – Brighton – Brooks Brothers – Burberry – Caesars – Camelot Galleries – Canali – Cartier – Carolina Herrera – Casa Fuente – Case Yard – Chanel Fragrance, Beauty and Sunglasses – Charlotte Olympia – Chloe – Christian Louboutin – Chrome Hearts – Coach – Creed – Crystals – Custo Barcelona – Davante – Davante Sun – David Yurman – Dermalactives – DKNY – Diane Von Furstenberg – Diesel – Dior Beauty – Donald J Pliner – Elie Tahari – Emporio Armani – Ermenegildo Zegna – Exclusive Collections Gallery – Fendi – Field of Dreams – Forum Gifts & Sundries – Fossil – Gallery of Music & Art – Gap – Gap Kids – Giorgio Armani – Giuseppe Zanotti – Gucci – Guess – Guess By Marciano – H & M – Hearts on Fire – Henri Bendel – Hublot – Inglot Cosmetics – Jaeger-Lecotltre – Jimmy Choo – John Varvatos – Kalifano – Karma & Luck – Kate Spade – Kemo Sabe – Kids Kastle – Kiehl's – Kush Fine Art Gallery – La Perla – Lacoste – Leica Camera – L.K. Bennett – Longchamp – Loro Piana – Louis Vuitton – Lush – M Missoni – MAC Cosmetics – Magnet Maximus – Marc Jacobs – Martin Lawrence Galleries – MCM
– Memphisto – Michael Kors – Moncler – Mont Blanc – Mulberry – Nars Cosmetics – Nike – NYS Collection Eyewear – Olive & Beyond – Olive & Beyond 2 – Oro Gold – Pandora – Panerai – Paul and Shark – Peter Lik – Polo Ralph Lauren – Pure Strength – Red Valentino – Rolex – Roman Times – Salvatore Ferragamo – Sam Edelman – Sandro – Sephora – Sergio Rossi – Skechers – Skye Art Gallery – Stuart Weitzman – Sunglass Hut – Swarovski – Ted Baker – The Art of Shaving – The Source – The Walking Company – Tickets & Tours – Tiffany & Company – Tod's – Tommy Bahama – Tory Burch – Tourneau – True Religion – Tumi – UGG – Valentino – Van Cleef & Arpels – Versace – Victoria's Secret – Vilebrequin – Vince – Vincenzo Silver – Watch Time – Welcome to Las Vegas – Zadig & Voltaire.
As always, shops rotate, with new ones opening up just as others are closing, so this list is subject to change. But for now, this list should be accurate.
The restaurant/bar/quick stop food lineup includes a Border Grill, the ubiquitous Cheesecake Factory * Carmine's NYC's Legendary Family Style Italian Restaurant * Casa Fuente * Cia Ciao Cafe * Fat Tuesday * Il Mulino New York * Joe's Seafood, Prime Steak & Stone Crab * La Salsa Cantina * Planet Hollywood * Spago (great for people watching) * Starbucks * Sushi Roku * The Palm * Trevi Italian Restaurant.
Closures
Some of the notables who have left the Forum Shops include Alexis Bittar, James Perse, Pal Zileri, Scoop NYC, See's Candies, Sky Art Gallery, Swatch, Tadashi Shoji, Thomas Pink and Shooz at The Forum.
(Photos courtesy of Daniel Ramirez, Patrick, and Srikrishna Bingi via Flickr.)