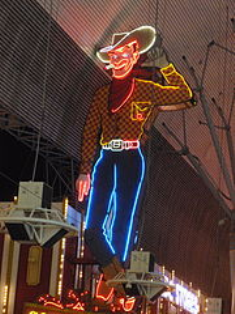 By Steve Beauregard
Eleven casinos dot Fremont Street – all of which are easily within a short walking distance. This contrasts sharply with the Strip, where mega resorts set on expansive acreage make casino hopping tiresome, if not impossible.
The list below is of casinos just on Fremont Street. (Go here for a full list of all casinos in downtown Las Vegas). More specifically, this list is for casinos in the safe tourist area of Fremont Street, which is defined (by me), as the area starting at the El Cortez on the east, to the Plaza Hotel and Casino on the west.
El Cortez
A favorite of locals and senior citizens, (and I guess local senior citizens), the El Cortez sits one block east of the Fremont Street Experience and is self-described as the "longest continuously running casino in Las Vegas."
It routinely wins the Las Vegas Review-Journal newspaper's "Best of Vegas" awards for "Best Locals Casino," "Best Video Poker," "Best Keno," etc.
This may be because of their fair rules and very low limit games. And here I'm talking about $3 blackjack, $3 craps, with a $1 minimum proposition bets, $1 roulette, etc.
The El Cortez has a cozy sports book, with 24 TVs, and a Keno lounge, where you can try for the $1 million dollar Mega Keno intra-state progressive Keno jackpot.
The D Las Vegas
The D Las Vegas Casino is loud and fun and is the rare Las Vegas casino with two stories of gambling space.
The D Las Vegas has crap games with 10x odds, and 3:2 blackjack. More importantly, they have sexy "Dancing Dealers" to help keep you entertained in-between losses. "Busts while you bust" as I call it.
Upstairs is the "Vintage Vegas" area, with coin-dispersing slots and video games, as well as the classic Sigma Derby plastic horse racing game.
(More articles: Fun things to do on Fremont Street in downtown Las Vegas)
Fremont Casino
Your typical casino, the Fremont has 1,000 machines, including slots, video poker, and video keno, for you real degenerates.
Retweet this if you're #daydreaming about a #Vegas vacation! Book now: https://t.co/2r0WBTMNXG #DontGetStripped pic.twitter.com/yCJOzw1o7i

— Fremont Casino (@fremont) June 27, 2016
The Fremont spreads $3 blackjack and craps tables, and has a big area of penny slots, or as they call it, "Penny Lane." Other slots include "Texas Tea" "Quick Hits," as well as Megabucks and other progressives. The 32,000 square foot casino also boasts a pretty decent little 42 seat race and sports book, with 30 televisions. They also still have live keno.
Four Queens
Like its Fremont Casino neighbor across the street, the Four Queens Hotel and Casino has exactly 32,000 square feet of casino space.
In addition to the normal banks of slot machines, the Four Queens has the Silver Strike slot machines, in which you could win one of the popular Silver Strike coins. Ranging in face value from $10 to $300, these can be held as souvenirs (apparently there are a group of Silver Strike token collectors), or cashed in at the regular casino cashier.
Although it does not have a poker room, the Four Queens does have live keno, a sports book, and 27 table games, including single deck blackjack and blackjack switch (among others).
Golden Nugget
Opened in 1946, the Golden Nugget is the biggest casino on Fremont Street. It has a buzzing, spacious casino that is nicely decorated and which features every slot and game you'd want.
Some of the 1,400 slot machines include the popular ones, like the Sex and the City machines and the Wheel of Fortune machines, (My wife and I played there forever without hitting a "Spin" but that just could be a random off night for the Nugget).
Other slots on the refreshed casino floor include Iron Man, The Walking Dead, and Michael Jackson machine, if you're in to spending time around photos of an alleged pedophile.
The Golden Nugget has also introduced the virtual video roulette game where there is a live spin, but where you insert money into a machine and place your bets video game style. They also have the most elegant poker room downtown, with a variety of tournaments, and a race and sports book.
(Go here for a list of hotels on Fremont Street).
Binion's Gamlbin' Hall
In addition to craps, blackjack (including single deck), and roulette, Binion's spreads progressive 3 Card Poker, Let-It-Ride, Texas Bonus Hold'em poker, and Pai Gow.
The original home of the World Series of Poker, Binion's has always been known for their poker. The ten table poker room is laid-back, with popular tournaments and very fast drink service by friendly, smiling cocktail waitresses. (That's not always the case in poker rooms).
Jackpot and progressive slots include, 77777 Jackpot, Quick Hit Platinum, and Fireball. They also have the virtual Table Master games, like blackjack and 3-card poker, where you sit in front of a video screen and watch as a creepy virtual dealer (who looks nothing like a human being), deals to you your losing hand.
Golden Gate Hotel and Casino
Like its sister cousin down the street, the D, (both are owned by Derek Stevens), the Golden Gate has a party vibe and sexy dancing dealers. They also have 10x odds on craps games and pay 3 to 2 on all blackjacks.
Golden Gate also spreads "Riverboat Roulette" – a variation of regular roulette in which you get the chance to bet on the outcome of multiple spins, rather than just the one spin at hand.
The place where it all began, located within all the @FSELV action! When will you visit us here at #GoldenGate? #Vegas #nightlife pic.twitter.com/JdSfwKKxL3

— Golden Gate Casino (@GoldenGateVegas) October 9, 2016
The Plaza Hotel and Casino
Do you love bingo? No? Well too bad, because the Plaza is one of the few remaining casinos in Las Vegas to offer it.
They also offer what I believe is the only "virtual felt" poker room in town. By that I mean you play on a computer screen against other players, rather than having a human dealer shuffle the cards, etc. The Plaza has the lower buy-in poker tournaments in Las Vegas, if not the world, with tourney fees starting at $3. And yes, you read that right.
The Plaza has 600 slot machines and the typical line up of casino table games. They also have a William Hill sports book.
Oh, and new players who sign up for the Plaza's player card, (called "Royal Rewards"), instantly gets a free slice of pizza. Granted, the piece of pizza could end up costing you $834, but still….
Fremont Street Casinos That Have Closed
In 2015, the following three casinos were purchased by the Stevens brothers (owners of the D Casino and Golden Gate Casino), and were shuttered. They will eventually be remodeled and opened as new casinos. Below are the short descriptions of the three when first published.
Las Vegas Club
One of the few downtown casinos without a hotel (it actually has a hotel that is closed), the Las Vegas Club is famous for their very liberal blackjack rules.
You can split aces and pairs as many times as you'd like. In addition, you can double down on any two, three, or four cards.
They also have plenty of slot machines and video poker games, however the Las Vegas Club has neither a poker room, nor sports book.
Mermaids Casino
This little dive casino may be most famous for the counter-service restaurant in the back, Coney Island, which serves up a variety of fried treats.
Mermaids Casino does not have a poker room, nor sports book, nor table games. It has 200 plus slot/video poker machines that are all coin-operated.
You'll recognize Mermaids as the casino with the giant video screen atop its entrance. It is also known for the two showgirls who stand out in front, offering tourists that walk by a free spin on a slot machine, and/or a free sample from the large frozen daiquiri bar inside.
La Bayou Casino
The smallest casino on Fremont Street, La Bayou has approximately 125 slot and video poker machines. There are no table games here, nor is there a sports book.
La Bayou is a great place if you want to get your drink on, as cocktail waitresses are very attentive and quick, even to people playing nickel slots. There's also a daiquiri bar with tons of different flavors, served in those large souvenir cups.
This little joint also pays out only in coins, meaning if you're looking for a cheap buzz and the thrill of coins hitting the tray, give La Bayou a shot.