Over one million people played fantasy football on FanDuel and/or DraftKings last year, and the 2016 NFL season is expected to see even bigger numbers. After all, not only is it a blast, both DraftKings and FanDuel are legal to play (in all but a handful of states).
So if you're looking to join the online party, here are some basics about how to register, deposit, choose a game, and fill out your lineup.
First off, we're not going to talk strategy here, because (1): there are already a million websites that recommend lineups and offer strategy, and (2) you wouldn't want to follow my advice anyway, in that I'm the guy who picks Matt Ryan and Julio Jones on those days when the Falcons run the ball 100 times and score 3 points.
1) Register on DraftKings or FanDuel.com
You can register on the site by clicking on one of the links in this article (please), and/or by using the promo code: GJ100 (pretty please?) when you make your first deposit. This gets you a free $3 entry after your first deposit on DraftKings. (Disclosure: I receive a commission from Draftkings or FanDuel if you use my promo code).
However If you're not ready to deposit yet, no problem. Both DraftKings and FanDuel offer a lot of free games that allow you to get comfortable with their website and games beforehand.
2) Deposit
When you're ready to deposit, you may do so through PayPal, or by using a Visa, MasterCard, or Discover. The minimum deposit amount is $10.
3) Pick a Game, Any Game
You can try your hand at the free games at first, like I did, or you can dive right in.
Either way, you'll see a box on the upper left hand side showing you the types of sports available to play, such as NFL, or "NAS" which stands for NASCAR.
Clicking on "NFL" will bring up all the lists of available games and tournaments offered.
On the left, you'll see a menu of options, allowing you to filter the results based on a variety of different tournaments and limits, such as:

Head-to-Head
Beginner
50/50s
Tournaments
Etc.
Here's a rundown of each:
* Beginner
As the name implies, these tournaments are for newer players to the site only.
On DraftKings, for example, only players who have entered less than 50 tournaments in that sport are eligible to enter a beginner tournament.
* Head-to-Head
Just like it says. You're playing against just one other player. If your lineup scores more points than his or hers, you double your money. On some site, a roughly 10% commission is taken out.
If your opponent beats you, you are out your entry fee of course.
* 50/50s
Similar to the Head-to-Heads, these are tournaments in which roughly half the field doubles their money, while the bottom half loses their entry fee.
The size of the 50/50s range from just six players, to the thousands, however a 100 player 50/50 tournament is the most common.
* Tournaments
These are tournaments that have a guaranteed payout, regardless of how many people enter them, (although they are capped at a certain number).
Many of these are the large, popular tournaments that offer very big money to the winners.
The DraftKings "$5 Million Fantasy Football Millionaire" tournament, for example, costs just $3 to play, but offers a guaranteed first place prize of $1,000,000. They accept up to 1,960,784 entries. Regardless of how many players enter, 542,850 entries will get paid, and you can usually enter these tournaments multiple times.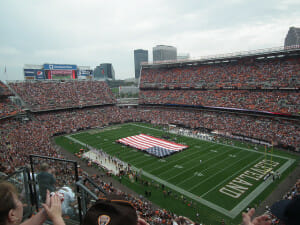 So those are some of types of games to play. A slide button or drop down menu near these options will let you filter the results based on entry fee, allowing you to see tournaments with entry fees ranging from "O" to over $10,000.

4) Choose Your Lineup

Once you've clicked on a tournament, and clicked on the "Enter" button or "Draft Team" button, you'll be directed to your lineup page.

For NFL games, you'll be given a salary cap of $50,000 on DraftKings and $60,000 on FanDuel. With this money, you'll choose a lineup of the following:

1 quarterback
2 running backs
3 wide receivers
1 Tight End
1 Kicker
1 Defense

You'll see your list of players available to choose from on the left hand side. Each player is given a value by the respective site.

If, under the Wide Receiver section, for example, you pick say, a very talented and well-known receiver like Julio Jones, it may cost you, say, $9,900 of your $50,000 salary cap, whereas choosing a lesser known, receiver, say Brandon LaFell, may only cost $3,900.

(Related: FanDuel TV Promo Code)

Once you've chosen your lineup of nine players and have stayed under your salary cap figure, you'll be able to submit your lineup.

5) Watch and Win…Or Weep

From there, you simply watch the games and hope your quarterback throws for 500 yards and your running backs each score 4 touchdowns.

Some examples of the FanDuel football scoring:

Touchdown pass thrown: 4 points
Touchdown pass received: 6 points
Rushing touchdown: 6 points
Rushing yard: 0.1 point
Each receiving yard: 0.1 point
50 yard (or longer) field goal made: 5 points
Sack: 1 point

Those are just some examples, and the full breakdown of points can be found on the website.

After all of the teams have completed their games, winner's accounts are credited with their winnings.

That's basically all there is to it. Good luck to you and I hope you do well, by which I mean, finishing in second place behind me:).

Thank you for reading, and if you've found this article helpful in any way, please considering going through one of the banners on this page and/or using the bonus code GJ100 when depositing on FanDuel.com or DraftKings.com.

Thanks again. (Photos courtesy of Chris Puhtully and Erik Drost via Flickr).

By Steve Beauregard