The Linq is the 1/2 billion dollar shopping, dining and entertainment district situated between the Flamingo Hotel and Casino and the Linq Hotel & Casino in Las Vegas.
The safe, clean, Disney-esque look and feel of the Linq's 200,000 plus square feet of shopping space and walkway marks a vast Strip-front improvement over what used to be just a dumpy alleyway between the Flamingo Hotel and Casino and the old O'Sheas Casino.
The standout feature of the Linq is, of course, the gourmet hot dog stand called "Haute Doggery." I'm kidding. The highlight of the Linq is the world's tallest Ferris wheel, called the "High Roller," and which reaches 550 feet into the sky. (Go here for prices for the High Roller Observation Wheel).
The High Roller is the centerpiece of the Linq, and although ridership is less than the 11,000 originally envisioned by Caesars Entertainment, the new attraction has proven itself to be popular enough thus far, with at an estimated 5,000 people per day. Tickets can be purchased at either the automatic ticket dispenser machine in the Linq Promenade, or at the base of ride itself, at the extreme east end of the Linq promenade.
Restaurants and bars at the Linq Promenade include everything from tiny cupcake stands to 80,000 square foot clubs, like Brooklyn Bowl.
Built and managed by Caesars Entertainment, the Linq opened for business in January of 2014, with the High Roller opening shortly after, on April 1st.
Directory of Shops at the Linq
Photo & Go – Formerly called the "Polaroid Fotobar," Photo & Go is a store where you can print out your camera and phone photos on paper and/or a variety of backgrounds, including even bamboo and metal.
Printings take only a few minutes. You can upload photos from your phone, or from your Facebook or Instagram account, and have them printed out there on the spot into those old school classic Poloraid photos that old people like me use to have to take.
12 A.M. Run – A tennis shoe store, ahem…excuse me, a "sneaker boutique" owned by the rapper NAS. This is a boutique for those of you who are tired of paying outrageous prices for tennis shoes, and would rather pay extremely outrageous prices for tennis shoes.
Actually, some have reported lesser brands on sale in the $20 range, but you can find the limited edition, uber-expensive shoes here too. Caesar Entertainment's official blog notes that Floyd Mayweather shops here a lot.
In addition to the Nike, Addidas, the shoe list includes Diamond Supply Company, Billionaire Boys Club, and Herschel Supply Company, if those names mean anything to you.
Also, it's the only sneaker store with a D.J. At least that I'm aware of.
Bella Scarpa – Its second location in Las Vegas, (the other one is at Mandalay Bay), Bella Scarpa is a women's shoe store with a very feminine decor. The store encourages bachelorette parties (don't we all), and is a place where the female shoe-fanatic can pick up anything from flip flops to stilettos, to heels, boots, purses and other accessories.
According to Caesars Entertainment's description of the store: "Prices range from low to moderate."
Chilli Beans – A Brazillian-based eyewear retailer, offering tons of different types of sunglasses in any type of frame you could want, (and many that you don't).
This store in the Linq Promenade is their own American retail store outside of California. Included in their offerings are unique sunglasses different than the mass-produced versions you'll find at major retailers. They boast of releasing ten brand new styles every week.
Chilli Beans also seems to hire well, as they have established a reputation (thus far), of great customer service that is friendly and not pushy. One Yelp reviewer told the story of how Chilli Beans employees helped his wife with the quick repair of her sunglasses, even though she had not purchased the glasses there.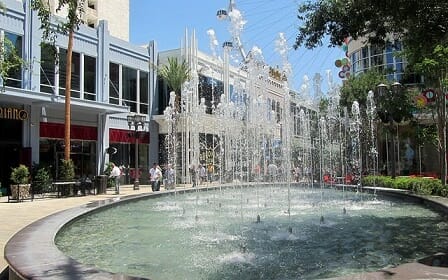 Goorin Bros. – Are you tired of searching around and around for a store where you could find a decent looking beret? Me neither. But Goorin Bros actually sells berets, along with fedoras, straw hats, bowlers, trucker hats, beanies and other unusual styles of hats in what has to be one of the coolest looking stores at the Linq Promenade, if not in Las Vegas. The decor is that of a vintage store from say, the 1920's, with wood, old photographs, and a comfortable, classic vibe.
Not too many stores in Las Vegas will carry both a baseball hat and Indiana Jones style hat. Goorin Bros is one of them.
Havaianas – This is the rare store that specializes in flip-flops (they sell boots too). Havaianas, the flip flops sold are made from "fine rubber in Brazil." The average flip flop or sandal retails for $30 or less per pair, and there are multitudes of bright colors, sizes and patterns to choose from.
Pier 30 – The local Las Vegas retailer caters their clothing and shoe lines to the surfer and skating crowd, and is described as the "premiere destination for the fashion savvy hipster."
Sky Shop – Situated at the base of the High Roller, the Sky Shop sells pricey observation wheel souvenirs, including your standard coffee mugs, t-shirts, drink glasses, magnets, etc. They also sell regular, non-Ferris Wheel Las Vegas souvenirs.
Food-based & Activity Shops at the Linq Promenade
Sprinkles
Perhaps the most decadent cupcakes you'll ever try. But although there are 30 varieties of cupcakes, Sprinkles also services cookies, ice cream, and even cupcakes for your dog.
Honolulu Cookie Company
The Hawaiian-based boutique specializes in shortbread cookies. Their site says that each cookie is hand-dipped in chocolate and that they are "baked daily in Honolulu."
Ghiradelli – The famous San Francisco-based chocolate icon has its presence at the Linq. Not only can you purchase a variety of their candies, but they have an ice cream shop at this location as well.
VR Adventures
"VR" as in "Virtual Reality."

Put on the expensive headsets, lay down Superman style on the game chairs (if you wish), and experience one of four unique sensory adventures, including a super-hero flight and house of horrors.
Linq Promenade Shop Hours
Although the various bars and restaurants at the Linq will stay open later, the shops on the promenade all pretty much follow the same schedule of hours. The shops all open at 10 a.m., seven days a week.

Sunday: 10 a.m to 10 p.m.

Monday – Thursday: 10 a.m. to 11 p.m.

Friday – Saturday: 10 a.m. to Midnight

Linq Promenade Address and Phone Number

3535 Las Vegas Blvd South
Las Vegas, NV 89109

Separate from the Linq hotel's concierge, the Linq Promenade's Concierge can be reached at: (702) 322-0560

With a beautiful walkway, real trees, fountains and fresh air shopping experience, the Linq shopping promenade is wonderful new addition to Las Vegas – and a nice change of pace from the dark, smoky, unfriendly pedestrian vibe found at most other places on the Las Vegas Strip.

Linq Promenade Stores that Have Since Closed

(Here are the original write-ups of stores at the Linq Promenade that have since closed)

Koto– A shop where you can purchase a copy of the global warming protocol document. Or maybe I'm thinking of Kyoto. This store offers eccentric and unusual home decor items, knick-knacks and gag gifts. The website claims it has a "whimsical vibe." The store is based on the original Koto in Aspen. Apparently "whimsical" is another word for "expensive."

Kitson – This is larger branch of the hip LA clothing retailer frequented by celebrities. The Kitson store at the Linq Promenade is said to be their largest outlet, with 12,000 square feet of retail space on two levels.

We mentioned that Kitsons is a "clothing retailer" however, is a misnomer, as the store's eclectic offerings make it hard to describe.


In addition to clothes and shoes for men, women and children, the Linq Kitson sells a variety of unique gifts, trinkets and souvenirs, ranging from racy hats, to gnomes making obsene hand gestures to t-shirts with catchy sayings.

Ruby Blue – Another place with "whimsical" items, self-described as "pure feminine fun." This store offers everything from bling, costume jewlery, to sexy lingerie and other naughty items I would have written about had security not kicked me out for being a peeping Tom.

Ruby Blue at the Linq also sells adult toys and games.

NJOY Vaping Bar – It's called a "bar" but this is a retail, outdoor kiosk that sells vape products and e-cigs, so we're counting it here as an official Linq Promenade shop.

NJOY Vaping Bar reportedly creates their own flavors. As for the "bar" part, you are welcome to purchase and indulge right there at the little white bar at the NJOY kiosk.

The Style Lounge – A hair salon with a full range of products and services, including hair styling, nails, makeup and tanning. They even have a bar.

(Photos courtesy of Daniel Ramirez, kennejima, Loozrboy, Ken Lund via Flickr).

By Steve Beauregard