One of the most affordable hotels on the Las Vegas Strip has plenty of affordable dining options.
It better, because as the sixth biggest hotel in Las Vegas, with nearly 4,000 rooms, there's plenty of guest demand for food.
The Excalibur Hotel & Casino has a steakhouse, Italian restaurant, pool restaurant, a buffet, a place where the waitstaff insults you (on purpose), fast casual Mexican fare, and even a dinner show featuring horses (as entertainment, not the meal).
Here's a quick look at all of the restaurants inside the Excalibur Hotel and Casino:
Buca di Beppo
Excalibur's Italian Restaurant, Buca di Beppo, is a popular national chain. It's Excalibur location is one of four Buca di Beppo locations in Las Vegas.
The Italian restaurant chain is famous for great food and hearty portions served family style.
As you can see from the photo, the dinning area is open, meaning it can get pretty loud sometimes. But from pizza to mini-meatballs, baked ziti to fettuccini and everything in-between, get your carbo fill here on the third level of the Excalibur.
Hours:
Sunday – Wednesday: 10:30 am to Midnight
Thursday – Saturday: 10:30 am to 2 am.
Phone Number: (702) 795-1010
(Related: List of restaurants at the Excalibur Food Court)
Dick's Last Resort at the Excalibur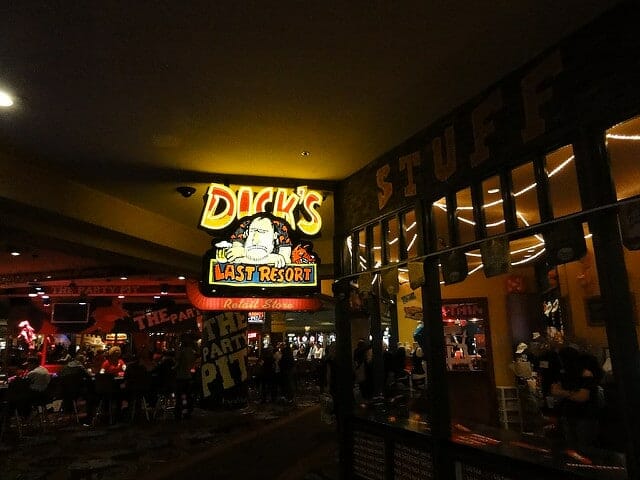 Think of "Hooters" in cuisine and decor, only instead of flirtatious hot waitresses, your wait staff insults you. It's all part of the shtick at Dick's Last Resort, where you'll get fitted with a large paper, dunce-type hat and possibly get napkins thrown at you.
Ribs, burgers, steaks, and buckets of crab legs are just some of the feature items at Dick's. They promote their "pickle chips" (sliced pickles that are deep fat fried), and pulled pork sandwich. They're big on drinks here, and offer up nine different daiquiris.
You can't miss the location, as it's in a prominent spot just to the right of the casino as you enter the front entrance from the Strip. On weekends, Dick's Last Resort has live music.
Hours:
Sunday – Thursday: 11 am to 11 pm.
Friday and Saturday: 11 am to Midnight.
The Steakhouse at Camelot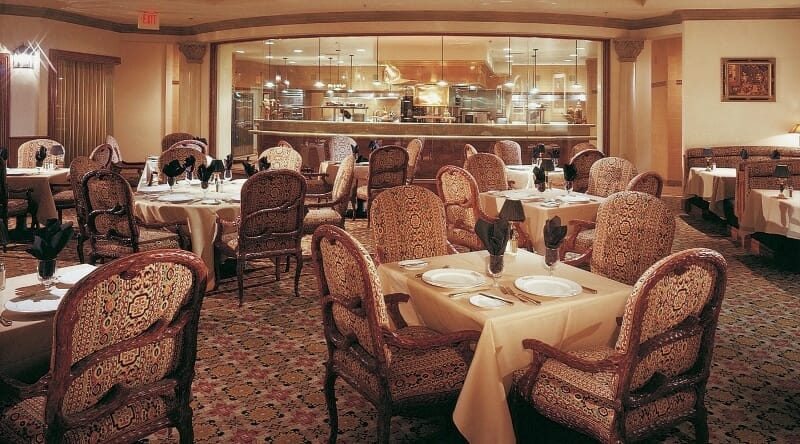 This is the Excalibur's, well, steakhouse. (Every casino in Las Vegas is required to have one per gaming commission regulations).
Although not as elegant as most of the other steakhouses in Las Vegas, the Steakhouse at Camelot is predictably less pricey than the ones at more upscale hotels. Obviously the menu is big on meat dishes, and there's also a selection of seafood, including salmon and crab cakes.
On the Excalibur's website, they claim the steakhouse has "Zagat Winning Food and Service."
Hours: Sunday – Saturday: 5 pm to 10 pm.
Phone Number: (702) 597-7449
Just an average buffet by Las Vegas standards, but at least its one of the more affordable ones.
Even though their buffet prices are already lower than most, they make it even more affordable by offering an "All Day Wristband" which lets you eat at the restaurant all day long at an upgraded price. Prices vary based on weekday versus weekend visits and they are always changing, so please go here for the latest prices: Excalibur buffet pricing.
The Buffet at the Excalibur also has an all-you-can drink package.
On Saturdays and Sundays, the Excalibur buffet's brunch runs from 7 a.m. to 3 p.m.
On Friday and Saturday nights, there are added dishes, including crab legs. It runs from 4 pm. to 10 pm.
Other than those two special occasions, hours are as follows:
Hours:
Breakfast: 7 am to 11 am
Lunch: 11 am to 4 pm
Dinner: 4 p.m. to 10 pm.
Drenched Bar & Grill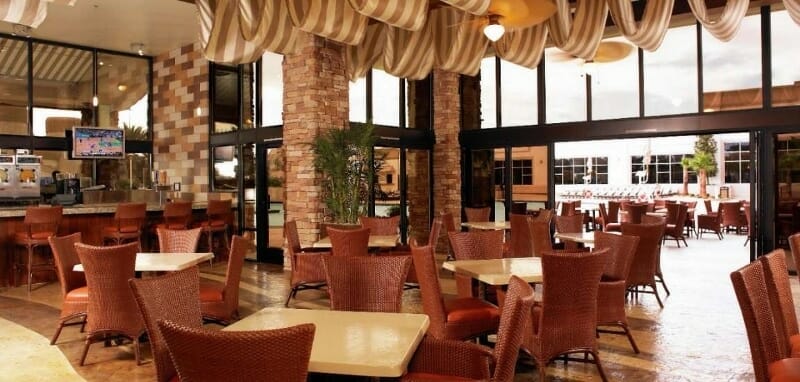 Located in the pool area, (The Excalibur pool complex actually has four different pools), the Drenched Bar & Grill is a casual eatery with a good selection of burgers, sandwiches, pizza, wings, nachos, and tons of frozen drink options.
Hours: Sunday – Saturday: 10 a.m. to 6 p.m.
Baja Fresh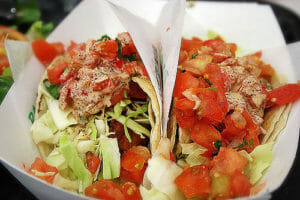 As opposed to the fast food joints upstairs, Baja Fresh is on the casino level, next to Dick's Last Resort.
The restaurant is a chain of Tex-Mex franchises that offers some of the most affordable eating at the Excalibur.
I had never eaten at a Baja previously, but really enjoyed this counter-style service restaurant during my last trip to the Excalibur. The ingredients seemed fresh and prices reasonable. Offerings include fish tacos (shown above), burritos, quesadillas, and such. There is also a salsa bar, so you choose how hot you'd like to go.
Hours: Sunday – Saturday: 10 am. to 11 p.m.
Johnny Rockets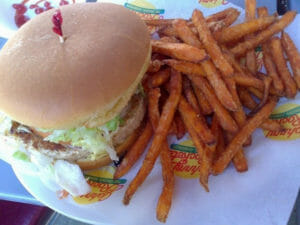 A 50's style burger joint, Johnny Rockets is a national chain that serves up classic burgers, cheeseburgers, chicken sandwiches and shakes and malts. The breakfast menu includes eggs, pancakes, and omelets, among other dishes.
Johnny Rockets is the rare Excalibur restaurant to be open 24 hours a day, to satisfy those late night/early morning food cravings. It's located on the casino level, on the south side of the building.
Hours: 24 hours a day, seven days a week.
Dairy Queen/Orange Julius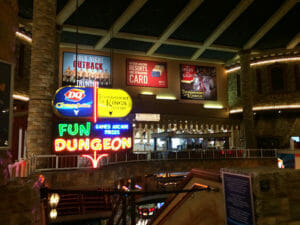 Located in the lower level, below the casino floor, this Dairy Queen/Orange Julius combo stand is open from 10 am to 10 pm.

It carries a small selection of hot dogs, burgers and chicken, along with their famous menu of different ice cream treats.

Speaking of fast food….

The resort is also home to a food court on the second level, full of quick counter service meals. Here we're talking about places like Cinnabon, Popeyes Chicken, Pizza Hut Express and the like.

(Related: Go here to see why Excalibur is my choice as the best Las Vegas Strip hotel for kids.)

Not really a restaurant, and more of the entertainment category, the Excalibur's other dining option is the "Tournament of Kings." Here, you're seated in an arena, where you're served a three-course meal as you watch knights on horseback joust. There's other renaissance-era entertainment as well. Tickets, (which includes the meal) start at $65.60 plus tax and fees.

(Photos courtesy of the Excalibur, and Craig Howell (top one), inazakira, Karen (Baja Fresh) and Mighty Travels (Johnny Rockets), and brownpau (Dairy Queen) via Flickr.

By Steve Beauregard