Not including its food court or two Starbucks, eleven restaurants satisfy hungry Caesars patrons, and that's not even including the dining establishments at the Forum Shops. So if you're wondering what are the restaurants in Caesars Palace Las Vegas, here's a brief rundown of each.
Bacchanal Buffet
The spacious and famous Bacchanal Buffet, which opened its doors in September of 2012, has quickly taken its place as one of the top five buffets in Las Vegas. And at a cost of $17 million, it should. It's pricey, (Dinner starts at $54.99 on weekday nights), but USA Today has ranked it as the best in town.
The Bacchanal Buffet offers up over 500 different dishes, and has nine cooking stations, or what they call, "show kitchens." These include all of the usual suspects, like a Mexican station, Italian, Chinese, Japanese, American, a wonderful seafood area, deli station, pizza and of course, dessert.
Taking a cue from the Wicked Spoon Buffet at the Cosmopolitan, the Bacchanal serves dishes in individual portions, rather than the huge metal trays that we've all come to associate with buffets. From gourmet sliders to freshly-made salads, crab legs to exotic cakes, if you can't find what you want here, you're just too damn picky.
The phone number for the Bacchanal Buffet is 702-731-7778.
Beijing Noodle No. 9
You pass some large aquariums on your way inside to this Northern Chinese cuisine outpost. Although it's described as casual, you'll be impressed by the unique and beautiful nearly all-white decor.
Specialties here include braised pork belly, and Xaio Long Bao soup dumplings.
Gordon Ramsey Pub & Grill
This is an English pub that seats about 300 people. It's said to be a very "authentic" pub, so I assume it's very smoky. This is one of three restaurants Mr. Ramsey has opened in Las Vegas in 2012. I can't support a guy who's rude and yells at people, which is too bad for me, as his beer menu is extensive and looks enticing, but if you're into him and his show, more power to you. You'll find burgers, salads, shepherd's pie, and those types of plates here.
Specialties include Yorkshire Ale Batter Fish and Chips, and English Beer Steamed Clams.
Mesa Grill

Celebrity chef Bobby Flay has had a successful run with this popular Mexican restaurant. Or maybe it's "Southwestern." I get the two confused. Either way, at some point you're going to have too much tequila.
It has some unique twists on traditional southwestern faire, along with a large variety of the aforementioned tequilas. (Don't they all taste the same when drowned in line and triple-sec?).
Mesa Grill is by the sports book and the entrance to the Colosseum. As for the dress code? The website instructs you to "Dress smart." So that's helpful.
Some items from the dinner menu:
NEW MEXICAN SPICE RUBBED PORK TENDERLOIN: Bourbon – Ancho Chile Sauce
+ Sweet Potato Tamale with Crushed Pecan Butter. $36
And for you Bugs Bunny fans out there:
CASCABEL CHILE CRUSTED RABBIT: Wild Mushroom Cous Cous, Green Chiles, Mint, Marcona Almonds + Smoked Red Pepper Sauce. $38.
Mr. Chow
Mr. Chow is an upscale Chinese restaurants with locations in London, New York, Los Angeles, South Beach and Malibu.
You know it's upscale when you access the restaurant via private elevators off of the casino floor.
The 250 seat restaurant has seating overlooking some of Caesar Palace's gardens and swimming pools.
The extensive drink menu is heavy on champagne, as Mr. Chow's outer locations are famous for the champagne trolley.
Perhaps the signature drink is the Chow-lini for $20, described as "House made peach foam & Moet & Chandon Champagne."
(Related: Mirage restaurants)
NOBU Restaurant

This edition of the famous upscale Japanese sushi joint is in the NOBU Hotel, which is the new "hotel within a hotel" at Caesars Palace that opened February 4, 2013. The NOBU restaurant portion itself is said to be the largest NOBU in the world, at nearly 12,000 square feet, with room for 327 patrons. So it's got that going for it.
Old Homestead Steakhouse
Live from New York, it's…a place to eat meat. And seafood too. This is Caesar's requisite old school steakhouse. Every casino has to have one, and this is Caesar's version. As for prices? I saw a $27 item, which wasn't too bad. Of course, it was an appetizer. The 14 ounce New York strip steak runs $60. The Colorado rack of lamb goes for $62.
Some other samplings from their dinner menu:
The 'Gotham' Ribeye Steak: on the bone 24 oz. $82
Wild Caught Atlantic Salmon: Baby artichokes, olive relish. $42
Payard Patisserie & Bistro
Personally I tend to avoid any place that I cannot pronounce, but this restaurant/bakery is perfect for those of you like my wife – people who can make an entire meal out of nibbling on a variety of sweets and pastries.

Here you can sit down and have a meal, or purchase some chocolates or coffee drinks to go. They also serve regular food in a standard sit-down restaurant setting. The dinner menu shows items like braised short ribs ($30) and roasted chicken ($16).
Rao's
Another Big Apple import is Rao's. It's a well-regarded Italian restaurant. The other Rao's, built in 1896, the New York landmark has been featured on the Travel Channel.
Some samples from the dinner menu:
VEAL MILANESE: Pounded & Breaded Veal Scallopini topped with an Arugula, Heirloom Tomato, Red Onion Salad Tossed in House Vinaigrette. $48
and
CHICKEN SCARPARIELLO: Sautéed Bone-In Chicken, Italian Sausage, Hot & Sweet Cherry Peppers, Yellow & Red Bell Peppers, Oregano, White Wine Sauce. $32
Restaurant Guy Savoy
Never been here, can't afford it. So let me review it for you. For each of its restaurants, Caesars Palace gives an estimate of the average check. At Restaurant Guy Savoy, they estimate your meal will run you $250.00. Per person. In other words, 250 items off of McDonald's dollar menu.

Newsweek called it "the best restaurant in Las Vegas," but Newsweek is broke and no longer prints a hard copy edition. So what do they know? Guy Savoy has won tons of other prestigious awards and designations, so if you have the means and the appetite for fancy French cuisine, this is your place.
Searsucker
Opened on March 28, 2015, this took the space formerly occupied by Munchbar. This Brian Malarkey restaurant is described as a "contemporary spin on American classic comfort foods," and is set in a laid-back, retro American-type atmosphere.
Situated close to the new Omnia nightclub, it has a large selection of appetizers and specialty desserts and cocktails in hopes of drawing in a very late night crowd, in addition to the normal regular dinner hour crowd.
Specialties here include a 38 ounce bone-in rib-eye as well as the delicious-sounding "beer-braised short rib + horseradish + fried onions with pan sauce and butter potato."
Other menu items range from the Tomato soup grilled cheese / basil pesto $14, to the 2 lb maine lobster – $92.
Stripside Cafe and Bar
Pizza, burgers, salads, cocktails. The new Stripside Cafe & Bar has it all! pic.twitter.com/GEvQgp2Kl8

— Caesars Palace (@CaesarsPalace) January 24, 2017
The newest restaurant at Caesars Palace is family-friendly, and offers up great views from its patio seating. In addition to their all day breakfast menu, Stripside serves everything from wings, to nachos, pizza, sandwiches, and more.
The dessert menu includes six different milkshake mugs, and six different flavors of sundaes. The cocktails here run $15 each.
This restaurant, however, is not long for this Earth. In April 2017, Caesars Entertainment announced a new restaurant by Gordon Ramsay would open at the Stripside spot sometime in "the winter."
The new restaurant, called, "Hell's Kitchen" will seat 300, and "will draw inspiration from the global TV show." Caesars did not announce when Stripside will close.
Forum Food Court
The rehabbed, revamped space that used to be called the Cypress Street Food Court is now home to Smashburger, Earl of Sandwich, Graeter's ice cream, Tiger Wok and Ramen, Difara Pizza, La Gloria (Mexican), and Phillips Seafood Express.
Cafe Americano
This is the requisite casino coffee shop that is centrally located in the main lobby area. It's open 24 hours a day. Unlike the traditional casino coffee shops of yesterday, you won't find cheap steak and eggs specials here however. In fact, the standard two eggs, bacon, potatoes and toast breakfast will run you $20.
Open all day, every day. Join us! (google user: aaron johnson) #cafeamericano #vegas24hours #vegaseats #vegasdining #caesarspalace pic.twitter.com/VRjpQidOZI

— Cafe Americano (@CafeAmericanoLV) February 2, 2017
The menu is pretty diverse, with everything from standard American fare of burgers and fried chicken, to filet mignon and shrimp linguini. Breakfast is served here 24 hours a day.
In addition to restaurants, Caesars Palace has two Starbucks locations, one near the Augustus Tower, and the other by the Forum Food Court
*****
Closed restaurants: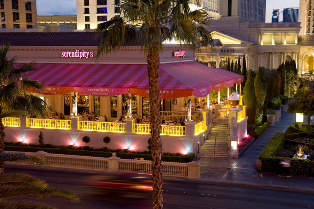 * Serendipity 3
This pricey café sat the little building between the strip and the fountains. It was a New York City important, notable for its fancy and unique desserts, like their frozen hot chocolate and a gigantic cake/ice cream/Oreo combo (called the Treasure Chest) that cost $88. It had 12 scoops of ice cream, and "edible gold," in case you insist that your dessert come with indigestible precious metals.
* Central by Michael Richard – which opened in July of 2011 to much fanfare, closed in December of 2014.
Central was "centrally" located in the lobby, but didn't get great remarks, especially considering their prices. This place was open 24 hours a day and served classic American comfort food with a few twists.
Other closed restaurants at Caesars, with my original article tidbits left here for eternity…
* Empress Court – Let's see, $100 bowls of soup, fish dishes that can run into the hundreds of dollars. Shark fin soup. An elevator that takes you up to the restaurant from the busy Caesars floor below. Welcome to Empress Court, an upscale Chinese restaurant with menu prices that will burn that cash in your wallet faster than an unfriendly $5 Wheel of Fortune slot machine at 5 credits a spin.
Empress Court specializes in seafood with a Cantonese flair. Many of the items are "MP" or "Market Price," meaning if you have to ask…. Back to the C-Note Soup: the Birds Nest with Egg White in Coconut Milk costs $100. Every casino tries to woo wealthy Asian gamblers to drop a boatload in their gaming pits. I guess this is where these whales get comped for supper.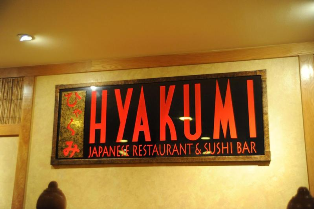 *Hyakumi (Closed May 2013)
There's a tree! In the restaurant! There are also Teppanyaki style cooking areas. For those of you like me who don't get out much, and who are wondering what in the hell "Teppanyaki" style cooking is, think of Benihana.
Hyakumi also specializes in fresh seafood and sushi, and is fairly reasonable price-wise.
* Munchbar (Closed August 2014. Photo shown below)
More of my style, as this has by far, the cheapest eats in Caesars. Lots of comfort food here and simple but fun dishes I'm dying to try, like the mini snow crab hoagies, or the "tiny grilled cheese sandwiches with tomato dipping sauce." Plus you have to love a place where they brag that the sandwich is served with Cheese Whiz.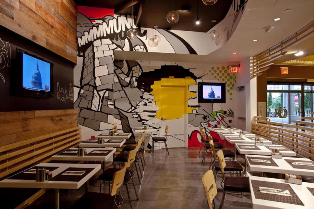 * Cypress Street Marketplace – This is a casual, almost food-court type of restaurant near the Forum Shops. It's decked in a sort-of Italian park theme. Here you grab a seat, then choose from nine different stations, including Tex-Mex, burgers, Ah-So's sushi and other Asian dishes, barbeque, simple seafood dishes and more. Caesars' website states that an average meal will run you $15 bucks here.

(Photos courtesy of kennejima (3 of the photos), Jim G and Michael Gray via Flickr).

By Steve Beauregard