By Steve Beauregard
It's been over a decade since perhaps the greatest and most important poker tournament of all time, the 2003 World Series of Poker Main Event.
This is the tournament that put poker on the map, and started the poker boom. When Chris Moneymaker, an amateur accountant parlayed a $39 satellite win on PokerStars.com into a seat at the WSOP and eventually into a multi-million dollar payday (although it was much less after paying his backers).
An amateur beating the Las Vegas professionals was big news at the time, and Moneymaker's win created a buzz. The combination of an amateur winner, and novelty of someone winning their $10,000 seat in Las Vegas from a cheap online poker satellite resulted in national media attention and a gold rush to the internet poker sites. Personally speaking, I played my first hand of online poker the day news of Moneymaker's win hit my local paper.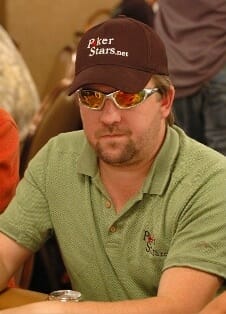 839 players made it Binion's Horseshoe on Freemont Street in Las Vegas – a record at the time for most entries. ESPN's coverage of the game seems primitive now, with Lon McEachern teaching viewers the rules of "No Limit Texas Hold'em."
Meanwhile, the tournament was held in both the Binion's poker room, as well as the classic "Benny's Bullpen" upstairs, where so many final tables have been held over the years. Unlike the Rio, and their Amazon Room (where the WSOP is held now), Binion's Horseshoe had character and atmosphere. Dealers wore the old school poker dealers' hats from the old west days – I'm talking about the ones with the see-through green visors.
ESPN and The 2003 WSOP
The star-studded event became hugely popular during its initial and numerous rerun broadcasts on ESPN. Many of the previous-unknown players became household names. On the other hand, the list of players in the money reads like a who's who of poker royalty.
Phil Helmuth, Men "The Master" Nguyen, Howard Lederer, Scotty Nguyen, high stakes cash game player Minh Nguyen, and Marcel Luske all made it to the final 27.
Meanwhile, unknowns like Dutch Boyd, and Sam Grizzle became famous after their poker table antics were witnessed by millions. Boyd, a member of the infamous "Crew" – a bunch of twenty-somethings who found early tournament poker success – wound up finishing 12th, for $80,000.
Grizzle meanwhile, did battle with Phil Helmuth during several heated confrontations. Helmuth told ESPN that the only fistfight he's been in since ten years of age was with Sam Grizzle.
The tournament was interesting from day one. You'd see tables where Howard Lederer and Johnny Chan were seated at the same table, while at another table Phil Helmuth and Phil Ivey butted heads. Many tables featured multiple Main Event winners, such as an early table pairing that saw 2002 winner Robert Varkonyi seated with 1977 and 1978 winner Doyle Brunson.
Then of course, there was Chris Moneymaker's history-making first place win. The Tennessee buzz saw ran through the field, (including knocking out Chan) on his way to being the chip leader at the final table.
And what a final table it was. If it weren't already historic enough, we often forget (at least I do), that one Phil Ivey finished 10th place.
David Singer, a New York environmental lawyer, went out first. He was followed shortly by the colorful (no pun intended) David Grey, a Las Vegas professional with now two bracelets to his name.
The little-known Young Pak finished 7th, while the boisterous Amir Vahedi finished 6th. Vahedi was known for the famous tournament poker quote, "If you want to live, you have to be willing to die." And die he did, after an ill-timed bluff holding the 4 and 6 of hearts.
Tomar Benvenisti – The heavy-set tour guide born in Israel, finished fifth, and took home $320,000 for his efforts, while mild-mannered Jason Lester, an options trader, finished fourth.
Dan Harrington, who won the 1995 WSOP Main Event, and who would surprisingly repeat his final table appearance the following year, at the 2004 WSOP Main Event finished third. Amazingly, Harrington has made it to the final table at the WSOP Main Event four different times. And his back-to-back WSOP Main Event final tables in 2003-2004 represent one of the greatest achievements in poker history.
With that it went down to the a heads-up match made in poker TV heaven: the slick, high-stakes cash game pro, Sam Farha, vs. the tournament noob, Chris Moneymaker.
In what has since been called the "bluff of the century" by ESPN color commentator Norman Chad, Moneymaker made an all-in bluff on Farha holding nothing. Actually, it was King high.
On what would be the final hand, the 27 year old Moneymaker flopped two pair (4/5 off suit) vs. Farha's top pair. All of the money went in on the flop and the turn and river were no help to Sam.
First prize of $2.5 went to the amateur, who had sold part of his action. 20% went to his dad, while another 20% went to friends, leaving the accountant with around a $1.5 million dollar payday (before taxes).
While Moneymaker had qualified online for the tournament for just $39, he got backers to hedge against the likelihood of his not cashing for anything. In fact, in his autobiography, Moneymaker talks about how he'd of rather have won cash than the seat in the Main Event, due to a tough financial situation.
Thank goodness for Moneymaker, and for poker in general, that he won that seat, as he is directly responsible for the popularity of the game today.
Ten years after his historic win on May 23, 2003, the poker world tips their collective hats to this unlikely champion and pioneer of the game.