By Steve Beauregard
The 2012 World Series of Poker Main Event may be remembered more for who did not make the final table (two women who came close), than for the inspirational, recovering drug-addict who won it (Greg Merson).
It will also be remembered for having the first (and thus far only), "October Nine," rather than the traditional "November Nine." Because of the presidential election in the United States, the usual early-November date was moved up a week.
2012 WSOP Entrants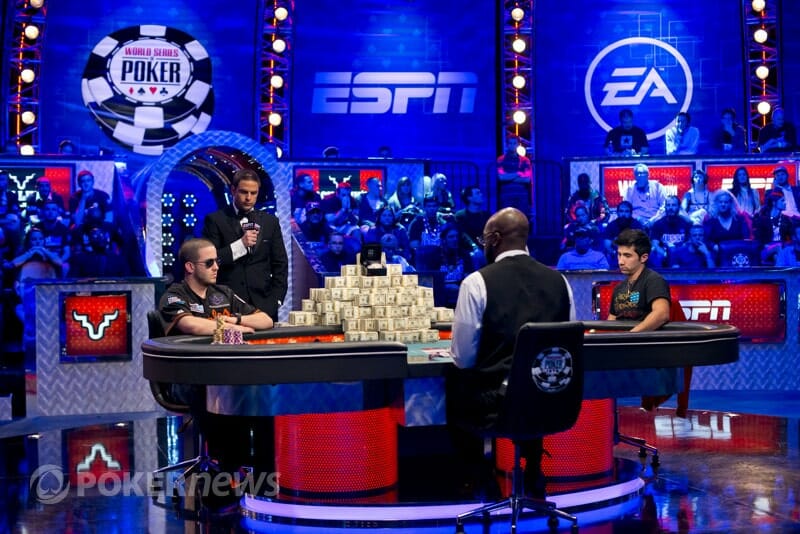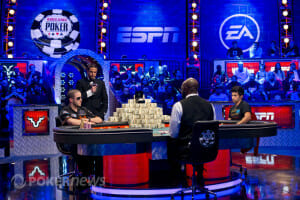 Overall, 6,598 players would put up the $10,000 entry fee to enter the 2012 Main Event, creating a prize pool of $62,031,385
Beginning in early July, the final hand would be dealt in the wee hours of October 31st in the Rio All Suites Hotel and Casino's Penn & Teller Theater.
Despite two ladies making it all the way down to the final eleven players, the October Nine would be all male, ensuring that Barbara Enright would remain the only woman to make the WSOP Main Event final table.
Elisabeth Hille, a waitress from Norway finished 11th. Reportedly, her boyfriend had put her in the Main Event after he won $20,000 earlier in the WSOP.
France's Gaelle Baumann was the October Nine bubble boy (or should I say, "bubble girl") when she was knocked out in tenth place.
2012 WSOP Final Table Participants and order of finish
9th place: Steven Gee – Sacramento, California
8th place: Robert Salaburu – San Antonio, Texas
7th place: Michael Esposito – Seaford, NY.
6th place: Andras Koroknai – Hungary
5th place: Jeremy Ausmus – Las Vegas, Nevada
4th place: Russell Thomas – Hartford, Connecticut
3rd place: Jacob Balsiger – Tempe, Arizona
2nd place: Jesse Sylvia – West Tisbury, Massachusetts
1st place: Greg Merson – Laurel, Maryland
Of the final nine players, eight were Americans, while two of them had won WSOP bracelets. Steven Gee had won a $1,000 No-Limit hold'em event back in 2010, while Greg Merson had won the last tournament just prior to the Main Event, the $10,000 No-Limit Hold'em Championship.
But 6th place finisher Andras Koroknai was no slouch either. Although not a household name, Koroknai had the most live tournament success (in terms of pure cash) of the October Nine players, having won first in the 2010 L.A. Poker Classic World Poker Tour Event, good for $1.7 million.
Next down would be Jeremy Ausmus. The Lamar, Colorado resident and Colorado State grad had a WSOP final table appearance, (along with a 10th place), coming into the event.
A family man, Ausmus had a two-year old daughter at the time of the final table. He also had the tournament chip lead for a very short time during day 6, but was the short stack going into the final table. Still, he had some poker to play, as his short stack still amounted to 33 big blinds.
Jeremy's 5th place finish was good for $2.1 million and capped off an amazing tournament for the relocated Las Vegas resident. Ausmus cashed in nine WSOP events in 2012.
Down to the final four, Russell Thomas, an insurance actuary who grew up in Philadelphia but later moved to Connecticut, would bust out in 4th, when Jake Balsiger's big slick would hold up over Russell's A/9. Thomas received $2.8 million, (and a leave from his insurance job).
After a lengthy 247 more hands played, (according to WSOP.com's recap), the third player would be eliminated. It was Portland, Oregon native Jake Balsiger, who, at 21 years old, had a chance to make history as the youngest WSOP Main Event Champion in history, beating Joe Cada's record in 2009.
It was not to be however, as the Arizona State University senior would finish 3rd for $3.8 million payday.
Heads up at the Final Table
Down to heads-up, the tournament ended 17 hands later, when Sylvia would exit after his Q/J of spades did not improve over Merson's King/5 of diamonds.
Jesse Sylvia had entered the October Nine as chip leader. Sylvia is from that old money, democratic presidential playground known as Martha's Vineyard, Massachusetts.
After moving to Las Vegas to play professionally, the young pro would end up rooming with, of all people, his future October Nine table mate, Russell Thomas. Poor Thomas. Only in Las Vegas can you finish 4th place in the Main Event, and still not have the best result among people in your own house.
Although he didn't capture the bracelet, Sylvia's second place finish resulted in a nice $5,295,149 cash consolation prize.
All which meant the poker world had a new champion. And an inspiring one at that. Maryland's Greg Merson had overcome what he had described as a "pretty serious drug problem" on his way to poker stardom.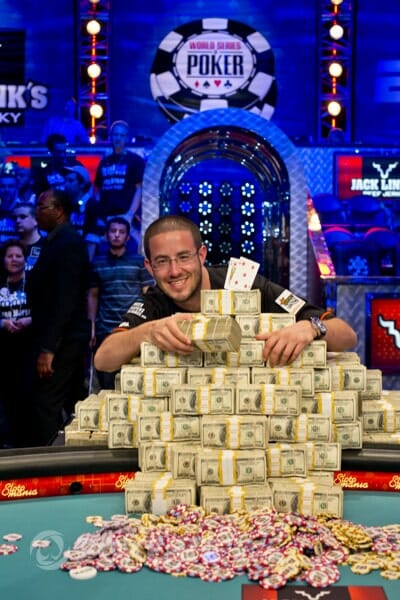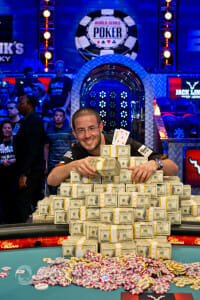 Merson told the Bernard Lee poker podcast that he entered the final nine with a goal of finishing in at least 5th place.
He says that at one point during day three of the WSOP Main Event, he was not playing optimally, and didn't really care if he busted – partly due to WSOP burn out, and partly due to wanting to be with his girlfriend, who was on a short vacation at her parent's beach house at the time.
In addition to his second WSOP bracelet, Greg would collect $8.5 million for the win.
He'd also overtake Phil Hellmuth in POY points, thereby becoming the 2012 World Series of Poker Player of the Year. For the year Merson made three final tables, winning two bracelets.
2012 WSOP Main Event Tidbits
Greg's Main Event championship meant he won the last two WSOP tournaments held that year.
Joined Steve Dannenmann and Darvin Moon as Maryland boys who made the WSOP Main Event final table.
A baseball fan, he wore a Baltimore Orioles jersey at the final table. The player's jersey was that of his favorite Oriole, Adam Jones, who contacted Merson after the tournament to congratulate him.
Merson became the first WSOP Main Event champion since Chris Ferguson in 2000 to have already won a bracelet in the same year as winning the Main Event.
Back-to-back final 24: Steven Gee, who finished 9th, would miraculously go on another deep run in the following year's event, finishing 24th in the 2013 WSOP Main Event for $285,408.