By Steve Beauregard
Returning down under after a successful debut, the 2014 World Series of Poker Asia-Pacific at the Crown Entertainment Complex in Melbourne Australia would provide both excitement for poker fans and disappointing numbers for tournament officials.
The 2014 WSOP APAC doubled the number of bracelet events held, with ten on the docket. The promise of golden hardware would bring the big name international tournament pros to Australia, but overall numbers were unimpressive, and down from the comparable events held at the 2013 WSOP APAC.
The good news was an exciting, down-to-the-wire race in the WSOP Player of the Year race between German George Danzer and American Brandon Shack-Harris.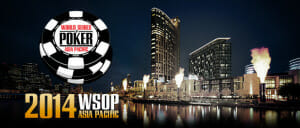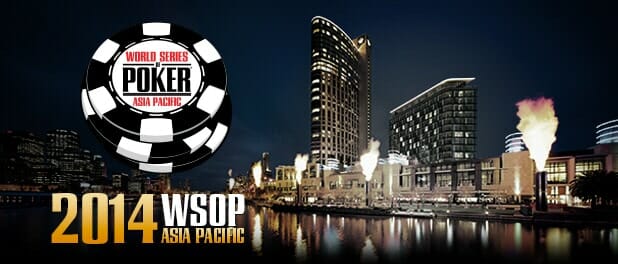 Shack-Harris would come into the WSOP APAC leading the race, with Danzer a little behind. The lead, however would go back-and-forth several times during the series.
2014 WSOP APAC Results
Here are the results and recaps of the 2014 WSOP APAC (all entry fees are in Australian dollars, which is pretty close to being equal to the U.S. dollar).
Event #1: $1,100 No-Limit Hold'em
This unique re-buy and bounty tournament had 611 runners, down from the thousand plus who played in the same event in the 2013WSOP APAC.
George Danzer would finish 22nd in this tournament, overtaking Shak-Harris for the WSOP Player of the Year race. (Shack-Harris had finished 53rd).
The all-Australian final table full of poker nobodies may have made the locals happy, but it was a ho-hummer for poker fans who enjoy watching the pros battle it out.
In the end, an Aussie named Luke Brabin won his first bracelet, and $131,365.
EVENT #2: $2,200 No-Limit Hold'em
Just 265 players pony upped the 2,200 Australian dollars for this no-limit event. It was another no-name final table, and an all Asian/Australian one to boot, which I guess is fitting for a tournament that has "Asia Pacific" in its name.
Canadian Samuel Ngai from Edmonton was the lone outcast, but he finished 6th. The bracelet and $107,500 first place money was collected by Jay Loo, of Malaysia. Loo must love this tournament, as he saw his second WSOP APAC final table. The previous year, Loo had finished 3rd in the 2013 WSOP APAC $1,100 No-Limit tourney.
Veteran Las Vegas pro Dan Heimiller almost made another WSOP final table, finishing in 11th place. That's not really noteworthy, other than the fact that Heimiller sucked out on me to knock me out late in a $225 WSOP Main Event super satellite back in 2004 at Binion's. (Not that I'm still bitter).
EVENT #3 $1,650 Pot-Limit Omaha
The first big poker news of the tournament arose from this event, when Jeffrey Lisandro beat out the modest field of 123 runners to capture his 6th bracelet.
Multi-bracelet winner Mel Judah would bubble the final table, finishing 10th.
EVENT #4 $1,650 Terminator No-Limit Hold'em
Two hundred and fifty players entered this unique event. Popular in Australian poker rooms, a "terminator" tournament is one in which every player has a bounty on their head. In this case, a player who eliminated another person collected a $500 bounty.
Australian Scott Calcagno was the only player not terminated, and wound up with a gold WSOP bracelet, several $500 cash bounties in his pocket, and first place prize money of $67,245.
Perhaps more noteworthy at the time, Brandon Shack-Harris final tabled the event, finishing in 6th place and retaking the WSOP Player of the Year points lead over George Danzer.
EVENT #5 $5,000 Pot-Limit Omaha
Just eighty players entered this event, which saw Australian Sam Higgs capture his first bracelet and $127,843 prize money.
Canada's "Sir Watts," Mike Watson, was the runner up, while 2010 WSOP Main Event champ Jonathan Duhamel finished 3rd.
EVENT #6 $1,650 Dealer's Choice – 8 Game Mix
Eighty-nine players took part in this tournament's unique format, which requires extensive knowledge in eight different poker disciplines.
Samuel Ngai made his second final table of the 2014 WSOP APAC, as would Jason Gray. With a final table under his belt in 2013, Gray has 3 WSOP APAC final tables to his name, which is impressive considering at the time, there were only 15 WSOP APAC events.
Australian Rory Young from Sidney took home his first bracelet, along with $42,720 in cash. Two-time bracelet winner Brian Rast would come up short in third place.
The event also saw the WSOP Player of the Year leaderboard nearly change hands yet again. However George Danzer's impressive 6th place finish wouldn't be enough, as he remained just a few points behind Shack-Harris.
EVENT #7 $2,200 6-Handed No-Limit Hold'em
Brazil's Bruno Politano would make his second WSOP final table of the year in this event. (The other one was a little tourney called the WSOP Main Event). The November Niner would finish 6th here.
The eventual winner was yet another Aussie, Alexander Antonious, who won $128,784 by beating out 242 other players – among them, Phil Hellmuth, who finished 4th. It was Hellmuth's 51st WSOP final table appearance.
EVENT #8 $5,000 Mixed Event – 8 Game Mix
You combine a big buy-in tournament, an intimidating schedule of eight different poker varieties, and host it in a far off corner of the globe and what do you get?
48 entrants.
One of the smallest WSOP bracelet fields outside of the One Drop featured a final table that included two-time bracelet winner Scott Clements, and former Main Event champ Jonathan Duhamel in his second final table at the 2014 APAC.
In the end, however, it was…..George Danzer, whose win and $84,600 payday helped him surpass Shack-Harris in WSOP POY points. Danzer's win was his 3rd bracelet of the year (he won two in Las Vegas earlier), making him only the 6th poker player in history to capture the gold thrice in one year.
EVENT #9 $10,000 WSOP APAC Main Event
The main event saw a field of 329 players. All eyes were on Brandon Shack-Harris, who would need a deep run in the tournament to surpass Danzer.
And he got it.
Yet Brandon's 17th place finish would still put him a little behind Danzer, with one tournament to play.
American-turned-Canuck Scott Davies captured the Main Event bracelet, winning $850,136. The only notable at the final table was two time bracelet winner Frank Kassela, who would finish 5th.
EVENT #10 High Roller: $25,000 No-Limit Hold'em
Beating out a field of just 68 players, Mike Leah of Canada took home the bracelet and $600,000 Australian dollars. The impressive final table included 2012 WSOP Main Event runner-up Jessie Sylvia, 2010 WSOP Main Event champion Jonathan Duhamel (again), and Brian Roberts.
Sam Higgs, who a few days earlier won event #5, finished 7th. Like Jonathan Duhamel, the High Roller event was Sam Higgs's third WSOP APAC final table, out of 15 tournaments total.
In the POY race, Shack-Harris had a promising run in the final tournament, however he'd lose his all-in bet with a set of queens to a pair of aces that eventually improved. When the dust was settled, the American finished in a tough second place final position behind Danzer.
(Photo of the Crown courtesy of Abir Anwar via Flickr).