By Steve Beauregard
Picking among the best Las Vegas poker rooms can be very subjective. After all, for some players, a small, laid-back room like the Flamingo Poker Room would be a top choice, whereas others prefer a rollicking, loud room with plenty of eye-candy walking by, like at the MGM Grand's poker room.
So I understand the Vegas poker dens listed below may not suit everybody, but you should definitely be able to enjoy getting your poker fix in at least one of the following joints.
Bellagio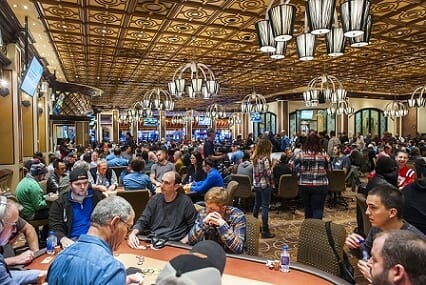 Playing at the Bellagio is like being in an abusive relationship: they keep mistreating you, let you keep coming back for more.
Despite the sometimes crowded conditions, inattentive waitress staff, disinterested management, and chaotic waiting list organization, the Bellagio Poker Room is the best poker room in Las Vegas. It's hosted some of the high stakes in the world, yet accommodates low rollers.
Where else can a low-limit tourist fish like me, bring $200 and play cards for hours literally a few feet away from top pros like Doyle Brunson (although he's there much less now I understand), Chau Giang, Sammy Farha, and others, as they toss thousand dollar chips from their seats within the glassed-in confines of the elegant, (and guarded), Bobby's Room.
The Bellagio Poker room is around 7,000 square feet in space, (half the size of the Venetian), and has 40 tables. Each year, since the poker boom began back in the early 2000's, it has played host to a stop on the World Poker Tour. The room is next door to the sports books, and has very easy access to bathrooms. Uninteresting but creepy side note: I met Celine Dion's husband in this bathroom. Yes I had been drinking.
Back to the room, which is designed in that classy, whimsical Bellagio look. I'm not into designing, so I won't even try to describe it, but it somehow just feels right when you're sitting there, with your Crown and Coke, and your stack of chips in front of you, and nothing to do for hours but watch football and joke around with other players and play the game you love. It doesn't hurt that I've been seated with some of the worst players in the world here, including a foreign women who didn't even know how to read her hand. Happy times.
You can reach the Bellagio here: www.Bellagio.com
(Go here to see what was the first casino on the Las Vegas Strip.)
Aria
This is the newer kid on the block – if the new kid on the block lived in a house that cost $9 billion dollars.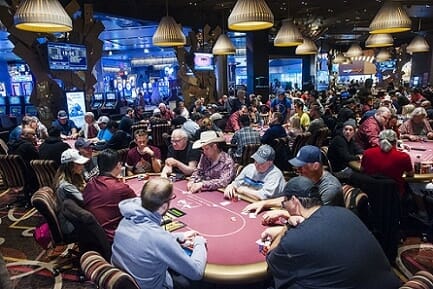 Every time I've tried to play here, the waiting lists were long. That's good news for the Aria, bad news for me. Everyone seems to love this newer room, and many of the higher-limit games have moved from the Bellagio over here to Table 1 (previously known as Ivey's Room).
Between a wide selection of constantly running no-limit games, comfortable seating, elegant decor, USB chargers at the tables, digital menus in which to order table-side meals, and very attractive cocktail waitresses, the Aria is often ranked in player surveys as the best poker room in Las Vegas.
For those of you like me, who mainly stick to limit hold'em, the game selection seems to be slim pickings. Fortunately, you can always hop on the free Las Vegas tram that goes to the Bellagio, where limit hold'em games from $4/$8 on up are run consistently.
The Aria poker room has a very popular daily tournament, which starts 7 PM, with a $140 buy-in.
Monday through Thursday, the have a $140 buy-in tournament at 1 PM as well. On Friday, Saturday and Sunday, they run a 11 AM tournament in which the buy-in is $240.
Venetian
Home to the popular Deep Stack tourneys, and very spacious in size, the Venetian Poker Room has been a Strip favorite for awhile now.
The room is said to be pushing 14,000 square feet in space, with 37 tables. Twenty-one flat screen TV surround the room, for those of you longing for some ESPN to ward off the boredom during stretches when all you see are hands like 3/8 off-suit for hours on end.
In addition to lots of tables, the Venetian Poker room is one of the few Strip poker rooms to offer a bad beat jackpot. Recently the jackpot was $219,000 with quad jacks beaten as the qualifier. They also have high hand promotions.
Of course they offer all sorts of limits, starting at $4/8 for limit hold'em and $1/3 no-limit. They also spread Omaha. And while I personally don't play it, my understanding is that the Venetian Poker Room is one of the few in town to offer Stud.
The Venetian's poker tournaments are very popular, due to the large stacks you start out with, combined with an excellent structure. They are also well organized.
There are two tournaments held daily, seven days a week. One begins at 12:10 PM, while the other starts at 6:10 PM.
Buy-ins range from $125 to $150 on weekdays and nights, up to a $340 buy-in double stack tournament on Saturday afternoons.
These tournaments usually get between 50 and 100 runners, with the first place price typically in the $1,000 to $3,000 range.
The Venetian also offers players a special discounted poker room rate. You have to play at least six hours each discounted night, and rates start at $99 up to $279, (depending on the day and time of year). This rate does not include the resort fee.
You also receive $1 per hour played in comps here. They also offer high-hand giveaways and recently, a $600 giveaway to a random player drawn each hour.
Overall, the poker room at the Venetian is a large, yet intimate and classy venue. They say many of the local Las Vegas sharks do most of their feeding there, but if you're like me, and your bankroll keeps you at the low limits, you'll share table space with your fair share of donks.
MGM Grand
While not as big as the 22 table fancy area it used to inhabit, still give this room a good rating for the poor quality of play here, and because it's situated in one of the world's largest hotels, meaning there's nearly always a good game running.
Still, this is a room in which you have to be in the right mood. It's located near the Strip entrance of the casino, by the sports book. Between the loud music pumping, the gorgeous women walking by going to Hakkasan, and the screaming cheers (or moans), from the sports and race book nearby, your senses get a walloping here.
On the plus side, you get a well-run room with 14 tables comfortably spread out. Another benefit to being the loud, party poker room, is that you're likely to find yourself at a table full of drunks. Granted, that's similar to Thanksgiving at my in-laws, but at least these guys are throwing money loosely around.
Other than a long stretch of bad cards, I've never had a bad time here. Yes, you'll occasionally get your ultra-serious sunglasses-wearing, iPod-listening, hoodie-attired, wanna-be pro, but more likely than not, you're going to be surrounded by young guys wanting to get drunk first, and play cards second.
Tournaments at the MGM Grand Poker room are a little cheaper than the other rooms on this list. For example, they have a daily 2:05 PM and 10:05 PM tournament with just a $65 entry fee. The two other daily tournaments are at 11:05 AM and 7:05 PM, both costing you $100.
As with the Aria and Bellagio, the MGM Grand is part of the MGM Resorts family, so be sure to have the dealer swipe your M-Life card when you first sit down to score your hourly comps.
They spread mostly $1/2 No-limit here, along with a $2-$6 spread limit game and $4/8 limit hold'em.
We'll review some of the other places on this site, (and there are many worthy rooms, including Caesars Palace and the Mirage), but as a general rule, the Bellagio, Venetian, Aria and MGM Grand are some of the best poker rooms in Las Vegas.
Poker Rooms That Previously Made This List But Have Since Closed
(In November 2020, MGM Resorts they were permanently closing poker rooms at Mandalay Bay, Excalibur and The Mirage, which I originally wrote about below).
Mirage
I gave this room another shot in early 2020 and was pleasantly surprised.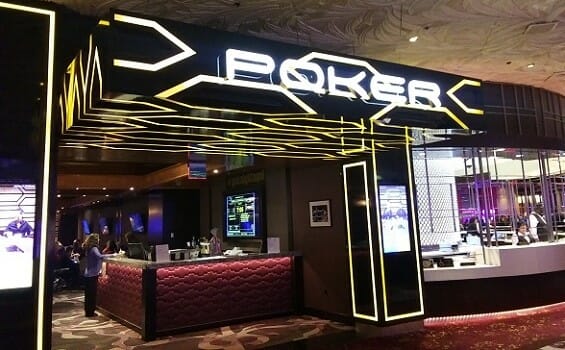 The room is it's own small area, to the right of the resort's massive sports book. For low-limit players like me, it's one of those few rooms on the Strip to sill offer a limit game. In this case, a couple of tables running $3/6 limit hold em.
Of course, there's the requisite $1/2 no-limit hold'em, but Stud and Omaha are offered as well (call for availability). When I was playing there, a group of locals met for their weekly mix game, helping give the room a friendly vibe. Drink service and dealers were both friendly and efficient.
The Mirage poker room had four daily tournaments, with a $65 buy-in.
(Bellagio and Venetian photos courtesy of World Poker Tour via Flickr.)