By Steve Beauregard
While not as popular as in the poker boom days, Black Hawk still has a robust poker scene, with 3 poker rooms in town.
There are cash games every night, daily tournaments, and even some nationally-televised big tournaments held twice a year.
From $40 tourneys, to prestigious big buy-in events where the winner receives a quarter of a million dollars in cash, there are some, but not a lot, of options for the Colorado poker player who loves to play tournaments.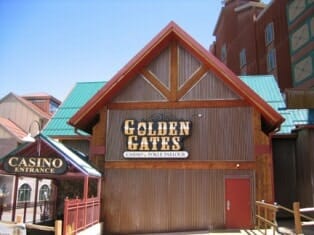 If you're new to the area, or just traveling through, looking for some action, you should know that Colorado has a $100 maximum bet on all casino games (including poker).
What this means is that $1 – $100 spread-limit hold'em has become the bread and butter of most card rooms in the state, including Black Hawk. The second most commonly-found game is the $2 -5 – $100 spread limit game. There are no, "no-limit hold'em" poker games of any kind in a licensed Colorado casino.
Those of you not familiar with the spread-limit game may want to brush up on it before heading for the hills, but basically a $1 – $100 game is just like regular limit hold'em game, only instead of a fixed amount, you're allowed to bet anywhere from $1 to $100 on each and every round. Raises and re-raises have to be in increments greater to, or equal than, the original bet on that street. For most rooms, there is a maximum of one raise and 4 re-raises allowed per round.
Black Hawk, Colorado has three poker rooms:
Ameristar
Golden Gates
The Isle of Capri
Only one these rooms offer tournaments. More importantly for those of us who love to play, all have managed to keep their poker rooms open, and in some cases thrive, despite the poker slowdown from its boom days in the early to late 2000's.
Here's a quick look at each of these Blackhawk poker rooms.
Ameristar Casino Blackhawk
The most popular card room in Black Hawk deserves its own page, and it gets one here: Ameristar Blackhawk Poker Room.
But as a general overview, the Ameristar does not offer any poker tournaments. This 22 table room does offer the most cash games in Colorado, mostly of the $1 to $100 spread limit hold'em variety.
They also run a $2 – $5 – $100 spread limit game, $4/$8 (sometimes), and $30/60 limit, of which there seems to always be at least one table going, and often two tables.
Other limits are available should there be interest, (but aside from the occasional $50/$100 limit game, there never is). The Ameristar gives poker players $1/hour food comps, and they have a bad beat jackpot, where the qualifier is quads beaten.
Golden Gates Casino and Poker Parlour
The poker room at the Golden Gates is the most famous in town, as this 18 table room annually hosts two stops in the televised and increasingly popular Heartland Poker Tour. The timing of these stops changes from year-to-year, but roughly they're scheduled in February and September. This is one of, (if not THE) most well-attended HPT stop in the entire country, and the main event first prize is usually in the 1/4 million dollar range. Not bad for a $1,650 buy-in.
HISTORY OF HPT IN COLORADO

The @gates_poker room has been a staple on the HPT circuit since 2007. Events here in Black Hawk draw some of the largest fields the tour sees all year. Here are some stats from over the years…

This is the 26th HPT series a… https://t.co/S8La5ugZTn pic.twitter.com/FGaPURWhPW

— HPT Updates (@HPTUpdates) July 21, 2018
The two weeks leading up to both HPT stops sees the Golden Gates bursting at the seams with wannabes like me, trying to satellite into the main event. Satellites into the qualifier run until late at night (but not 24/7), and both single table and multi-table satellites are spread, with the lowest starting at $50 if I remember correctly.
Besides the two HPT events, the poker room hosts both the "Colorado Poker Championship" in May, August and December, and two stops on the Mid States Poker Tour, in April and November.
While I don't know the exact square footage numbers, the Golden Gates appears to be that rare casino in which the poker room is larger than the casino floor. This poker room has carved out its niche as THE destination for tournament poker in Colorado. They've done this by hosting the Heartland Poker Tour, and by running by far the most tournaments in Black Hawk/Central City areas.
Every day, seven days a week, the Golden Gates has at least 3 tournaments, running at 10 AM, Noon, and 7 PM.
Here's the schedule:
10 AM: a $40 buy-in, seven days a week.

Noon: (Monday – Thursday): $80

Noon: (Friday & Sunday): $200

Noon (Saturday): $300

7 PM (Sunday – Thursday): $60

7 PM (Friday and Saturday): $140
These are all no-limit hold'em of course.
On Fridays, Saturdays and Sundays, the Noon tournaments are deepstack events. The blinds last 30 minutes a round, and you start off with at least $25,000 in your chip stack.
While the Golden Gates also used to run a Thursday 6 PM Omaha/H.O.R.S.E. tournament with a $100 entry fee, that seems to have ended.
The cash games sort of get drowned out by all of the tournament buzz, but there are always spread-limit games, and even some limit hold'em games on occasion.
The Golden Gates offers players $2 per hour in comps, regardless of the limit.
In addition, there are high hand promotions, with the high hand each qualifying hour paying out $50. ($600 on Saturdays).
The room also offers a bad beat jackpot, with a four-of-a-kind as the losing qualifier. After the $40,000 progressive is reached, the bad beat hands descend one hand, for each day the jackpot is not hit.
Golden Gates also runssort of rake back promotion, in which a player who logs in 20 hours of play a week gets $100. Thirty hours of play a week gets you $150, while 40 hours will get you $200.
Isle of Capri
An underrated room on the Black Hawk, Colorado poker scene, the Isle of Capri has a small, but very plush and comfortable poker room.
Here's a full page devoted to the Isle of Capri Blackhawk Poker Room, but we'll just inform you here that the Isle of Capri does not have any poker tournaments.
They spread both the usual $1/2 $100 limit cash games and now (after merging with the now-closed Lady Luck Poker room) a $2-10 spread limit hold'em game. They also have a bad beat jackpot and free hotel room stays (Sunday-Thursday) for players who rack up six hours of play a day.
(Go here to find out driving distances and directions from Denver to Blackhawk)
**********
Overall, the Blackhawk, Colorado poker scene is not real strong in terms of regular tournaments, however there can be waiting lists pushing nearly 100 players deep when the Ameristar bad bead jackpot is high or the qualifying hand is low. In addition, the Golden Gates is wall-to-wall players during HPT stops.
Despite the recent closings of some Black Hawk poker rooms, there remains some great tournaments and cash games. Between the generous comps, comfortable rooms, and soft play – and trust me there IS soft play – you may want to head up to the hills for some hold'em.
Closed Poker Rooms in Black Hawk
Lady Luck
(UPDATE: The Lady Luck poker room closed and merged with the Isle of Capri room in July of 2018. (The two resorts are attached). Below is the original write-up of what was one of my favorite little poker rooms).
The Lady Luck is across the skyway from the Isle of Capri, (they're owned by the same company), and is your low-limit hold'em headquarters.
This comfy, cozy little 5 table poker room upstairs seems to always have either a $2 – $5 spread limit game (the lowest limit hold'em game in Blackhawk), or a $2 – $10 spread limit game.
The room attracts a loyal following – maybe because they're the only ones who regularly run the low limit games. They're also the only room that has a room share with their bad beat jackpot (I believe). Their BBJ qualifier is just Aces over Jacks, the last time I played.
The Lady Luck runs two tournaments per week, on weekends only. These $60 buy-in events are fast-moving affairs, with just 15 minute rounds. I lasted an hour, with a decent chip stack, but was still only 10 BBs deep.
The tourneys run Friday at 7 PM and on Saturday at 2 PM.
Cash game players get $2 an hour food comps here, but $10 food vouchers are given with just one hour of play on Mondays and Wednesdays.
The Lady Luck Poker room also has a bad beat jackpot. The qualifier starts at Aces full of Kings, and begins decreasing if and when the jackpot reaches Aces full of Kings. Recently the qualifying bad beat losing hand was just Aces full of sevens.
There's also a Monte Carlo Jackpot that pays out for royal flushes, straight flushes, and any four of a kind.
This is a relaxing, friendly, low-limit room, even if some of the regulars are jerks.
The Lodge Casino and Poker Room
(UPDATE: On September 1, 2016, the Lodge Casino closed their once-popular poker room. Below is the article I had written about it).
For years, back when Colorado had a $5 limit on all bets, the Lodge Casino's poker room was the biggest, and busiest in town. For some reason however, almost all of the traffic has moved across the street to the Ameristar.
That's a shame, because the poker room at the Lodge was always well run, and usually had a huge bad beat jackpot. They'd also provide the players with two different kinds of delicious soup. I know it sounds like I'm joking about having soup as a feature, but it was really good soup.
Today the Lodge and their 12 tables is much quieter, and on a Sunday afternoon you're likely to see only one table running (the requisite $1 – $100 spread limit) game. Players receive $2 per hour food comps, or $1 cash instead.
Occasionally, when the bad beat jackpot gets huge, (as it was recently when management combined the three different jackpots into a $400,000 plus monster), The Lodge sees the hustle and bustle of its glory days. The room has recently has been designated as the exclusive WSOP satellite poker room in Colorado, so that may help too, at least during the weeks leading up to the World Series of Poker.
On the tournament front, The Lodge's hosts a daily Noon tourney, ($80 entry fee), Monday through Friday, and a nightly $100 tournament at 7 p.m., also Monday through Friday.
On Saturday, they run one tournament, a $100 buy-in at Noon, while on Sunday, they offer a Noon and 7 p.m. tournament – both of which have $100 entry fees.