By Steve Beauregard
In a poker world full of con-men, crazies, and personalities, Jean-Robert Bellande may be the most interesting character out there.
Bellande has been a pool hustler, nightclub promoter, professional poker player and reality show contestant. He's currently a poker ambassador for the Aria Hotel and Casino's poker room and remains active in high stakes games, as well as the poker tournament scene.
Born in September of 1970 in New York, Bellande grew up in Taiwan (he speaks Mandarin), where his dad worked for the US government and where his mom was a missionary. After graduating from high school in Taiwan, he made his way to Southern California, where he attended Azusa Pacific University in Los Angeles.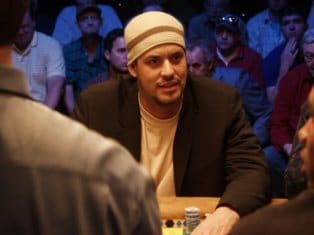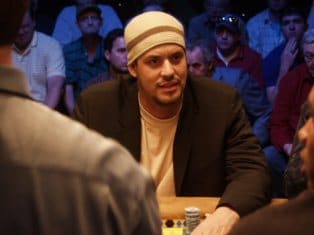 Graduating with a marketing degree, he began promoting clubs in the L.A. area – a job he described as, "bringing in hot girls and big spenders." He eventually opened his own club in Los Angeles.
After shutting the club, he began hustling pool there, but was very unsuccessful at first. Soon however, he says he was able to make $40,000 to $50,000 hustling pool.
Always fascinated by Las Vegas and the gambling world, Bellande stopped by a casino where he made a 20,000 score playing California blackjack.
Cash in hand, he decided to jump into a $6/$12 limit hold'em game at the same casino. However he soon found the stakes too low. He eventually found himself in a $80/$160 mix game – an outrageously high game for experienced players, much less for a newbie like Bellande.
As a result, the former Bodog.com sponsored pro lost $13,000 his first night playing poker.
He eventually got better and some contacts in the poker world, which led to a gig hosting a no-limit poker game in Prague, of all places.
Bellande made his way back to the United States, where he has become one of the biggest and most recognized personalities in poker. Part of the fascination is his persona of that of a broke poker player living the dream.
He told the 2+2 Poker Podcast that he once showed up to the PartyPoker.com cruise without a ticket, a cabin, and with just $200 in his pocket, yet ended up staying in a suite and playing every event.
Staking has been a big part of his ability to play and travel beyond his means. He's been staked by his good friend, Joe Cassidy (he lived in Cassidy's Las Vegas golf course house for a period), Tom Franklin, Huck Seed, Ben Lamb, Billy Baxter (famous for staking Stu Ungar in his 1997 WSOP Main Event win), and Jeff Lisandro.
His first notable score was a $63,000 3rd place finish at the Five Diamond World Poker Classic Event at the Bellagio in December of 2004. The tournament was won by the Grinder, Michael Mizrachi.
(Here's video of a Bellande/Phil Hellmuth confrontation on "Poker After Dark").
Bellande's breakthrough event, (in more ways than one), was a $10,000 buy-in WSOP Circuit Event at the Rio Hotel and Casino in Las Vegas in March of 2005.
The tournament was broadcast on ESPN and was an introduction of sorts of the Bellande personality to the poker world at large. His table demeanor was that of a brash, in-your-face aggressor, but also with some likeability and charm tossed into the mix. This episode reportedly caught the eye of producers of CBS's "Survivor" reality show. His eventual third-place finish in the tournament paid out $210,000, but he had only about 1/3rd of himself in it.
Just seven days later, at the popular Winnin 'o' the Green in Los Angeles, he collected a first place finish in a $2,500 no-limit event, good for a $148,000 win.
Fifteen days after that win, Bellande continued his incredible four-month when – on April 11th – he finished second in a WPT preliminary event at the Bellagio: the $2,000 no-limit event at the Five-Star World Poker Classic. The $123,000 score meant that within 130 days, Jean-Robert had a 3rd place finish, two 2nd places and a win, totaling over $1 million in winnings.
Because of his success, and aggressive personality, he was just one of six professionals to be invited to be on the World Poker Tour's "Bad Boys of Poker II" tournament. The game included players such as Phil Hellmuth, Gus Hansen, Men Nguyen, Mike Matusow and Tony G. Bellande finished out of the money in 4th place.
In the 2008 WSOP, Bellande final tabled the $1,500 Limit Hold'em Shoot Out. He ended up heads-up with a nine-to-one chip lead, but couldn't close the deal. His second place finish however did net him $173,564.
A few weeks later, Jean-Robert Bellande would began the first of what would be several deep runs in the World Series of Poker $10,000 Main Event. He finished 442nd out of 6,844 players, good for $27,000.
Two years later, in the 2010 Main Event, his 78th place finish out of 7,319 entrants netted him $94,942. The following year, Bellande finished 65th, winning $108,412 in the process.
In the 2013 WSOP Main Event, Bellande had a huge stack on Day 2 of the tournament, but lost most of it when going all-in pre-flop with Kings vs. Aces, naturally.
Nevertheless, his run of back-to-back top 80 finishes in poker's most prestigious (and largest) tournament has helped establish Bellande as a main event player to be reckoned with, even if he had a very small piece of himself during both of the deep runs.
More recently, at the WPT's Doyle Brunson's Five Diamond World Poker Classic (the same tournament in which he made his first big score back in 2004), Bellande held the chip lead with just 17 players left. He wasn't able to hold on however, nor even make the final table – finishing in 10th place for $52,079.
Jean Robert Bellande Twitter
Between sharing the Las Vegas balla lifestyle, and broadcasting his incredible bankroll swings, Bellande's Twitter handle, @brokelivingJRB has become very popular in the poker community, attracting over 50,000 followers.
Jean-Robert Bellande on Survivor China
Bellande was selected to appear on Survivor China, where he was eventually voted out in 8th place. Fellow professional poker players Daniel Negreanu and Clonie Gowen were reportedly the producers' first choices.
Bellande has said the worst part of filming the reality shows were the nights, as the rain and the constant presence of bugs made sleep impossible and life miserable.
In addition to Survivor, Bellande has appeared on NBC's Heads-Up Championship, ESPN's WSOP broadcasts, WPT broadcasts, and "Poker After Dark."
Today, Jean-Robert Bellande continues his tournament and cash-game play. A more stable form of income comes from his position as ambassador of poker for the Aria and for Ivey's Room – for which he receives paychecks and benefits from the Aria.
Bellande says he plays the $200/400 mix games at Aria (and $300/600), as well as some 5/10 No-limit and 10/20 NL.
He told the poker podcast that he has played $2,000 a point open faced Chinese Poker and – true to his gambling nature – a one-time short-lived night of $2K/4K no-limit. He said that while up $180,000 at one point, he left the game even.