The Caesars Palace poker room (the current version opened in June 2014), is a lively, busy room that is great for the casual $1/3 no-limit hold'em player, or the more experienced $2/5 NL player. They also run four no-limit hold'em tournaments daily.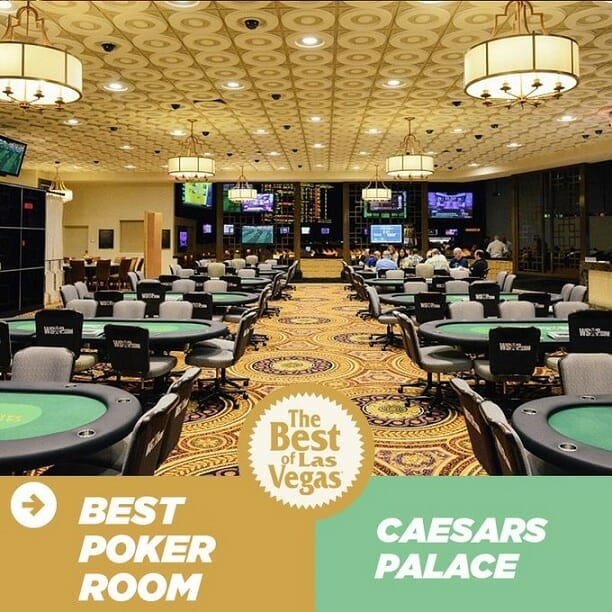 Poker is not always considered a huge money maker for the casino, so Caesars commitment to a having a prominent poker room is a welcome development, in this era when many Las Vegas casinos have closed their rooms.
The room is situated to the left of Caesars' famous giant sports book, on the way to the Colosseum. As a result, it gets a ton of passer by traffic, both from casino patrons making their way to the sports book, as well as from folks leaving one of the popular shows at the Colosseum.
The poker room has great energy, partly due to its location out in the open. Plus it is still a real poker room, as compared to some other casinos, where the poker room is just a simple roped off area by the slot machines.
Besides the comfortable chairs, there are plenty of flat screen TVs for you the catch a game or watch highlights. In the back section are large paintings by renowned sports artist, Leroy Neiman, along with classic photos reflecting some great moments in sports history, including boxing events that took place at Caesars Palace back in the day.
(Go here for a list of the best poker rooms in Las Vegas).
Size at Game Selection
Caesars Palace's poker room has 4,500 square feet and 16 tables.
As for game selection, there is the usual allotment of $1/3 no-limit tables always running, along with (often), a surprisingly high number of $2/5 no-limit (sometimes 5 tables running). The Caesars poker room does not spread limit hold'em games a lot, but in the past, they have had the rare Las Vegas $3/$6 Limit Hold'em game running.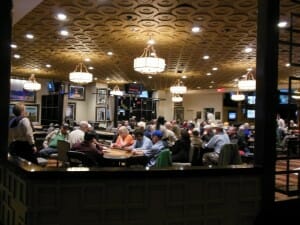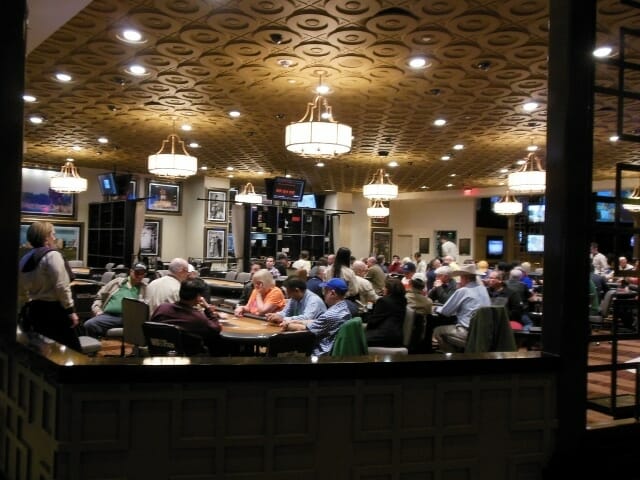 You can call them ahead of time and request a game. According to their page on the Bravo Poker App, the Caesars Palace Poker room is willing to spread games like 1-2-5 Pot-Limit Omaha, mixed games, limit hold'em of course, as wall as higher no-limit games, like $5/10.
Autoshufflers are used here, and drink service by the toga-clad cocktail waitress is quick and efficient. The tables have wi-fi and a USB charging ports in every seat.
Caesars Palace Poker Tournament Schedule
The room's previously busy schedule of numerous tournaments has been condensed into four daily tourneys, held seven days a week. Starting times and buy-ins are as follows:
| | | |
| --- | --- | --- |
| Time | Buy-In | Guaranteed Prize Pool |
| 10 AM | $100 | $1,000 |
| 2 PM | $150 | $2,000 |
| 6 PM | $100 | $1,000 |
| 9 PM | $150 | $2,000 |
You'll start off with 15,000 chips. In each tournament, you have the chance for a 10,000 chip add-on at the first break, for $50 extra. Of course, each tournament is no-limit Texas Hold'em and has twenty minute levels.
The Caesars Palace poker room, doesn't do any sort of high hand jackpots, or bad beat jackpots, although they will, on occasion, have WSOP $1,500 and $1,000 seat giveaway promotions, in which players who notch at least 10 recorded hours of play per week get an entry to the drawing.
In the past, they have also run promotions in which cash game players who get four of a kind gain free entry into one of the daily tournaments.
Like the casino itself, Caesars' poker room is open 24 hours a day.
More About the Poker Room at Caesars Palace
The room is a great improvement from its previous location, which was to the right of the sportsbook, next to the now-shuttered Pure nightclub. The prior space was much larger, and quieter, but situated down a long hall. It (the poker room), was quiet, sterile, and devoid of the energy found in its new location. While large and spacious (it was host to NBC's National Heads-Up Poker Championship), the room gave off the vibe of a banquet hall at a Sheraton.
Its location tucked away and down a hall prevented the kind of walk-up traffic from curious onlookers the new location attracts. The old poker room space has since been converted into uber nightclub, Omnia.
In 2015, readers of the Las Vegas Review Journal ranked the new room as the best poker room in Las Vegas.
Caesars Palace Poker Room Phone Number and Twitter
Phone number: (702) 785-6566
Twitter Handle: @CLVPoker
(By Steve Beauregard. Top photo courtesy of the Caesars Place Poker Room Twitter page. Other photo from Gamboool.com.)