By Steve Beauregard
Whether you're a serious poker player, casual fan, or simply someone who is intrigued by the high-stakes world of Las Vegas, you owe it to yourself to read "Check-Raising the Devil" – Mike Matusow's fascinating peek into his life as a degenerate, former drug-addicted, successful professional poker player.
Although I read lots of books, I rarely buy them. However I've bought "Check-Raising the Devil" and have read it three times. If you have even the slightest interest in the WSOP or big-time poker, you'll enjoy it as well, despite the author's well-earned reputation as one of the least-likeable people in poker.
The book is Mike "the Mouth" Matusow's autobiography. It chronicles his rise from a life as a trailer-park dwelling degenerate video poker player who slacks off of work at his parent's furniture store, to an internationally-known hard-partying celebrity making millions of dollars a year.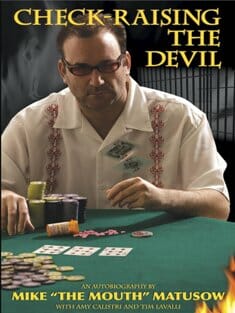 The book, which was co-authored by poker reporter Amy Calistri and also by Tim Lavalli, describes in detail (sometimes TOO much detail), Matusow's exploits with sports betting, sex, drugs, strippers, mental health issues, and the justice system. These are all set against the background of the increasing popular televised Texas Hold'em tournament poker craze, and next to a roller-coaster ride of emotions Matusow experiences as his bankroll fluctuates wildly from year-to-year.
"Check-Raising the Devil" takes us from Matusow's aimless beginnings at the furniture store, where he basically lived off of his parent's generosity, to the top of the poker world – a journey that began after a fortuitous encounter with a friend who introduces Matusow to the game.
Chapters of the book methodically describe his quick rise to the ranks of full-time professional poker player. Along the way, we're introduced to fellow players, backers, cheats, police officers, and given hints of the famous Matusow bouts of craziness and degeneracy that are fascinating to read, but tough to stomach.
For example, Mike writes about a typical cycle in which he'd build up a huge bankroll of $10,000, (which he had acquired grinding mid-stakes limit hold'em in places like Binion's), then blow the whole wad betting on sports.
Mike spends much of the book describing his forays into the greatest poker tournament in the world, the WSOP. This series of poker tournaments has brought him riches, fame, heartache, and at times, well-justified public ridicule and hatred.
The book slows to a crawl during some of these chapters, when final table tournament action is sometimes broken down hand-for-hand. If you think watching Ace-King versus pocket eights all-in pre-flop races gets old on TV., try reading about them.
Still, the narrative gives us a front row look into what it must feel like to be a turn of the card away from a likely million-dollar payday.
Matusow bares it all in this book, and the chapters exploring his depression and resulting progression into the world of drug dependency are his most intimate and heartfelt.
At the same time however, it's pretty hard for everyday regular working people like myself to relate to Matusow's numerous self-described "problems."
In one early revealing chapter for example, Mike states that he fell into a deep depression immediately after the 2000 WSOP $2,500 Seven Card Stud High-Low event. Matusow had made the final table, second in chips, but was knocked out early after back-to-back bad beats for a payday of around $10,000.
Having already assumed another WSOP bracelet was his in the event, Mike says the quick exit was "devastating" and led to his first experimentation with drugs that very night while out with friends at Club Rio, atop the Rio Hotel and Casino in Las Vegas.
While bad beats can be heartbreaking, they're part of poker, so it's mystifying to the reader how Matusow could be so upset at something poker players experience daily. A professional poker player, of all people, should know variance, the probability of bad beats, and that in poker, anything can happen.
More unrelatable to me however, is how Matusow could be so depressed and "devastated" after final-tabling a WSOP event and pocketing $10,000. If earning $10,000 by sitting around playing a game in an air-conditioned room for a few hours is depressing, please sign me up for depression.
Matusow's descent into drug dependency is vividly recanted throughout many chapters. The numerous drug-infused, over-the-top scenes make for great reading. However it would have been refreshing to hear a little more regret from the Mouth about his extensive use of ecstasy, cocaine, and methamphetamines, as many of the stories come across as lame attempts at bragging, when in reality, Matusow's having use of mood-altering chemicals may have caused some level of damage to brain functioning and memory.
In a similar vein, Matusow spends much of the book attempting to justify his obnoxious behavior, if not excusing it.
Of the infamous taunt to Greg Raymer at the 2004 WSOP Main Event, Matusow says that rather than being the obnoxious a-hole he came across as on T.V., he was simply trying to send a message to Greg about how they both could benefit by staying away from each other in massive pots.
When he goes back to meth use, or coke, it's not a pathetic lack of character, but rather, a professional need to be able to "focus."
Again, the stores and narrative in general are eye-opening to the innocent, sober, sheltered readers like myself, however Matusow would have served his cause better with a little more humility, and a little less excuse-making.
Check Raising the Devil's money shot comes with the chapters detailing the author's arrest and subsequent jail time. (Go here to read the full story of why Mike Matusow went to jail).
It's here where the Mouth finally shows some vulnerability, when he gives us some insight as to his genuine fear of going to jail.
Whatever sympathy you begin to feel for Matusow quickly disappears however, when Mike continuously and repeatedly makes excuses for this drug bust. He points fingers at an undercover cop, his doctor, his friends, the prosecutor, prison guards and others for his problems.
On gets the impression that Matusow has never fully owned up to his mistakes, even after admitting to purchasing cocaine.
His quarter-million WPT Aruba tournament score and subsequent party with a 21 year-old stripper in Miami is vintage Matusow and contrasts sharply with the feel and tone of the book as Mike enters the Clark County Detention Center just days later.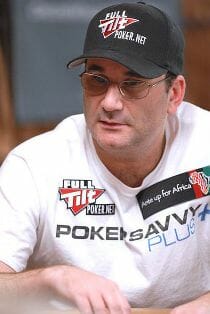 The rest of "Check-Raising the Devil" acts as sort of a redemptive comeback story.
Matusow's 2005 post-jail poker tournament record is the stuff of legends, and he gives us a titillating recap of his journeys to the 2005 WSOP Main Event final table and his first place finish in the WSOP Tournament of Champions event.
Final chapters cover Mike's legitimate victimhood in the Ultimate Bet cheating scandal, where he subtly accuses Russ Hamilton of stealing hundreds of thousands of dollars from him.
He writes about a commitment to living a healthier lifestyle, and scaling back his tournament travel. This more "boring life" could have slowed the narrative down, however Matusow's description of his 2008 WSOP comeback, in which he made yet another deep run in the Main Event, and in which he won another bracelet – this time in the $5,000 No-limit Deuce-to-Seven Lowball event – all lead to a satisfying conclusion.
Mike Matusow has led a life that makes the rest of ours seem boring. Perhaps this is why filmmakers have announced plans to turn the book into a movie.
Check-Raising the Devil Movie
In May of 2014, it was reported that film producer Adi Shankar and partners are developing a film adaptation of Matusow's autobiography. Shankar was the executive producer for "Lone Survivor."
While Mike Matusow can be obnoxious, unsportsmanlike, and hard to like, his brutally honest tales of the ups and downs in the life of a hard-partying, wealthy, successful professional poker player makes for an incredible read, and I recommend "Check-Raising the Devil" to all fans of the game.