By Steve Beauregard
From poker prince to pariah and back to champion – so goes the card career journey of one Chris "Jesus" Ferguson.
Jesus, (as he's nicknamed due to his long locks), became one of the more well-known faces of poker, during the poker boom of the early to late 2000's. Between his flat-rimmed black hat, his long hair, his beard, sunglasses and his deliberate, quiet demeanor at the table when involved in a hand, Ferguson created an intriguing opposite from the louder obnoxious Phil Hellmuths and Mike Matasows.
A self-described computer nerd, Ferguson grew up in Los Angeles and later attended UCLA for a zillion years. Actually, it was 18 years. Basically the guy is a multi-millionaire, a computer and math genius, a poker champ, talented dancer, and somehow was able to stay in college for 18 years.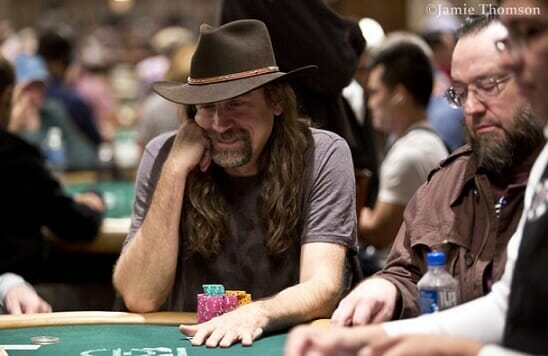 Yeah, I hate him too.
He honed his poker chops both in early poker internet sites (free sites, where you didn't play for money), and in low limit stud and hold'em games in Southern California and Las Vegas.
Chris Ferguson first cashed in a World Series of Poker Tournament in 1995, when he finished in 5th place in a $1,500 limit Razz event. (Try finding a limit razz tournament anywhere these days). He final tabled the same event the following year, and a string of high finishes in various events leading up to his poker breakthrough in 2000.
In 2000, Ferguson outlasted 511 other players, including poker legend T.J. Cloutier heads up, to take home the Main Event, along with $1.5 million dollars. The tournament and final table were immortalized in print by author and poker-fan Jim McManus in his best selling book, "Positively 5th Street."
Ironically, the act of throwing cards at fruit made Chris more famous than his World Series of Poker Main Event win. Poker hadn't gone mainstream yet when Chris won his championship; it took three more years and some cheesy promotional stunts for him to gain his poker fame.
He was featured countless times during the many broadcasts and repeats of ESPN's popular WSOP coverage in 2003 and 2004. The segments, shown between hands, will show the former champ throwing a card and slicing a banana and other fruits and vegetables. And yes, to answer your question, we DID think it was cool at the time.
Other ESPN features showed Ferguson engaged in his side passion: ballroom dancing. (Back then we'd watch anything poker related).
Overall, he has five World Series of Poker bracelets (not including the WSOP Europe). While he's known for his Main Event championship in 2000, Jesus Ferguson had collected another bracelet earlier in that series, winning the $2,500 Seven Card Stud event while taking home $151,000 in the process.
The next year, Jesus won the $1,500 Omaha Hi-Lo Split Eight or Better bracelet, good for over $164,000. He must like his Omaha Hi-Lo Split, because in 2003, he won the $2,000 buy-in event for this same game. His payday for that event was $123,000.
That same year, 2003 – the year the poker boom would start with the arrival of new amateur champion Chris Moneymaker, Chris Ferguson would scoop up his fifth bracelet in a strange tournament: the $2,000 1/2 Limit Hold'em, 1/2 Seven Card Stud event (it's no longer played at the WSOP).
In the widely watched 2004 WSOP – the one in which Greg Fossilman Raymer won the Main Event – he finished an impressive 26th place out of a field of over 2,500 players. His score for the 26th place finish was $120,000.
Since then, he's finished in a frustrating second place in various WSOP events an incredible six times, most recently in the $10K Seven Card Championship in 2017.
Overall, his WSOP earnings total $6.1 million dollars, and he's cashed in 88 events (not counting WSOP Europe tournaments or circuit events).
In the less prestigious World Series of Poker Circuit Events, Ferguson has won three rings, and cashed in six events, totaling over $1.3 million in earnings. He's also won the NBC National Heads-Up Poker Tournament – finishing second on two other occasions.
Chris Ferguson and the 10K challenge
For Ferguson, the passion for poker has always seemed to be more about strategy and the metal challenge of game theories rather than the chase for the dollar. There's no better evidence of this than his 0 to $10,000 challenge.
There were a lot stunts and bankroll challenges during the poker boom, but few captured the poker world's attention as much as Jesus much-publicized run.
On at least two different occasions, beginning in 2006, Ferguson challenged (and succeeded), in starting a Full Tilt account with absolutely nothing in it, and turning it into at least $10,000.
He accomplished this by playing freerolls, in which the winner eventually gets a very small amount of money, or an entry into a play-for-money tournament. It reportedly took several months before his freeroll play turned into six dollars. This, to me, is an impressive feat in and of itself. I know if I had millions in the bank and were receiving monthly checks for hundreds of thousands of dollars (as Chris had from his ownership of Full Tilt), I wouldn't have the patience to slum in the freeroll pool.
Nevertheless, Chris took this challenge seriously, adhering to a super strict bankroll guideline, in which he never put more than 5% of his bankroll in play in any one game. Furthermore, he wouldn't allow himself to pay more than 2% of his bankroll for a tournament entry. He also forced himself to quit when his chips equaled more than 10% of his total bankroll.
Early in the $10K challenge, Ferguson "went broke" playing .05/.10 cent no-limit hold'em, and was forced to go back to the freerolls. All told, he says it took him nine months to get from 0 to $100, and another nine months to get to the magical $10,000.
The challenge has since been adopted by online players everywhere, with varying results that probably correlate to how much discipline you have.
Full Tilt Scandal
As a poker player and computer whiz, it was probably naturally that Ferguson would help develop the software for what would become one of the world's largest online poker sites, Full Tilt Poker.
And while the site's popularity exploded, (making the company and its ownership a fortune in rake), the U.S. Government's shut-down of poker sites on April 15, 2011, (Black Friday), lead to Full Tilt's business crashing almost as quickly as it had grown.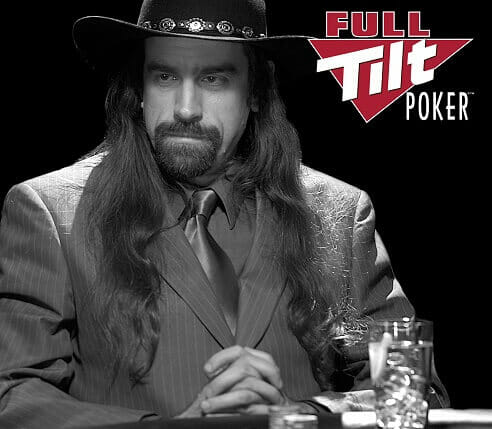 The shut down, combined with mismanagement, greed, and issues with a payment processor, led to a situation where players were unable to withdrawal funds from the site. Most aggravating to players were the numerous reports that Full Tilt owners and sponsored pros had collected millions of dollars that should have been in player's accounts. It's this, more than anything, that has tarnished the image of Jesus Ferguson, to the point now where he is among the most despised people in the game.
A "global ponzi scheme" is what lawyers for the United States Government called Full Tilt, in court documents, in which the U.S. filed a civil suit against Chris Ferguson, along with other Full Tilt co-founders, Howard Lederer, Ray Bitar, and Rafe Furst. Ferguson had a 20% stake in Full Tilt, according to the Wall Street Journal. When Full Tilt was shut down on Black Friday, it owned players in the United States over $150 million dollars, and roughly another $150 million more to players worldwide. Reports state that Full Tilt had paid its owners (including Ferguson) and associates $444 million.
While we don't know what Chris Ferguson's net worth is exactly, the government originally tried to go after the former poker pro for $42 million in assets. The excellent investigative reporting site SubjectPoker.com reports that Ferguson received over $60 million from Full Tilt since 2007.
On February 19, 2013, Chris Ferguson reached a settlement with the Department of Justice, in which he admitted no wrongdoing, but in which he agreed to forfeit all the money in one unknown account, along with $2.35 million in a separate account. As part of the agreement, he agreed not to be involved in, "nor derive income from" any unlawful internet gambling operation in the United States.
On May 23rd, 2018, Ferguson finally apologized via a Vimeo video, claiming that he deeply regretted not being able to prevent Black Friday, and that after Black Friday, he "worked relentlessly" to try to make sure all players were paid back. He did not clarify in any way his role in the company's downfall, nor why it took him seven years to apologize.
The video was released just days before the start of the 2018 WSOP, leading many to believe it was a less-than-sincere attempt to deflect hatred and barbs that have been directed his way during the past two WSOP tournaments.
Chris Fergsuon Today
In June 2016, poker pro Todd Bruson tweeted the following:
Look who's back pic.twitter.com/ASPA3BNKES

— Todd Brunson (@ToddBrunson) June 5, 2016
Chris "Jesus" Ferguson made his not-so-triumphant return to the felt (at the least the WSOP felt), on June 4th, 2016, when he showed up at the Rio All Suites Hotel and Casino to play in his first WSOP event since the summer of 2010. Ferguson entered the $10,000 buy-in Seven Card Stud World Championship. He busted out early without cashing.
However he would go on to have a seemingly successful 2016 WSOP, with ten cashes to his name, including a final table appearance. In that $10,000 NL 6-handed event, he finished 4th, which was good for $183,989.
In 2017, Chris cashed in a remakable 17 WSOP events, setting the new record for most cashes in one year's WSOP. Of his 17 cashes, two were final table appearances, including a second place finish in the $10K Seven Card Stud Championship, which was good for a $151,700 payday.
On October 31st, 2017, Ferguson won the 1,650 Eruo buy-in Pot-Limit Omaha Hi-Lo 8 or Better event at the World Series of Poker Europe. The win brought his lifetime tournament winnings in all events to $8.9 million.
Proving that karma may not always work, Ferguson was the 2017 WSOP Player of the Year.
(Top photo courtesy of the WSOP official media photos page. Full Tilt ad from EMC Public Relations)