By Steve Beauregard
During the height of the mid-2000's extraordinary poker boom, there was arguably no bigger female poker celebrity in the world than Clonie Gowen.
Her pretty smile, happy-go-lucky demeanor, combined with a dose of southern charm, made her stand out like a sore thumb from the legions of hoodie-wearing twenty-something's and balding middle-age male grinders that dominated (and still do) the professional tournament poker scene.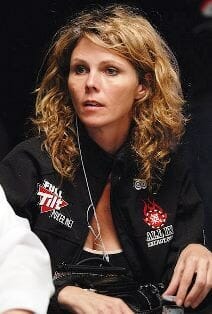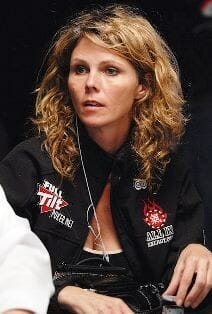 Clonie Gowen was a breath of fresh air on poker broadcasts. Men (including me), loved watching her, and women players wanted to be her.
All of which is why she was able to parlay a very thin poker resume into a highly successful brand – complete with sponsorship deals, paid appearances, freeroll invitations, and a lucrative, partial ownership position in the then-financial behemoth known as Full Tilt Poker.
Clonie Gowen's Background
Cycalona Gowen was born during a storm on November 30th, 1971, and hence her name, which she says was her dad's idea. Because of the cyclone-type winds, she was actually born in the basement of the general hospital in Tampa Bay, Florida.
Anyway, Clonie, the youngest of six children, grew up in Oklahoma. She played high school basketball, track, and more nerdy, "Dungeons and Dragons."
At the urging of her mom, she entered, and won, the Miss Teen McAlester Oklahoma contest.
Clonie Gowen was introduced to poker by her then high-school boyfriend Tony, whose parents taught her a variety of games. Three years later, when she was 18, she saw a 7 card stud game in a casino, and sat down and played, despite being underage.
(A look at Clonie Gowen at the condo where she once lived in Las Vegas)
She got married and had a daughter at age 21, but divorced her first husband at 23. (She later had a son). It's then when she started traveling from Dallas to the poker rooms of nearby Shreveport, Louisiana on weekends when her ex-husband had custody of her daughter.
While still working in sales at a travel agency, she began playing more, and claims to have made around $2,000 per month playing $4/8 limit hold'em. She met her second husband, David Gowen, in 1995, according to an article in the Dallas Observer.
Closer to home, she played in home games three or four days a week in Dallas, even while raising kids and operating her own travel agency, which she sold later in 2003. She was also a member of the Junior League of Richardson Texas, a suburb of Texas.
Clonie Gowen and the WPT
In 2002-2003, she exploded onto the poker landscape with two high finishes in prominent WPT televised events.
Her rise to fame came can all be credited to a 10th place finish at one of the first World Poker Tour events ever broadcast.
The Cost Rica Classic in October of 2002 was the second ever WPT tournament. Held at the Casino Europa in San Jose, the buy-in was just $500, which is sort of hard to believe in this day of $10,000 buy-in events and super high-roller tournaments. Clonie's tenth place finish netted her $3,410, and more importantly, a spot in the WPT's "Ladies Night Out" freeroll tournament 11 months later.
Desperate to crack the female viewing demographic, the World Poker Tour series of televised tournaments launched the inaugural "Ladies Night Out" tournament on September 2003.
The freeroll was a single-table satellite featuring six female invitees. The amateur Gowen was able to outlast professionals like Anne Duke and Jennifer Harman to take down the $25,000 first place prize.
Similar to her $3,000 score at the Costa Rica event, the $25,000 was less important than what the win would mean to her endorsement career. Fresh after Chris Moneymaker's 2003 WSOP win that started the poker boom, the "Ladies Night Out" tournament became one of most highly-watched WPT events, and Clonie's profile expanded enormously as a result.
She began to appear in Full Tilt ads, she wrote poker columns, taught at poker schools, appeared in Maxim magazine, and invested in poker-related businesses. She's also served on the WSOP player's committee back when it was still being operated by Harrah's.
Yet despite being backed into every tournament, WPT and WSOP event she wanted to play, Clonie did not have a six-figure score in an open event for most of the poker boom.
The few wins and cashes she was able to earn took place mostly in invitational tournaments, with very small fields. We're talking the "Poker After Dark" shows, and other made-for-TV tournaments sponsored by Full Tilt where a large field would be 23 players.
The lack of tournament success, despite the number of tournaments played, led many in the poker community to question her credentials as a member of FullTiltPoker.com. And in fact, Clonie was everywhere on TV and in poker circles, despite, (as the criticism went) her: "doing nothing but once winning a six-man sit-n-go."
Some of this criticism was muted after Gowen won the $5,000 buy-in event at the Bellagio Cup 4 in July of 2008. Her first place (out of 235 entries), was good for $437,000 – by far her largest payday before, or since.
Yet 2008 would be her year, as three months later, she won the $5,000 buy-in championship event during the Gold Strike World Poker Open in Tunica, Mississippi. The win was good for $193,000 and change.
Three months after that, she'd get her second 10th place WPT finish ever at the Doyle Brunson Five Diamond World Poker Classic in Las Vegas. Unlike her $500 buy-in in Costa Rica back in 2002, the buy-in was $15,000 this time, and her 10th place was good for $86,470.
In all, she won nearly one million dollars in tournament poker in 2008, ($927,201 to be exact). According to the Hendon Mob, her $1.6 million in career tournament winnings ranks her 13th on the all-time list of female poker players.
Of this, $196,909 is in WPT winnings. She has cashed in 6 events out of 35 played.
After her big 2008 year, Clonie seemed to fall off of the tournament poker Earth. She does not have a cash in a noteworthy tournament since January of 2009.
What she HAS made news for is her lawsuit against her former partners and friends at Full Tilt Poker – a lawsuit that was dismissed, only to be given a reprieve by the courts months later. The lawsuit, however, has appeared to die out. (Go here to read more about Clonie Gowen's Full Tilt lawsuit).
Like many others who capitalized on the poker boom but who were unable to parlay it into a successful long term career, (Chris Moneymaker anyone?), Clonie Gowen may be gone from the poker world, but certainly not forgotten.