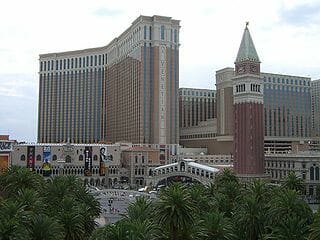 By Steve Beauregard – How far is it from the Venetian to the nearest In-N-Out Burger? At just 2.4 miles, and approximately a six minute drive, the closest In and Out Burger to the Venetian Hotel and Casino in Las Vegas is the one at at 4888 Dean Martin Drive.
As you can see from the map below, the best and fastest way to get there is to take the Strip south to Flamingo Boulevard, where you'll take a right (going west).
Then you'll go south on I-15 for less than a mile until you get to Exit 37, or Tropicana Avenue. From the exit, it's just 2 quick rights (take the first 2 rights) and you are on Dean Martin Drive. You'll see the big In-N-Out Burger sign pretty clearly.
Technically, it would be very slightly shorter to just stay on the Strip, and drive down to Tropicana Avenue, but Strip traffic is notoriously slow. While the view will be great, your "Animal Style" hunger pains will wish you took I-15 instead
(Here's a map showing the nearest In-N-Out Burger from the Venetian, where the Venetian is "A" and the In-N-Out is the "B.")
View Larger Map
We don't recommend that you walk from the Venetian to the In-N-Out Burger, as Google estimates this 2.1 mile walk will take you about 43 minutes.
Of course, if you're already down on the South side of the strip, near the famous and busy interesection of the Excalibur, Tropicana, MGM Grand and New York, New York, you may consider walking as it is only a 15 minute walk from that intersection. Go here for walking directions: Can you walk from the Strip to In N Out Burger?
Closest In-N-Out Burger to the Wynn
It's pretty much a wash, as there are 2 In-N-Out burgers, both just under 3 miles from the Wynn.
You probably want to go to the Dean Martin Drive restaurant, (using the same directions as the Venetian directions above), which is 2.8 miles and 6 minutes away. There is another option, to the north, where there is an In and Out Burger at 2900 W. Sahara Avenue. While mapping shows this to be slighly closer in distance, (2.6 miles), its estimate to take a minute or two longer to get there.
Like its sister restaurant to the south, the Sahara Avenue In-N-Out Burger is probably too far to walk, at roughly 48 minutes through industrial areas.
Please note, the Dean Martin Drive location is also the closest In-N-Out burger to Treasure Island.