By Steve Beauregard
Arguably the most well-known celebrity in the poker world, Daniel Negreanu, doesn't need luck at the poker table to win, however he could probably use some luck when it comes to love.
Born in 1974 in Toronto, Canada, Negreanu has an incredible poker resume – and horrible dating one.
With 6 WSOP bracelets, and over $32.8 million in career tournament winnings, Negreanu is one of the most successful tournament poker players of all time. In fact, according to the Hendon Mob, Negreanu ranks number one in terms of all time money list.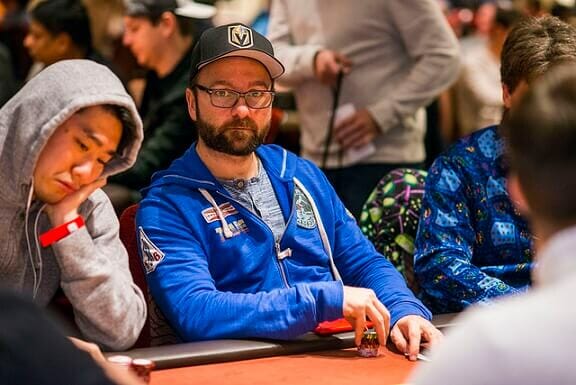 Most famously, Negreanu dated fellow Canadian poker pro Evelyn Ng. The two have had an on and off relationship that goes back to when Ng was 16 years old.
Both were reportedly pool hustlers (uh, I mean pool players) in the Toronto pool hall scene before transitioning into the more lucrative poker field.
As mostly a cash game player, Ng doesn't have a dazzling poker tournament resume, but did finish 11th in the WPT Borgata event in 2005, which was good for a $64,000 payday. She also finished 445th in the 2010 WSOP Main Event, picking up $31,647 for her efforts.
Other than dating Daniel, she's probably most famous in poker circles for a tournament in which she went home empty. In a WPT made-for-TV poker one table sit-n-go tournament called "Ladies Night Out," Ng finished 2nd (out of 6 players). Clonie Gowen won the tournament for $25,000.
Still living in Las Vegas as a cash game pro, Ng has said that Negreanu mentored her early on and helped her develop her poker game.
The couple were featured in segments during the popular World Poker Tour broadcasts during the height of the Chris Moneymaker inspired poker boom.
Daniel Negreanu and Lori Lin Weber
Daniel married Lori Weber, a Grand Rapids, Michigan girl, on August 19, 2005 in Las Vegas. A post reception party was held at Le Bete, a nightclub at the Wynn Las Vegas that has since been closed.
Erick Lindgren was the best man, and the guest list reads like a who's who of the poker world: long-time friend Jennifer Harman, Mike Matusow, Ted Forrest, high-stakes cash game player Chau Giang, and Eli Elezrea, among others.
Even former flame Evelyn Ng was in attendance – showing us a glimpse of what a loving and considerate woman the temperamental poker player married.
However in a blog post dated November 24, 2007, Negreanu announced that he and his wife had agreed to an amicable divorce, writing, "There is no need for any lawyers as we took care of all the details ourselves," even going so far as agreeing to split the couple's two dogs. (Not in half – each person was going to take one dog).
As is just about required for a celebrity who gets divorced, Negreanu blamed the split-up on a busy schedule, but also admitted that he could be "pretty demanding" at times.
Post-divorce, Negreanu has been linked to a number of poker celebrities and hangers-on, including rumors of romance with American Pie hottie Shannon Elizabeth.
We do understand that in 2010, Negreanu dated poker media darling Amanda Leatherman. Leatherman had been on and had been the host for the PokerStars.net "Big Game" poker telecast. She was the host for season 7 of the World Poker Tour, and filled-in during broadcasts in 2013.
In an interview on the Quadjacks podcast, he said was dating the 2008 "Miss Earth Hungary." (And yes, there is such a thing).
The beauty, Krisztina Polgar was the ex-boyfriend of poker pro Richard Toth. Daniel said she approached him during the World Series of Poker.
Daniel Negreanu and the Millionaire Matchmaker
We're not sure if it was Ms. Polgar, but somebody broke Daniel's heart by cheating on him – something Daniel alluded to on the Bravo TV reality dating show, Millionaire Matchmaker.
Looking for love, Daniel appeared on a January, 2013 episode, in which wealthy bachelors and bachelorettes are introduced to potential mates. He was eventually paired up with an attractive blonde named Lindsay Blalock.
Apparently, however, the relationship did not work out. Within weeks of the episode airing, Negreanu tweeted: "For those asking, I am single but me and Lindsay are still friends and she is a GREAT girl as advertised :-)."
Daniel Negreanu's New Girlfriend?
In 2014, Daniel was romantically linked with Las Vegas hairstylist named Marissa.
In an August 2014 interview with the Swedish newspaper "Aftonbladet," Daniel says he was in love with Amanda Leatherman, and that their breakup hurt, but also he has since moved on.
According to the article, he met new flame, Marissa at a charity event in January of 2014. She appeared to be the mystery woman in his house in footage of a PokerStars promotional video of him touring his personal residence.
Either way, the blonde beauty and Negreanu had been together for several years until June of 2018. During their four years together they vacationed in Hawaii together and in July of 2017, welcomed two new additions to their family: two dogs named "Rocky and Apollo."
In June of 2018, Negreanu announced that he and Marissa had split up. Apparently Daniel got custody of the dogs.
Whether single or attached, the media-seeking poker pro is not likely to be lonely for any lengthy period of time. With tournament success, cash games experience, TV appearances and several endorsement deals, the Canadian rounder seems pretty set for life. Different sources have pegged Daniel Negreanu's Net Worth at between $25 and $30 million.
(Photo courtesy of World Poker Tour via Flickr).