By Steve Beauregard
Another one of poker's brightest stars came crashing down to Earth after it was revealed that superstar Erick Lindgren (he of the $8.5 million in career tournament winnings), was going through bankruptcy and completely broke.
Other than his friend, Daniel Negreanu, Lindgren is the only person to have been both the World Poker Tour's Player of the Year (Season 2), and the World Series of Poker Player of the Year (2008).
I'll admit I was a serious E-Dog fanboy, back in the day. And why not? He was probably the one player who genuinely seemed just like the rest of us.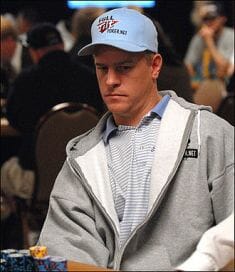 Let's face it, none of us regular, white American males could fully relate to the Phil Iveys and Scotty Nguyens of the world. After all, those guys were known for having huge leaks in the pit. And here I'm talking about leaks in which you blow a million dollars of your poker winnings in one night by playing craps.
Others famous name poker pros were equally un-relatable. With their professorial airs, we couldn't relate to Howard Lederer, or Barry Greensteins of the poker community. Then there were the true degenerates: the Layne Flacks and Mike Matusows. We may share a love of poker, but it's hard to relate to guys on meth, or in Matusow's case, guys who are jerks at the table and who are known for the drug binges.
Erick Lindgren, on the other hand, was your all-American former jock turned poker player. With a friendly demeanor and pleasant table manner, yet killer poker instincts, Lindgren was sort of the poster boy for many of us normal, middle-aged red state males who dreamed of living the glamorous life of a successful, rich, and world-famous poker professional.
That all came crashing down, thanks to a little posting on the popular poker forum 2+2, in which several posters called out Lindgren for not paying his fantasy football bets.
Later, in a revealing interview with Bluff magazine, Lindgren admitted to his financial difficulties, blaming both his sports betting problem and the resulting loss of a monthly check from Full Tilt after Black Friday. A one-month period in which he lost $6 million betting on sports and playing high-stakes cash games at the Bellagio didn't help either. In the article, Lindgren talked about his regrets, and about his stint in a Southern California gambling rehab facility called Morningside Recovery.
It has been reported that Lindgren received a $250,000 check from Full Tilt every month, and that on one occasion he was given a $2 million dollar loan, which was accidently bumped to $4 million dollars. (Hasn't that happened to you too?)
Erick Lindgren's net worth now, however, is the negative. He told Bluff that his debts are in the $3 million range. But he also said that at one point he was $10 million in debt. Quite a fall from someone who, during the poker boom, was one of the top five most famous poker players alive.
After Chris Moneymaker's win at the 2003 World Series of Poker Main Event, ratings for televised poker tournaments shot through the roof. I know I watched, and looked forward to, every single episode of the World Poker Tour, which was then broadcast on the Travel Channel.
This is how many of us got to know Lindgren, and whenever there was a big time tournament on TV, there was a good chance E-Dog was in the thick of the chase. He won over a million dollars playing tournament poker each and every year, from 2004 to 2008. And with World Poker wins in Aruba and on the Party Poker Cruise, he became one of the most recognizable faces in the game. (Interesting side note: after the Party Poker Cruise win, Erick bough everyone a round – to the tune of a $22,000 bar tab).
The 2008 World Series of Poker was an especially good one for E-Dog, who ended with a 1st place finish, 10th, 4th and a 3rd. His third place finish at the 2008 WSOP $50,000 H.O.R.S.E tournament, was good for $781,000.
After being widely regarded as the "Best player to have never won a bracelet," he picked up his first WSOP hardware that year in the $5,000 Limit/No-Limit hold'em tourney.
2011 At the Super High Roller $100,000 buy-in tournament at the Bellagio, he finished second, winning $700,000. He must like these large buy-in events, as he won the Aussie Millions $100,000 hold'em tournament in 2007 for nearly $800,000, as well as a $120,000 buy-in special Full Tilt Poker Pro showdown tournament held in Las Vegas in June of 2006. He picked up $600,000 for the win. There were only 7 entries, but still…
He followed his 2011 Bellagio high roller second place finish two months later, with an impressive deep run in the 2011 WSOP Main Event, where he finished 43rd, bringing home $196,000. That is, assuming he didn't stop by the Rio's sports book first.
Lindgren, of course, came from humble poker beginnings. His first casino experience was working as a blackjack dealer in an Indian casino in California. Later, (according to the excellent book by Michael Kaplan, "Aces and Kings,") Lindgren would earn $160 per day working as a "prop."
In a sign of things to come, Lindgren told Kaplan that he had to borrow money to play after going "completely broke from betting on sports." He later joined one of the first online poker sites, and his career took off from there, sometimes winning $40,000 in one month.
Erick Lindgren's girlfriend (now wife)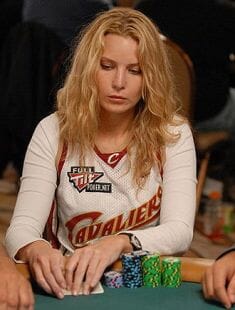 Fittingly, a guy who loves to spend time at the poker table wound up finding love at the same place. Eric Lindgren married fellow poker player Erica Schoenberg (who has 3/4 of a million in career earnings), in June of 2011 in Las Vegas. They have a son, born a few days after my son, in November of 2011.
Erick Lindgren Golf Bet
You may have heard about this. After all, this infamous incident later become a scene in the poker film, "Lucky You."
In June of 2007, Lindgren bet from several fellow pros, including Gavin Smith, that he (Lindgren) could shoot under 100 for four rounds of golf (in one day) at Bear's Best – supposedly one of the toughest (and hilliest) golf courses in Las Vegas. By the way, it's been known to be sort of hot in Las Vegas in June.
Anyway, starting very early, Lindgren was able to grind out the bet and win, collecting a total of $340,000. Not too bad of day on the links.
As for his future? Hopefully Erick Lindgren will be back on top of the poker world again. And hopefully he'll stay away from the betting cage. However a final paragraph from the Bluff magazine was troubling for those of us rooting for E-Dog. He said that he was going to be staked in some sports betting. For an admitted gambling addict to do a little sports betting is like an alcoholic just drinking beer.
Just say "No" to the sports bets Erick, and we hope to see you back on top.