By Steve Beauregard
One of the more successful female poker players around is also one of the more attractive ones. And no, I'm not talking about Vanessa Selbst.
Erica Schoenberg pops up regularly in the lists of the "hottest female in poker." Admittedly that's a low bar, but the attractive Ohio blonde is both easy on the eyes, and tough on the felt.
She also has an incredibly diverse professional background, with stints ranging from blackjack player to model, physical trainer to beach volleyball player.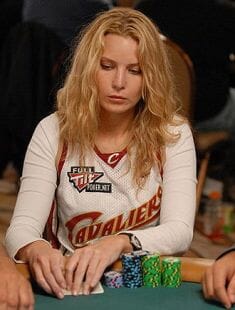 (By the way, I call her Erica Schoenberg for familiarity reasons. On her Twitter account, she now refers to herself as Erica Lindgren.)
Schoenberg hails from Akron, Ohio. She was born March 28, 1978 and later attended Fredericktown High School in Fredericktown, Ohio. Gambling appears to be in her blood. According to an article on PokerListings.com, Erica's parents met while betting on the horses at Santa Anita racetrack in California.
With card-loving parents, a career in the casinos seemed natural for Schoenberg. She is a former member of the famed MIT blackjack team – who were fictionalized in the movie, "21." And Schoenberg played in both the World Series of Blackjack and on the Ultimate Blackjack Tour.
Later she would jump on the poker bandwagon, but didn't really make noise in the poker world until 2006, when she took 16th place in the 5 Star WPT $25K Championship, taking home just over $117,000.
That success, (along with her looks), led to sponsorship opportunities with first Mansion poker, then later, Full Tilt. It also led to an invitation to play in the nationally-televised WPT Ladies Night Out freeroll held at the Bicycle Casino in Las Vegas. Basically a cheap stunt to try to get more female poker viewers, the "tournament" was a six man (or six woman if you will) sit-n-go, with just a first place prize of $25,000. Schoenberg finished 4th.
Late spring, early summer of 2007 marked an incredible run for Erica.
In May, she won the 2007 Mandalay Bay Poker Championship, defeating 117 other players to take home the $105,875 first place prize.
A month later, at the World Series of Poker, she made the final table of a donkament (slang for a $1,500 No-Limit Hold'em tournament). Her third place finish was good for $261,646. To this day, that 3rd place WSOP finish remains her all time biggest payday.
With professional success and good lucks, Erica Schoenberg became the Jennifer Aniston of the poker world, in terms of speculation and gossip about her love life.
Erica Schoenberg and David Benyamine
Schoenberg and high stakes cash game poker pro David Benyamine dated, and were engaged for a period in the mid to late 2000's. A CardPlayer.com video from 2007 showed the couple at the luxurious mansion they shared in Henderson, Nevada.
It was during this period when Erica appeared in a few scenes on the poker reality show, "2 Months 2 Million."
It was rumored, (and apparently true), that the David Benyamine and Erica Schoenberg split up in late summer of 2009.
Sometime in the spring of 2010, Schoenberg began dating fellow Full Tilt Poker sponsored pro Eric Lindgren. The two would go on to marry on May 29, 2011 in Santa Barbara, California. Guests at the ceremony included Phil Hellmuth, Daniel Alaei, Mike "the Mouth" Matusow, and Daniel Negreanu.
Just over 5 months later, the newlyweds experienced another milestone, as Erica gave birth to a baby boy on November 3rd, 2011.
Eric Lindgren had tweeted that it was the "happiest 24 hours of my life." Of course, as we would later learn from his interview in Bluff magazine, Lindgren didn't have the best of autumns when it came to his sports betting.
In fact, Eric told Bluff he experienced "massive losses" that fall. Eventually, a year later, Erica and some friends convinced him to seek counseling for an addiction to gambling.
Throughout the ordeal, Erica seemed supportive – almost too supportive. When her husband was exposed on the 2+2 poker forum as reportedly owning first thousands in fantasy football debts, then millions in other sports betting debts, Erica didn't seem to understand the gravity of the situation, or the scorn her husband had earned in the poker community.
(Read more here: Erick Lindgren broke?)
In a Tweet that was quickly deleted, Schoenberg wrote:
"Just saw the thread on 2+2 about my man's gambling debts. Don't worry everyone – I just sent him to pick up $20 worth of lotto tix. #chillout"
As you can imagine, the people who were owned money by her deadbeat husband were not amused.
Since those lows, Erica Lindgren has pretty much laid low, and kept out of the public eye. She tweeted in June of 2012 of how she was "going to play poker for the first time in a year."
Now, after cleaning up after a baby and two dogs, she jokingly claims to be the "CEO of Poop Disposal for Lindgren Inc."