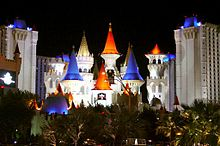 By Steve Beauregard
The Excalibur Hotel and Casino on the south end of the Las Vegas Strip is a comfortable and affordable alternative to the fancier, snobbier, more costly hotel/casinos dotting the Strip.
Having opened on June 19th, 1990, the Excalibur cost just $290 million to open – which seems pretty cheap now. The resort has 3,981 rooms, placing it in the ranks of top ten largest hotels in the world.
It's lack of pretense, low-priced rooms (for Las Vegas) and low limits has made the Excalibur a popular destination since it's opening. With a castle theme, great location, and affordable rooms, it's also what I consider to be the best hotel on the Las Vegas Strip for families with kids.
Helping its popularity is the fact it's situated on the most congested corner of hotel rooms in the world. Between the Excalibur, the New York – New York, Tropicana, and MGM Grand, the corner of Las Vegas Boulevard (the Strip) and Tropicana Avenue is home to nearly 15,000 hotel rooms.
Fortunately, with pedestrian bridges and wide sidewalks, it's easy to get in and out of the Excalibur – especially if you want to hit up one of the resort's sister properties to the south. In front of the hotel sits a monorail station, where guests are whisked away by a free tram from the Excalibur to the Luxor and/or Mandalay Bay.
Good morning from #Vegas. How much longer until your next getaway? #CastleLivin pic.twitter.com/LE0k5W8oQT

— Excalibur Las Vegas (@ExcaliburVegas) November 2, 2016
But you may not be tempted to leave for better gaming pastures. The Excalibur is a decent place to gamble. They have over 100,000 square feet of gaming space, and at night, it can get hopping, with music blaring, drinks flowing, and attractive go-go dancers perched slightly above gaming and slot areas, providing plenty of eye candy. It's called the "Party Pit" and the dancers do their thing just on the weekend nights.
In addition to video poker and slots (ranging in stakes from one penny to $100), the Excalibur has the usual assortment of table games, including three card poker and Big Six. They also have Keno, which is sort of nice, seeing as how Keno seems to be a dying game on the Strip. (And yes I know Keno has horrible odds).
There's also a decent sports book and nice, friendly little poker room, offering low limit games and some of the lowest buy-in tournaments in all of Las Vegas (starting at a $35 entry fee). I've played there lots, and the competition at the Excalibur poker room is soft. All-in-all, it's a very friendly room to players who are new to playing poker in a casino, or just intimidated by the thought of it.
Speaking of which, at 11 a.m. each day, the casino staff offers free lessons on how to play Texas Hold-em. In addition, other lessons offered in the casino daily include sessions on how to play craps, roulette, and blackjack.
Originally built by the Part of MGM Resorts, meaning gamblers can use their "M Life" card here to get comps.
Excalibur Hotels' Resort Fee
The resort fee here is $32.48 (don't ask me how they came up with that), and supposedly covers wired high-speed internet access in your room, incoming faxes, a daily newspaper (50 cent value), free phone calls, and access to the fitness center.
Keep in mind, the resort fee is added to your hotel bill daily.
Restaurants at the Excalibur
There are alot of restaurants at the Excalibur to choose from. In addition to a tasty Baja Fresh counter-service restaurant on the casino floor, the Excalibur Food Court (located upstairs) features a Cinnabon, Pizza Hut, Krispy Kreme and other health food options. As for sit-down restaurants, the Excalibur has four main options: The Steakhouse at Camelot, Buca di Beppo, the Excalibur Buffet, and the popular Dick's Last Resort.
The other sit-down restaurant is actually a dinner theater in the large arena. The Tournament of Kings is a spectacle that includes performances of knights on horseback. You cheer and jeer your favorite maidens and jousters while feasting on a three course meal. Tickets are $59.00. The dinner and fun-filled, rowdy show is on the list of fun things for families to do with kids on the Las Vegas Strip
The Spa at Excalibur and Fitness Center
Near the resort's four swimming pools, the Excalibur's spa has around 13,000 feet of space and offers the usual assortment of body wraps, facials, manicures and massages. Military personnel receive a 10% discount, and prices for services on the weekdays are predictably cheaper than weekend rates.
The fitness and spa center hours are from 6 a.m. to 8 p.m. seven days a week, but spa appointments begin at 8 a.m.
The hotel's fitness center is located in the spa. Access to the fitness center is included in the resort fee. There you'll find climbers (the equipment, not actual mountain climbers), recumbent bikes, treadmills, pulley weights, dumbbells, and more importantly, seven different 42 inch flat screen televisions.
Excalibur Pool
There are actually four swimming pools at the Excalibur, including an adults-only pool for those 18 and over. Besides the requisite cabanas, features of the pool area include a couple of whirlpools, two waterfalls, and two waterslides.
Excalibur Wedding Chapel
Your perfect day may have a fairytale ending when you tie the knot in a castle! https://t.co/6dGInIgb2A pic.twitter.com/4yVEKyhaYI

— Excalibur Las Vegas (@ExcaliburVegas) October 7, 2016
The Chapel at Excalibur has wedding vow renewal packages starting at just $99. Wedding packages begin at a reasonable $199 for use of the chapel, music, and not much else, all the way to a $1,575 package that allows you to invite up to 100 guests, with some flowers, champagne and a hotel room thrown in. As with all wedding packages the reception is extra, and the Excalibur has a large menu of reception options to choose from, ranging from simply appetizers, to buffets.
On top of the traditional weddings, you can have what's called "Medieval Weddings" where you and your spouse-to-be get to dress in attire from the Renaissance. I think the tux I rented for my wedding was from the Renaissance.
Excalibur Address and Phone Number
850 Las Vegas Boulevard South
Las Vegas, NV 89109
(877) 750-5464
Meeting Space
While not known as being a big convention hotel, the Excalibur does have 12,000 feet of convention space. It's Great Hall, as they call it, can host cocktail receptions for 853 people. Seriously, that's what the brochure says. So if you invited 853 people and someone brought a friend, you'd have to have them wait out in the hall.
Lastly, like every other hotel on the Strip, the Excalibur provides guests with a variety of different entertainment options and expensive shows in an attempt to extract even more money from their guests' wallets.
The Fun Dungeon is an arcade full of video games, ticket-redemption games, and midway type carnival games. It's a pretty good option for bored kids, but an expensive option if you stay there very long.
The shows at the Excalibur change frequently, but one constant has been the popular bachelorette hangout, Thunder From Down Under. Tickets to see these Australian male strippers, uh, I mean, dancers, are $51. Shows run Sunday through Thursday at 9 p.m., and Friday and Saturday at 9 p.m. and 11 p.m.
Overall Review (of the hotel, not the male strippers)
I've stayed at the Excalibur shortly after it first opened in 1991, and other times since then, including a recent trip. The rooms are plain, but clean, and more importantly, pretty affordable by Las Vegas standards.
The casino is great for low-rollers like myself, and you'll never be intimated at the Excalibur, or feel poorly dressed, like I feel sometimes at the Bellagio or Wynn. All-in-all the Excalibur is pretty good place to both play, stay, and as a home base for exploring the south end of the Las Vegas Strip.