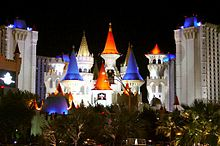 By Steve Beauregard
The Excalibur Hotel and Casino on the south end of the Las Vegas Strip is a comfortable and affordable alternative to the fancier, snobbier, more costly hotel/casinos dotting the Strip.
Having opened on June 19th, 1990, the Excalibur cost just $290 million to open – which seems pretty cheap now. The resort has 3,981 rooms, placing it in the ranks of top ten largest hotels in the world.
It's lack of pretense, low-priced rooms (for Las Vegas) and low limits has made the Excalibur a popular destination since it's opening. With a castle theme, great location, and affordable rooms, it's also what I consider to be the best hotel on the Las Vegas Strip for families with kids.
Helping its popularity is the fact it's situated on the most congested corner of hotel rooms in the world. Between the Excalibur, the New York – New York, Tropicana, and MGM Grand, the corner of Las Vegas Boulevard (the Strip) and Tropicana Avenue is home to nearly 15,000 hotel rooms.
Fortunately, with pedestrian bridges and wide sidewalks, it's easy to get in and out of the Excalibur – especially if you want to hit up one of the resort's sister properties to the south. In front of the hotel sits a monorail station, where guests are whisked away by a free tram from the Excalibur to the Luxor and/or Mandalay Bay.