(Editor's note: The poker room at the Flamingo Hotel and Casino closed permanently in November of 2021. Below is our original article about the room).
It's the oldest continuously-running poker room in Las Vegas. It has seen players from novice tourists, to poker legends like Doyle Brunson. And in an age where glitzy, high-roller rooms like the Aria, Bellagio and Venetian get all the social media buzz, the poker room at the Flamingo Hotel and Casino steadily chugs along as a fun, casual, welcoming poker room that is very friendly to recreational tourists like myself.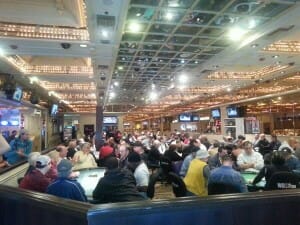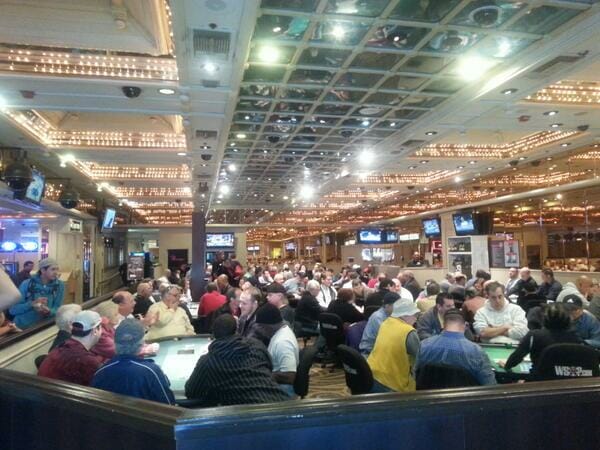 With eleven tables spread out comfortably, the Flamingo Poker Room is a semi-walled off room at the extreme south end of the casino floor. Its location blends a good combination of being far enough from the loud casino noise, yet close enough to attract curious passer-bys, who are maybe looking to play poker in a casino for the first time.
The Flamingo may be the only poker room in Las Vegas where the limit games often outnumber the no-limit games. On a random Thursday night recently, the Flamingo had four limit games running, and just two no-limit games. Compare this to the Aria, which, on the same night, had ten no-limit games running, but zero NL Texas hold'em games.
$2/4 limit Texas hold'em is almost always running at the Flamingo, and busy nights can see three or four tables. They also spread $4/8 limit. Usually the $4/8 limit game has a half kill. For those of you unfamiliar with the term, a "half kill" is when a player who has won two pots in a row has to put up 1 and 1/2 times the big blind for the next hand.
The other games offered include a $1/1 no-limit Texas Hold'em game with a buy-in minimum of just $50 and maximum of $200. There is also a separate $1/3 no-limit game with a $100 minimum buy-in and $500 maximum.
Drink service here is great, there are a variety of high-hand promotions (see below), and the room provides players with free Wi-Fi. There are phone charging dock stations found at every seat. While the bathrooms are sort of faraway towards the hotel's registration desk, the room's overall central location makes it very close to almost everything else. For example, there's a little deli right next door, if you're needing a snack or meal while playing. For those of you wanting to casino hop or just get back on the Strip to your hotel, the Flamingo poker room is literally a few steps from the Strip sidewalk.
For a while during the 1970's, the Flamingo Poker Room was a major player in the Las Vegas card scene.
In the early seventies, for example, the poker room was run by none other than poker legend Johnny Moss. The high stakes game in the room often featured the likes of poker icons like Puggy Pearson and Doyle Brunson.
And it was in the Flamingo's poker room, in 1973, where the up and coming Danny Robison and Chip Reese got a huge boost to their new combined poker bankroll (the two shared winnings and losses), when Chip made a fortuitous straight flush wheel in a hi-lo game, scooping both the high and low hands for a huge pot – this from Michal Kaplan's great book, "Aces and Kings."
But while the Flamingo has relinquished its role as hip, buzz-worthy cardroom, it has established itself as reliable, steady, friendly room that consistently offers up a good game for the casual, low-limit player. So much so, that many people, (including me), consider it to be the best Las Vegas poker room for beginners.
Flamingo Poker Room Tournament Schedule
The Flamingo runs six poker tournaments a day, six days a week. On Friday they have five tournaments, and one tournament for those who have qualified based on hours played).
All of the Flamingo Poker Room Tournaments are no-limit Texas hold'em tournaments.
Times and buy-ins are as follows:
10 AM: $60 (No tournament on Friday)
1 PM: $60
4 PM: $50 (This is the only turbo tournament of the bunch)
6 PM: $60
9 PM: $60
Midnight: $60
There is a pretty hefty juice on this tournament, but that's pretty typical of very low buy-in tournaments, and the Flamingo's daily $60 tournaments represent some of the lowest buy in tournaments on the Strip.
Other than the turbo, (which has 10 minute levels), the tournaments have 15 minute levels. Each player receives 20,000 in starting chips, for each of the six daily events.
Registration for the Flamingo tournaments begins two hours prior to each one, at the front brush desk.
In addition to the six daily tournaments, there is a weekly free roll for players who have clocked at least twelve hours of play in the room during the week. The free roll is held on Friday mornings, at 10 AM, and has a $6,000 prize pool.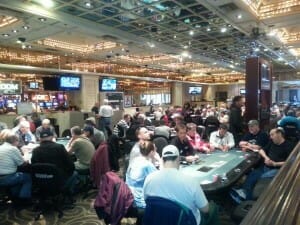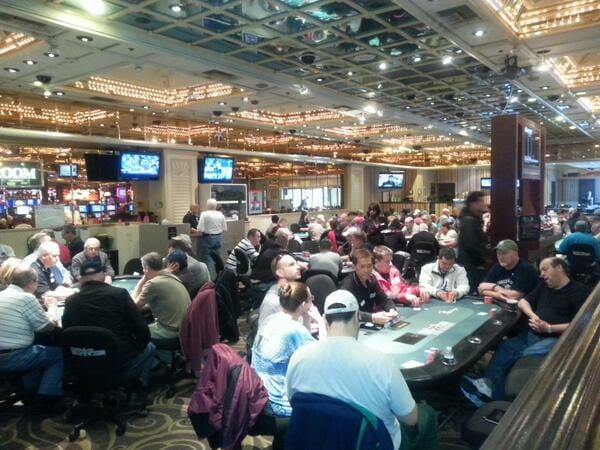 There are also monthly freeroll tournaments for the die-hards who have logged in 35 hours or more of $4/8 limit.
Flamingo Poker Room High Hand Promotions & Comps
You can use your Caesars Entertainment Total Rewards Card here while playing to get comps. A recent buffet promotion allowed you to receive a free trip to the Paradise Garden Buffet at the Flamingo after logging in 5 hours of play at $4/8 limit.
Although they no longer have a bad beat jackpot, the Flamingo does have bonuses for certain hands, along with hourly high hand promotions.
The good hand bonus ranges from a $50 payout for quads, to $300 for a Royal Flush. These are doubled for the $4/8 limit game.
High hand promotions award the player who had the best hand for that particular hour. The player with the best hand for that hour will receive anywhere from $50 to $150, depending on when he hit the hand. Sunday's pay $150 to the high hand, whereas a weekday 10 AM to 4 PM high hand pays $50.
Flamingo Poker Room Phone Number
(702) 733-3485
(By Steve Beauregard. Photos via the Flamingo Hotel and Casino Poker Room's Twitter: https://twitter.com/flvpoker)