(Editor's note: Harrah's Reno ceased operations in March of 2020, and the property was sold by Caesars in September of 2020. Below is our original article.)
Located right downtown, in the heart of Reno, Harrah's Reno is one of the city's larger casinos. It has 60,000 square feet, of which, 40,200 is casino space. In it you'll find 700 slot machines/video poker machines, and all the standard table games.
There's also a sportsbook and even Keno!
The resort stretches for an entire block of downtown Reno. One entrance to Harrah's is on N. Virginia Street, which is the main street, and home to the famous arch that reads, "Biggest Little City in the World."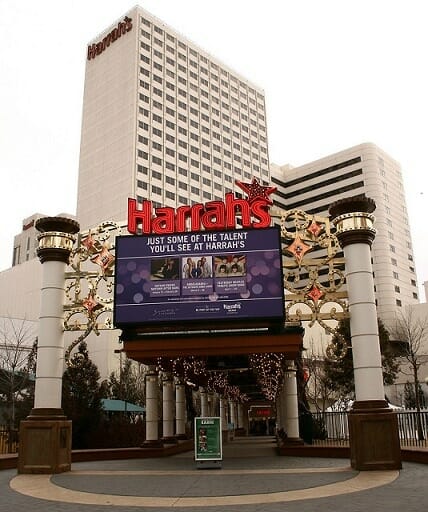 The hotel part of Harrah's has 928 rooms, and there are five restaurants onsite, in addition to a buffet and a Starbucks.
The 24-story tower opened in 1969, and later towers were built, and acquired, bringing the current room count to 928.
Harrah's Reno Address
219 North Center Street
Reno, NV. 89501

Phone: (775) 786-3232
Harrah' Reno Casino Hotel Resort Fee
Guests staying at Harrah's Reno will pay a nightly resort fee of $18.00 before tax, and before the City of Reno fee (more on that below).
This resort fee includes the following:
Basic Wifi for two devices
Unlimited local phone calls
Use of the fitness center
In addition, don't forget the hotel tax, which in Reno is 13.5%, which means the Harrah's Reno Hotel resort fee is $20.43 after tax, but before another fee.
On top of the resort fee and tax is a $3 daily "City of Reno Surcharge" that the city collects to promote tourism. However that $3 per night charge is not taxed. (Although I'm sure it crossed their mind to tax a tax).
All of which is to say that a guest staying at Harrah's Reno will pay $20.43 per night in fees and taxes BEFORE paying for the hotel room (and for the hotel room tax). Got it?
On the plus side, Harrah's Reno Hotel and Casino has free self-parking, and free valet-parking.
Harrah's Reno Restaurants
The restaurant lineup at Harrah's Reno includes Harrah's Steakhouse, Cravings Buffet, a teppanyaki restaurant called Ichiban, a Quiznos, the popular Hash House A Go Go, the Joy Luck Noodle Bar, and of course, a Starbucks.
(By Steve Beauregard.
Photos courtesy of Prayitno via Flickr.)