By Steve Beauregard
It's big, legal, fun, and it's growing.
Daily Fantasy Baseball is attracting tens of thousands of both casual and passionate baseball fans into their fold, all hoping to turn that initial deposit into big cash – and maybe having fun along the way.
And with each MLB baseball team playing 162 games over the course of seven full months, Daily Fantasy baseball makes up a big chuck of the multi-billion fantasy sports business.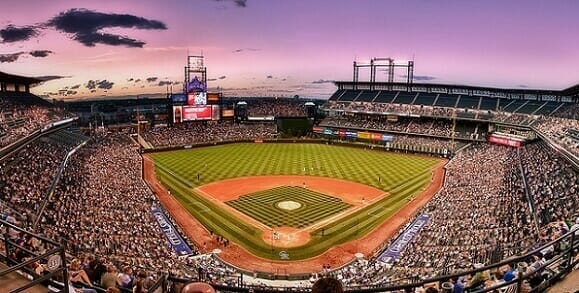 Fortunately it's pretty easy for beginners to learn how to play daily fantasy baseball. That doesn't mean it's easy to win, but registering, depositing, and making that first lineup is probably a lot easier than you think.
There's just 4 simple steps beginners need to take to play daily fantasy baseball:
1) Register
2) Deposit
3) Choose a Game
4) Choose your Lineup
1) Register
First off, stick with the big sites.
In daily fantasy sports, including baseball, there are two big players, FanDuel.com, and DraftKings. Both sites are reputable, reliable, and known for paying their players. All four of the major sports leagues (including Major League Baseball), have sponsorship deals with one of these two industry leaders.
Other sites may pay, and may even be efficient and trustworthy, but why chance it? FanDuel and DraftKings have proven themselves over time with easy-to-use software, and reputable deposit/cash-out options.
In terms of traffic and revenue, FanDuel used to be the leader, (and the first with 1 million registered users), however FD appears to have since been surpassed by DraftKings.
Once on the site, the registration process is simple and straightforward. Once you are signed up, you can be begin playing the free games or go straight for the cash.
While it's tempting to dive right in the money games, I recommend you first play a few days of the many free tournaments offered on the site. This will give you a good feel for the software, and layout of the website. It may also give you an idea of how well you may do, although keep in mind, the level of competition in the free games is always less than that of real-money games and tournaments.
2) Deposit
You can deposit money on FanDuel and Draftkings either through PayPal or a typical Visa credit or debit card, MasterCard, or Discover Card.
The minimum deposit on FanDuel is $10, while on Draftkings, it's just $5.
The deposit process is very fast, and money is uploaded instantly to your account.
3) Choose a Game
There are numerous varieties of games, however they basically fall into one of two different types of games to play:
Tournaments
50/50's
Here's a breakdown of each type:
50/50's
Also called "Double Ups" on some sites, 50/50's are games in which half the field wins, almost doubling their money, while the other half loses.
Buy-ins for the Draftkings 50/50's start at just $1. The sizes of these fields range from just 4 players to thousands.
It should be noted that while the top half, or top 50% gets paid, it's not exactly double the bet, as the house typically takes a 20% cut. In other words, if you enter a $5 50/50 game and finish in the top half, you receive $9 back (your original $5 plus $4 in winnings).
Tournaments
Fantasy baseball players can enter tournaments ranging in size from just 3 players total featuring a first prize of $2.70, to tournaments with over 20,000 players, where the first prize is $25,000, (or more).
Entry fees for these tournaments range from $1 to (gulp) $5,300.
Sites like FanDuel and DraftKings also run satellite tournaments in which the first place prize is an entry into a larger tournament. There are also tournaments where the first place prize is a free entry and an all-expense paid trip to a large, live, in-person fantasy baseball contest in which the first place prize is $100,000 or even a cool $1 milllion.
Other Games
Beginners
These are tournaments that are only open to players without a lot of experience on the site. As such, they are a great way to start as you'll be competing against fellow noobs.
On Draft Kings, for example, beginner contests are only open to members who have entered less than 50 contests.
Head-to-Head Matches
Avoid these entirely. Why? Because a head-to-head match is exactly that: you going up against just one other player. One of you doubles up your money (minus the site's 20% commission), while the other player goes home empty.
While a sound strategy may have you positive EV (expected value) and have you as a better than average player against the players on the site as a whole, the Head-to-Head waters are full of sharks, constantly out circling the waters, looking for easy prey.
Some of you may be thinking, "I'll avoid the big Head-to-Head tournaments (the $1000 or $100 variety), and just stick with the lower buy-in matches full of fantasy baseball beginners like me."
The problem is, the sharks swim at all levels. Daily fantasy baseball is not like online poker, where you'd only find fish at the small stakes. Daily fantasy baseball has a far greater ease of entry, which mean the good players play both the high stakes games, as well as the low stakes games, where their winning percentage is even better.
A very good player can make one good lineup and enter it into literally hundreds of different tournaments with just a few clicks. The professional daily fantasy baseball player playing the $5,000 entry tournament may very well be the guy playing against you heads-up in a $5 tournament, or even less.
For example, one night a couple of years ago, a FanDuel player by the name of "jddowning10" challenged players to compete against him heads-up in a $1 game. According to FanDuel's stats, jddowning10 had over 32,000 cash wins in fantasy sports at the time, including over 16,000 in baseball alone. This is the sort of competition you find heads-up in a game where the stakes involve one hundred pennies.
This makes daily fantasy baseball very different than poker. In poker, a beginner playing low stakes is not going to find himself up against Phil Ivey or Doyle Brunson. (Legendary poker studs if you're unaware). You could play a 25 cent/50 cent online game, or a $2/$4 limit hold'em game in a casino and expect to be up fellow beginners and/or against horrible players. With daily fantasy baseball however, beginners playing low stakes may well find themselves up against the best players in the world.
Avoid the head-to-head matches.
4. Choose Your Lineup
On DraftKings, you'll be given $50,000 in pretend money to spend on your players. You'll choose two starting pitchers, and then the regular eight position players.
Daily Fantasy baseball sites handicap each player, so to speak, assigning a monetary value to each player, based on their perceived worth of the player. A talented, successful pitcher like Clayton Kershaw, for example, may be priced at $12,000, whereas a little-known pitcher with a higher E.R.A. may be priced at just $5,000.
Don't worry about going over your $50,000 salary cap. You won't be able to enter a game if you are over. You may, however, enter if you've spent less than your salary cap.
You can edit your lineup any time before the game starts, however once the first game in your lineup has begun, your lineup is locked in. In other words, if you have a player in an early game (say 1:05 p.m. Eastern time) in New York, your lineup is locked when that first game starts.
And that's it! Now all you have to do is glue your eyes on ESPN and obsessively refresh your computer screen every seven seconds to see how you are doing. The site keeps up point totals constantly, so you ranking in the tournament will fluctuate wildly, depending on how your lineup is performing. After the last game is over, your account will be automatically credited if you have won.
And that's pretty much it. Daily fantasy baseball doesn't have to be intimidating for the beginning player. You can start at the smallest stakes, like a dollar, or even cut your teeth on the free games before taking the leap into the cash games and tournaments.
Now you just have to go win a lot of money, (then tell me how you do it).
(Photo courtesy of Max and Lee Bernt via Flickr).