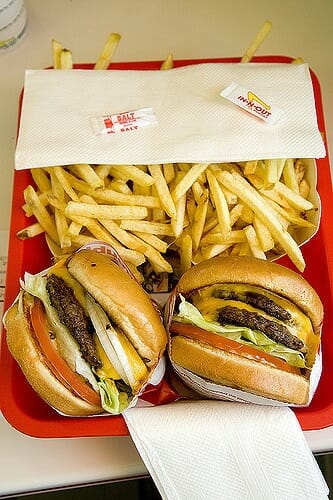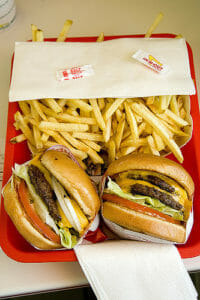 By Steve Beauregard
Although there are a total of 12 In-N-Out Burger Locations in the Las Vegas valley, there is only one location in Henderson, Nevada.
The restaurant is located on W. Sunset Road, as part of the Eastgate shopping center. It's just west of US 95, (which is also known as Interstate 515). In fact, the restaurant is right at entrance ramp to the interstate.
As further reference, it's just a half mile east of Galleria at Sunset mall. The In-N-Out is on the same side of the street as the Sunset Station Hotel & Casino.
If you're heading eastbound, be sure to take a right at either Marks Street, or into the entrance into Jared's jewelry store next door, as there is no other closer direct access into the In-N-Out off of W. Sunset.
Technically, this franchise on W. Sunset is the only In-N-Out within the official city limits of Henderson, however there is another location just barely outside the city limits off of the 215, about a mile west of Green Valley Ranch.
(Red marks the spot for the Henderson In and Out Burger)
Menu
The menu for the Henderson franchise is the same simple yet tasty menu found at the 300 plus other In-N-Out Burgers spread out across the west. That is, the usual hamburger, cheeseburger, grilled cheese sandwich, fries, three different kinds of shakes (vanilla, chocolate and strawberry), along with the double, triple, and even quadruple burger.
As with other locations, you can get your burger "Protein Style" (without a bun), or "Animal Style," which is also without a bun, but with a "mustard cooked beef patty," extra spread, and grilled onions.
Address
The exact address for Henderson's only In-N-Out Burger is as follows:
1051 W. Sunset Road
Henderson, NV. 89014
Henderson In-N-Out Burger Hours
Sunday – Thursday: 10:30 a.m. to 1 a.m.

Friday and Saturday: 10:30 a.m. to 1:30 a.m.
(Here's a Google Street View image of the Henderson In-N-Out)
Other Location
As I mentioned earlier, although this is the only In-N-Out in the city limits of Henderson, there is another franchise that is just literally a few hundred feet outside the official city limits.
Specifically, this In-N-Out is at 9240 S. Eastern Avenue. It's in the Beltway Marketplace shopping plaza, about a mile west of Green Valley Ranch Station Casino off of the 215, or Bruce Woodbury Beltway.
(Photos courtesy of pointnshoot and Phil Whitehouse via Flickr).