(Updated January 2022)
Internet sports betting is widely becoming more accepted (and legal) in the United States, but does this include horse racing betting online?
It does. In fact, placing a horse race wager online is perfectly legal for most citizens of the United States, assuming you do not reside in one of the few states that do not allow it.
And it has been legal for awhile – all due to a special carve out in the law allowing internet horse race betting.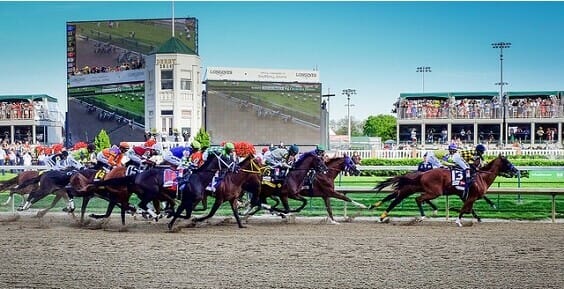 The U.S. Government will let me blow $10,000 playing the ponies online, yet I can't play 25 cent/50 cent limit Texas Hold'em poker in my home state of Colorado. It's strange but true, there is no federal law against horse racing betting online.
First some background:
In 1978 Congress passed, (and President Carter signed), the Interstate Horseracing Act of 1978, (or IHA).
The Interstate Horseracing Act of 1978 makes interstate wagering on horse racing legal, so long as the bet is legal in both the state where it was placed, and in the state where it was received.
This is why guys like me in Colorado can go to a licensed Off Track Betting (OTB) parlor and place bets on horse races in say, New York or Florida.
The I.H.A. however, became law in 1978, before the internet. Thankfully, however, the issue of horse racing betting online was covered by a 2000 amendment to the IHA.
In this 2000 amendment, congress no longer made you go down to an OTB parlor and bet. Rather, it allowed off-track horse race betting from your home, via the internet, or even from your phone. Keep in mind, while this is federal law, it applies only to states that allow interstate bets to be either placed, and/or accepted.
(Go here to find out the: States where it is legal to bet on horse racing online)
Of course, in the early 2000's, it was "anything goes" as far as online gambling. Internet poker was huge, and unlike online horse race betting, it fell into a grey area.
Online Horse Race Betting and the UIEGA
That grey area became more defined in 2006, with the passage of the Unlawful Internet Gambling Enforcement Act, or UIEGA. While it did not make the playing of online poker illegal, it did make it illegal for financial institutions to help players deposit money into offshore online poker websites.
Fortunately for you online horse racing bettors out there, the UIEGA did not apply to legal, licensed, American-based online horse racing betting.
Credit the pull of then Senate Majority Whip Mitch McConnell, (who represents the horse racing mecca of Kentucky), or credit it to the fact betting on horse racing is more ingrained in American culture than online poker and casinos. Whatever the reason, the law specifically allows companies to operate online horse racing betting sites in the United States and to offer wagering options to residents of the United States, in states where it is not forbidden.
Remember our good friend, the Interstate Horseracing Act of 1978?
The UIGEA states that it ''shall not change which activities related to horse racing may or may not be allowed under Federal law.''
Furthermore, it reads: (this is United States federal law, mind you): "the term 'unlawful Internet gambling' shall not include any activity that is allowed under the Interstate Horseracing Act of 1978."
Don't Be Paranoid About Betting on Horses Online
Some of you may be rolling your eyes by now, bored to tears. But I bring all this up in case you are the law-abiding, paranoid-about-going-to-jail type like me.
I wanted to bet on horse racing online, and heard that it was legal. I just had to research and find out for myself.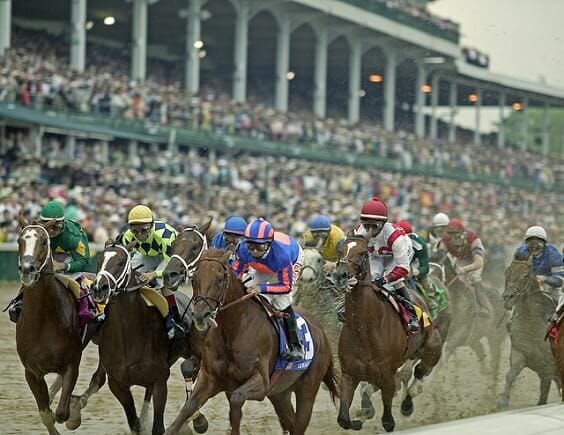 In addition to the legal proof provided above, I found that in fact, there are legitimate, law abiding online horse racing betting sites whose headquarters are in the United States.
BetAmerica.com, for example, is based in Fargo, North Dakota, and is licensed by North Dakota Racing Commission. Another big, reputable online horse racing betting site, TwinSpires.com, is headquartered in Lexington, Kentucky, and is owned by Churchill Downs Incorporated, which is listed on the NASDAQ.
Furthermore, unlike shady offshore online casinos, poker rooms, or foreign sportsbooks, banks and financial institutions are freely allowed to process deposits to online horse racing betting websites. The credit union I personally use, for example, won't allow me to deposit money to PokerStars.com, (it's not legal in my home state of Colorado) however it did just recently allow me to make a deposit to BetAmerica.com.
The fact that online horse racing businesses are physically located on United States soil, and that that government-insured banks will process money to these business is not proof itself, that online horse racing betting is legal. But if it were illegal, you can be sure that companies wouldn't set up shop in the USA, and that banks wouldn't dare facilitate payments to offshore operators, especially in this post-UIEGA world.
I'm a law and order type of guy (not the show, the life philosophy). I'm paranoid about breaking the law, which is why, before making my first deposit to an online horse racing betting site, I completed a lot of research to satisfy my own need to make sure I was fully complying with the law.
As much as I want to, I won't deposit money to an offshore sports book, or poker room, because I know it's either in that legal grey area, or flat out illegal. I have a wife and kids. I don't want to get in trouble or get arrested and end up in a non-consenting romantic relationship with a 300 pound prison cellmate named, "Jamarcus."
So I don't bet on sports, or play casino games or poker online. I do, however, make horse race bets online, confident in the legality of my actions.
(By Steve Beauregard. Photos courtesy of Bill Brine and Roderick Eime via Flickr).