By Steve Beauregard
Perhaps no other winner in World Series of Poker history has been more looked down upon and ridiculed than the winner of the 2006 Main Event, Jamie Gold. Now, the haters may have some more ammunition, as the former champ has auctioned off his WSOP gold bracelet. (It sold for $65,000).
Gold of course, is the former Hollywood talent agent turned producer, turned wannabe poker pro. Without any major poker tournament successes prior to the 2006 Main Event (other than a $54,000 score at a L.A. area casino a year earlier), Gold stampeded through the 8,000 plus player field through a combination of great cards, good reads, and unusual table talk.
Gold frequently told opponents what he held.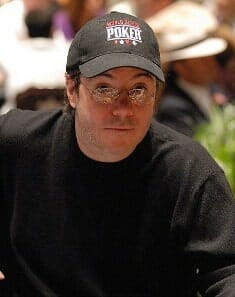 This is commonly done in poker rooms every day, but usually as a lie after a bluff, and always after the hand is over. With Gold however, the confession would come sometimes during the hand. Even more remarkably, Gold would be telling the truth sometime. And although very entertaining (I LOVE watching repeats of that WSOP), the talk was against the rules and prohibitions against this strategy were more strongly enforced beginning in 2007.
His payday for the win was $12,000,000 – a world record at the time for being the largest prize in poker tournament history – yet circumstances surrounding the score would quickly became a huge black eye for poker. A business associate of Gold's, television producer named Crispin Leyser sued the Main Event champ for $6 million dollars, claiming he had an agreement with Gold prior to the tournament to split any of his winnings in exchange for Leyser's help in a promotional task.
The lawsuit was eventually settled, (terms were not disclosed), but the incident, and Gold's reluctance to own up and honor what appeared to be a gentleman's agreement, tarnished the WSOP champ's reputation.
Financial Rumors
When it was revealed that Gold's bracelet was up for auction, it was widely speculated that he was broke. While Gold is understandably shy about the specifics of his financial situation, he hints at the possibility of some tax issues.
He told Card Player magazine in July of 2013, "It's a legal issue that I can't talk about," adding that he, "…will not be making $1 if it does end up being sold."
Gold told Bluff Magazine, "I got myself into an odd situation." Having listened to the interview, it appears tax related, with IRS involvement, as Gold says, "The laws do not exist for cash games and taxes, but somehow they believe if you play at a high enough level, you should be taxed on your winnings and not on your losses. And not allowed to take your losses against it."
In looking back at Gold's win, you could speculate that after collecting his share, $6 million, and paying taxes on it, he could have conceivably ended up with $4 million.
After lawyer fees, funding his production business, an expensive Southern California lifestyle, perhaps high stakes private cash games?, and sessions on GSN's High Stakes Poker (remember him losing the infamous pocket Kings vs. pocket Aces hand vs. Sammy Farha?), it's not at all inconceivable to imagine that Gold struggled financially.
While none of us poker writers are privy to his financial situation today, we can say that Gold didn't exactly tear it up on the felt since his huge $12 million (or actually $6 million) payday. In fact, according to the Hendon Mob tournament database, Gold's biggest tournament payday in the year following his WSOP win was a score for $9,238.
Since then, he has had much bigger scores, including a six-figure payday at the 2015 WSOP, where Gold made the final table of a $1,500 No-limit tournament. His 5th place finish netted him $120,952.
The next year, Jamie would finish 2nd at a L.A. WSOP circuit event, which was good for $139,820.
As for the future, Gold says he's involved with a company called, Island Breeze International. They are planning to open casinos and poker rooms on cruise ships in south Florida. He was also the host of the short-lived "Jamie Gold Poker Room" at the Tropicana Hotel and Casino in Las Vegas.
He is also on the board of directors of "The Giving Back Fund" – a Los Angeles-based non-profit who, (according to their website), "encourages and facilitates charitable giving by professional athletes, celebrities, high net worth individuals, existing nonprofit organizations, corporations and others who truly desire to give back."
Awesome night with the beautiful talented amazing @MayraVeronica #winatwynn :). pic.twitter.com/DBHWXqLWHF

— Jamie Gold (@RealJamieGold) July 2, 2016
As part of the Giving Back Fund, Gold hosts celebrity poker tournaments that raise money for charity.
WSOP Bracelet Auctions
With this auction, there have now been three WSOP Main Event champions in a row to have auctioned off their bracelets, although two have done it voluntarily.
(Go here to see if a woman has ever won the WSOP Main Event)
2007 Main Event winner Jerry Yang's financial problems led to the IRS seizing many of his assets – including his WSOP Gold Bracelet, which was put up for auction.
2008 Main Event champ Peter Eastgate put his bling up for auction, with the proceeds going towards charity. It ended up selling for $147,000.
A 4th WSOP Main Event winner, Tom McEvoy, put his bracelet up for sale on Ebay in January of 2017.