By Steve Beauregard
Unlike the situation with most professional poker players, when you ask if Mike Matusow is broke, the answer may depend on what day you ask.
That's just speculation of course, (and your definition of "broke"), but through the years, there has been never-ending speculation that the self-described "sick" degenerate is, or recently has, been broke. Mike Matusow has admitted to being broke many times over the course of his poker career.
In September of 2014, he posted on Twitter: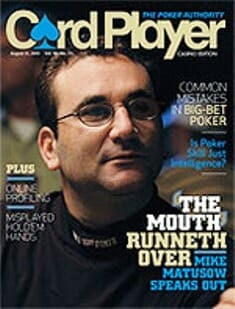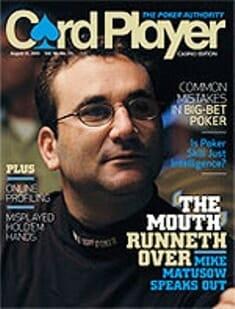 "…full tilt stole mine and everyone's money and I've struggled to survive since."
In an interview with the enormously talented poker writer Michael Kaplan in a U.K. magazine called Poker Player, Matusow says: "I have to worry about how I will pay my bills each month."
And in fact, in 2014, Matusow has just around $12,000 in tournament winnings while telling Kaplan he has lost $300,000 for the year.
In 2015, Matusow had zero cashes in tournament poker. Zero, which is hard to believe for a guy who had become the first person to ever win at least $1 million dollars twice in one year.
Mike has had success at the 2017 WSOP, making three final tables (more on that below).
For the most part however, recent tournament poker success has eluded the Mouth. That being the case, let's look at Matusow's online play. Actually, let's don't, as his online graph is not pretty.
According to the highstakesdb.com tracking, Matusow is down $1.04 million lifetime online.
This is just from May of 2007 to present day. It does not include the millions Matusow says he lost to Ultimate Bet.com suspected cheater Russ Hamilton prior to 2007. Matusow has told interviewers that he lost all his money from his two big 2005 WSOP tournament scores to Hamilton when playing heads-up on UlitimateBet.com in 2005 and 2006. Considering Matusow won $2 million between the two tournaments in 2005, the assumption is that he lost at least $2 million just to one player on Ultimate Bet.
Amazing day at the Warrior game hanging out with @phil_hellmuth and talking with Steph Curry's dad Dell Curry what a great day #DubsNation pic.twitter.com/crn2XxJefU

— Mike Matusow (@themouthmatusow) May 15, 2017
Mike Matusow Net Worth
Matusow has over $9 million in tournament poker winnings over the course of his career. While that is certainly an impressive figure, it's just winnings, and fails to account for the expensive entry fees ($10,000 per tournament oftentimes), travel expenses, taxes, and/or payment to backers who have put the entry fees into these tournaments.
Which is why Matusow has told interviewers that nearly everyone in poker is broke.
To be fair, Matusow was frequently backed by Full Tilt into many, if not all of the tournaments. Prior to his Full Tilt sponsorship, he had other backers, with whom he split both cash game and tournament winnings.
Again, Mike says $2 million off the top was lost to Russ Hamilton, leaving $7 million in tournament winnings (before taxes and expenses). And given his love for sports betting, it is reasonable to assume most, if not all of the remaining $7 million (again, before paying backers, expenses and taxes), has since been lost at the sports betting window.
Lest you think I'm exaggerating the Mouth's love for sports betting, Matusow admitted to losing $200,000 betting on football while he was in jail. (Go here to find out why Mike Matusow went to Jail).
Matusow himself once had a big score acting as a backer. In 1998, he had a one-third stake in eventual WSOP Main Event winner Scotty Nguyen. Matusow received $333,333 for the staking deal.
Mike Matusow and Ted Forrest Weight Loss Bets
Other evidence of Matusow's net worth (or lack thereof), comes a Twitter war that erupted between high stakes professional poker player Ted Forrest and Matusow over a long-standing debt Forrest says is owned to him.
Forrest claims that the Mouth still owes him $1.7 million from a weight-loss prop bet the two made four years ago at the Commerce Casino. To win, Forrest would have to lose enough weight to get to 140 pounds. He did, yet claims that in the four years after losing the bet, Matusow has paid him just $70,000.
Ted and Mike had a previous weight loss bet prior to this larger one. In that bet, it was Matusow who had to lose the weight. Forrest lost the bet, for $100,000, and paid Matusow back in full.
Either way, it appears Mike cannot pay Ted Forrest the $1.7 million owed – further evidence that Matusow worth is very likely under $1 million, and possibly in the negative.
According to Kaplan's interview, Mike currently grinds live poker games in Las Vegas, and San Diego, of all places. So he is still able to play poker for a living – it's not the $1/2 No-limit game of course, but then again, he isn't cashing six figure paychecks lately. He also claims to have quit sports betting after a brutal losing run of football losses in November of 2013.
In the summer of 2016, Mike asked for, (and apparently received) financial backing into the World Series of Poker. He had five cashes for the series, including a $17,113 payday for finishing 47th in the $10K Pot-Limit Omaha 8-handed event.
In the 2017 WSOP, Matusow came back strong, with 3 final tables, (all in $10K buy-in event). He had an incredible 6 top 12 finishes for a total $252,536 in winnings (not including the Main Event, which is going on at the time of this update and in which Matusow is still alive).
Matusow's financial situation would have been exponentially better had he taken up his friend's Howard Lederer's invitation to become a founding co-owner of the original Full Tilt Poker. Matusow has said in his great autobiography Check Raising the Devil, that Matusow could own a piece of the company for a $50,000 investment. The Mouth, declined, however, instead, betting (and losing), the $50K on sports.
So while some of the flimsy net-worth speculation sites out there put Mike Matusow's net worth at $8 million, that figure is nowhere close to reality. Until he makes a big tournament score (which he has done plenty of times in the past), or until he moves up in cash game stakes, it is likely that Mike Matusow's net worth (including his home), is under a half a million dollars.