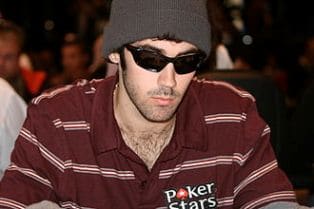 By Steve Beauregard (Updated November 10th, 2016)
Jason Mercier, who resembles Ryan Gosling, is the gifted, likeable, Florida native widely considered one of the most successful tournament pokers alive. He's known for having $17.4 million in live tournament winnings, now five WSOP bracelets, and a highlight reel full of sick calls.
Mercier, from Davie, Florida (near Ft. Lauderdale), was born in nearby Port Charlotte, Florida in November of 1986, and is the youngest of four children.
His dad Rick is the chief operating officer of a golf cart company, and helped Jason develop his legendary work ethic. As an example of the younger Mercier's nose-to-the-grindstone mentality: In 2007, he played an astonishing two million hands of poker ($1/2 no-limit full ring) while in pursuit of achieving Super Nova Elite status on PokerStars.com. (He made it in November).
Background
Mercier, who loves sports, started on his high school's varsity basketball team as a freshman. He can now laugh at the fact the team, Sheridan Hills Christian, went 2 and 25 that year, but it's apparent the pain of losing, combined with strong work ethic passed down from his father, were influences in Jason's poker success down the road. He has told interviewers that his father instilled in him a desire to become the best at whatever field he chose.
The field would not be "math teacher."
College
Mercier briefly attended Florida Atlantic University in Boca Raton, Florida, with an eye towards becoming a math teacher. But Mercier, who jumped on the poker bandwagon in 2003 like the rest of us, let his grades slip as he became more interested in poker. He left FAU after one year, ran an online poker account up, then went busto.
Fulfilling a promise to his parents, he got a job (at a grocery store), and finished his education at Broward Community College – all the time sticking to a limited schedule of online poker games. He did very well in that online heyday. Mercier says his computer had three sayings posted on it for inspiration, motivation and focus:
"Stay positive. Don't chat. Be confident."
Wedding is two weeks away and I'm still playing AA and @natashabarbour still can't fold T9o ?#YallaHabibi pic.twitter.com/Lo9fX21Dgb

— Jason Mercier (@JasonMercier) November 7, 2016
After some substitute teaching gigs, Mercier decided teaching was not his passion, and decided to purse poker full time.
It didn't take long for this gamble to take off. In just his second major live tournament, Mercier outlasted exactly 700 other entrants to win the European Poker Tour's San Remo Tournament, good for a $1.3 million payday. Jason was just 21 years old at the time.
A Different Kind of "Stab in the Dark"
Immediately after the tournament, Mercier went clubbing with some new acquaintances, where the group got into a fight that spilled out into the street. Mercier told Bluff Magazine that he was stabbed in the fight, and hospitalized.
A stabbing couldn't keep him away from the poker scene however, and just five months later, he final tabled his second EPT tournament of the year. His 6th place finish at the Barcelona EPT stop netted him $324,000.
Incredibly, his 2008 "run good" would continue. He finished first in the European Poker Championships High Roller event, this time good for a $944,847 check.
In fact, for 2008, Mercier won a total of over $2.7 million, which is even more impressive in that prior to 2008, his HendonMob database showed lifetime winnings of zero.
First Bracelet
His first WSOP bracelet came in June of 2009, when he took down the $1,500 Pot-Limit Omaha tourney and the $237k in first place winnings. Three months later, he would final table the WSOP Europe Main Event, finishing 4th for $440,000.
In 2009, Bluff magazine named him: "Player of the Year."
Although he continued to have numerous five and six figure scores, (including another $475,000 plus payday), it would be a couple of years before Mercier would capture his second WSOP bracelet.
(Here's Jason after he won his 5th WSOP Bracelet)
That would be #5 …2nd one this summer.

Shipped the 10k horse for 422k and a ton more on the side. #TwoDownOneToGo pic.twitter.com/75mXHAdmVF

— Jason Mercier (@JasonMercier) June 18, 2016
In June of 2011, he took down another WSOP Pot-Limit Omaha event. This time it was the $5,000 buy-in tournament, and his first place winnings totaled $619,000.
Later that year, on December 9th, he'd win the Doyle Brunson $100,000 buy-in Higher Roller event, collecting $709,000 for the win.
For all his tournament success, Jason Mercier has yet to win a WPT event. And, like any professional poker player, there are the challenges and downswings. In 2012, after early success in Australia, where he was up $500,000, Mercier lost that, along with an additional $1.6 million the next four months, for a $2.1 million dollar downswing. He says 2012 was his first, and only, losing year in poker.
2013 Rebound
He rebounded nicely in 2013, winning the 98,000 (Euro) buy-in EPT Grand Final High Roller event at the Monte Carlo. This win paid Mercier $1.462 million. Seven days previous, he won $179,000 for his 7th place finish at the EPT Grand Final Main Event, but with Mercier, a seven figure tournament score barely makes a blip on his impressive poker resume.
2014
Jason Mercier had an incredible summer of 2014, that included two huge second place finishes, and making two WSOP final tables.
The highlight – which to date is Mercier's biggest tournament win ever – came in June of 2014, when he finished second out of 66 players in the $100,000 high roller (with re-buys if you can imagine) at the Bellagio. The second place finish was good for $1.6 million.
He followed that up less than two months later in Barcelona Spain, by finishing second in the EPT High Roller 8 Max, good for $630,734.
Jason would finish an incredible 2014 in beautiful St. Kitts, only instead of spending all his time at the beach, he was taking down the WPT Alpha 8 $97,000 buy-in Super High Roller, beating out the small field of 15 players, but collecting $727,500 in the process.
Overall in 2014, Mercier finished with 5 different six-figure scores, (nearly six, when he won $99,313 by finishing 3rd at the WSOP $10,000 NL 2-7 Draw event.)
In fact, 2014 would be his best year to date. According to stats from the HendonMob.com, Jason finished the year with $3.672 million in live tournament winnings.
2015
Although there weren't any big six figure scores early in the 2015 tournament poker season, Jason had his best WSOP of his career.
He cashed 4 times, won one bracelet, and made three final tables – matching the 3 final tables he had made at the Vegas WSOP in 2011. (That year he also final tabled a WSOP Europe tournament).
Overall for the 2015, WSOP, Mercier won $1.35 million. The highlight, of course, was winning his third bracelet in the $5,000 No-Limit Six-Handed event, good for $633,357.
His bid for a fourth piece of hardware came up just a tad short, when he finished second in the $10,000 Pot-Limit Omaha Championship eleven days later.
On August 17th, 2015, Mercier won the 2015 Seminole Hard Rock Poker Open $25,400 buy-in NL High Roller Tournament, beating out 82 other players for a payday of $517,000.
2016
Mercier's 2016 started strong, with a huge six-figure cash down under just 24 days into the new year. His 3rd place finish at the $100,000 buy-in $100K Challenge at the Aussie Millions in Melbourne, Australia on January 24th resulted in a $421,932 pay day.
Later in the year, Mercier picked up his 4th WSOP Bracelet on June 11, 2016, when he took down the $10,000 2-7 Draw Lowball championship. While the $273,000 first place price money was nice, it was widely rumored that Jason won much more in the common side bracelet bets high-stakes pros often make with each other.
Amazingly, in the very next WSOP tournament, Mercier came tantalizingly close to having back-to-back bracelet wins. Outlasting all but one of a field of 100 tough players in the $10K Seven Card Razz Championship.
The tournament was widely followed and was known for more of its off-the-felt drama involving a large side bet made between Mercier and the unlikeable Vanessa Selbst.
Earlier in the year, Selbst had bet Jason 180 to 1 that he wouldn't win three WSOP bracelets in 2016. Mercier put up $10,000 to potentially win $1.8 million.
With one bracelet under his belt and another final table on the way, Mercier's long-shot odds began looking better. Selbst's disgusting response was to make noise on Twitter about being drunk when the bet was made, and whining that Mercier wouldn't settle the bet for a lesser amount. Not a popular player to start with, Selbst managed to come across even worse in the poker community.
For his part, Mericer was obviously disappointed with the potential $1.8 million side-bet payday, yet the Floridian at least could console himself with the 2nd place check of $168,936.
If a 1st place and 2nd weren't enough, Mericer shocked the poker world by winning this 2nd bracelet of the 2016 WSOP on June 18, 2016. Jason won the $10K buy-in H.O.R.S.E. Championship for $422,874 and his 5th career WSOP bracelet. During his amazing run at the WSOP, he has, (so far), made four final tables and had a 2nd place and 2 first place finishes.
Jason Mercier Today
Jason is a regular in all the High roller events, of the $100K and even $250,000 entry fee variety, and they play a big part in his schedule these days. He recently flew from Las Vegas to Australia, to South Africa, and back to Las Vegas in a period of 19 days, chasing high roller tournaments.
The respected Global Poker Index (or GPI), is a statistical tracking of tournament poker players. Mercier holds the record for the most weeks spent at number 1 on the GPI rankings. As of November 2016, he has $17.4 million in live tournament winnings, which places him 11th all time, and 8th among U.S. players.
Although he's known for his incredible no-limit hold'em success, Pot-limit Omaha is his favorite cash game.
Mercier credits an exercise routine for keeping him energetic and sharp at the tables. He also once took off two months away from poker as a way to recharge. In his limited off time, he enjoys playing basketball, and boating. He purchased a speedboat in 2013. On the entrepreneurial side, he purchased a Miami food delivery business, "Doorstop Delivery."
Jason Mercier's Net Worth
In a Q&A section on a poker site, Jason was asked his net worth, but declined to reveal it. He has admitted to once winning a $660,000 pot in a cash game. In addition, as we've mentioned, he has passed the the $17 million mark in live tournament winnings.
However huge costs associated with travel and tournament entry fees can eat into that quickly. In addition, Jason is not afraid to make a huge prop bet here and there. In fact, it's likely that prop bet winnings have made up a sizable portion of Mericer's net worth.
So while we have no idea as to his cash game winnings or side bet scores, it doesn't seem unreasonable to assume Jason Mercier's net worth is in the $5 million to $8 million range. He has told All IN magazine that he has invested in real estate.
This is pure speculation on my part. The only one who knows his net worth is Jason Mercier. And Phil Laak. In a 2011 tweet, Jason said Laak paid him $1,000 for the right to know his net worth at any time in the future.
Jason Mercier's Girlfriend, now Fiancee
(Here's a photo of Jason Mercier's fiancee, Natasha Barbour, taken during their spring 2016 trip to Thailand.)
They literally climb on you if you let them… Wild monkeys @natashabarbour #KoPhiPhi #MonkeyIsland pic.twitter.com/9FayZ36UwC

— Jason Mercier (@JasonMercier) February 4, 2016
Erica Holland, who he met through a longtime friend, was Mercier's girlfriend in 2011. The two became engaged, but ended the relationship in 2012.
As for now? Mercier is engaged to professional poker player Natasha Barbour. The two make a cute couple and appear to be living together, traveling the globe and living a pretty good life.
Mercier popped the question to Barbour on July 8th, 2016, at the Rio's Amazon room during the WSOP. Fitting for two poker players, the proposal took place at the final table of the WSOP $5,000 No-Limit Hold'em tournament, where Barbour was in the running for her first bracelet.
Although she finished in third place, her night was improved when – right after the elimination, she was proposed to by Mercier with ring and all.
Based on his Twitter account, it appears Mercier and Barbour will marry on November 19th, 2016.
Jason Mercier Twitter and Blog
Jason's Twitter handle is: https://twitter.com/JasonMercier, while he blogs at: jasonmercier.com.