By Steve Beauregard
Probably the most feared player at the final table of the 2013 WSOP Main Event is Justin Cuong Van Tran – otherwise known as JC Tran.
Other members of the 2013 WSOP November Nine may have made more money, or received more poker fame (David "Raptor" Benefield), but Tran went into the 2013 Main Event as far and away the most accomplished live tournament poker player of the bunch. By my count, JC Tran has won over $100,000 in a poker tournament on 18 different occasions. (And won between $90,000 and $99,000 three other times).
According to the official WSOP.com website, Tran has over $1.8 million in WSOP earnings, not counting the additional $413,780 he's won at WSOP Circuit events. (He took first place at a WSOP Circuit Event held at the Rio in March of 2005).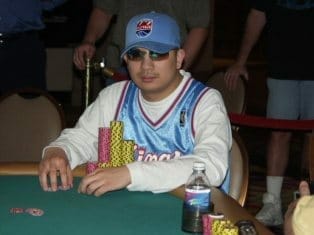 The Vietnam native has two WSOP bracelets to his name – the first one coming in 2008, when he won one of the donkaments (a donkament is slang for one of the numerous $1,500 No-Limit hold'em tournaments held at the WSOP each year). 2,718 players had entered the donkament, and Tran's win was good for $631,170.
The next year, he outlasted 435 other players to take down the $2,500 Pot Limit Omaha tournament, which was good for $239,000.
Other notable WSOP finishes, include his second place in a November 2005 WSOP Circuit event at Paris and Bally's in Las Vegas (for a $251,000 payday), and a 5th place at a 2005 WSOP $2,000 No-Limit Hold'em tournament, in which Tran took home $118,500.
In World Poker Tour (WPT) events, Tran has been even more impressive.
JC Tran has made a final table of the World Poker tour, an incredible eight times, including an incredible 1 and 1/2 year run starting September 22, 2005 to March 28, 2007, when Tran made an astonishing 5 final tables.
His total WPT winnings during that run totaled over $2.4 million, an average of $133,000 a month in WPT winnings alone! On top of that, in that same time frame, 09/22/05 to 3/28/07, Tran won over $433,000 in WSOP events.
Now official records from the World Poker Tour's website says he's only made 5 final tables, but they're only counting the times when Tran made the final six players, whereas most of us consider a final table appearance to include the final nine players. (For the majority of its history, a WPT televised final table only included the final six – hence the difference.
During the 2006-2007 WPT series, (Season number 5), Tran dominated the field, making 3 final tables.
First was his 6th place at the 2006 World Poker Open, at the Gold Strike Resort in Tunica, Mississippi. That early entry from the "TV table" as they call it, was good for $142,000.
A few months later, he scored $1.17 million dollars by finishing second, (second!) in the L.A. Poker Classic at the Commerce Casino. Remember those days during the height of the poker boom, when a second place finish was good for seven figures?
March of 2007 was especially memorable for Tran. After collecting his $1.17 million at the Commerce on March 1st, he headed North to Reno, where, along with 474 other players, he put up $5,000 to play in the World Poker Challenge at the Reno Hilton. JC took down the tournament, winning over $683,000.
With three final tables, and over $2 million in tournament winnings during that run, Tran was named the WPT Player of the Year for Season 5.
If his WPT and WSOP scores weren't enough, Tran has also cashed big in high-entry events outside of the United States. In November 2008, he won the PartyPoker.com $75,000 buy-in Premier League Poker III event, which was held in London, England. Maybe not a prestigious event, but I'm sure he didn't care after collecting $300,000 for his first place finish.
He followed that up less than two full months later in January of 2009, when he finished 3rd in the $100,000 (Austrian dollars) Aussie Millions, winning $213,111 U.S. dollars.
Tran has also succeeded on the virtual felt as well. While we don't know the tally of his cash game scores, he did win the most prestigious online tournament, the main event of the PokerStars World Championship of Online Poker (WCOOP), in 2006, winning $670,194.
With at least a 9th place finish at the 2013 WSOP Main Event already assured, Tran is guaranteed at least $733,224 in prize money. This last place money (if you will) means Tran is guaranteed to have at least his second biggest payday this November.
Tran is a native of Vietnam, having been born in Nha Trang, Vietnam on January 20, 1977, just a few years after the Vietnam War ended. While just a toddler, Tran's parents move him and his seven siblings to the United States. He obtained a business degree from California State University and is nicknamed "Just Call." JC resides in Sacramento, California, with his wife and children.