By Steve Beauregard
They seemed like such a cute couple, and their relationship was the subject of segments on ESPN, yet after 13 years of marriage, poker superstar Jennifer Harman and her hair stylist husband, Marco Traniello divorced in 2013. The couple has two children.
Jennifer, who is nine years Marco's senior, met during a chance encounter in 1999 the parking lot of the Bellagio Hotel and Casino.
Jennifer had previously dated Todd Brunson. Doyle Brunson had said in interviews that he's often felt that Jennifer was like a daughter to him.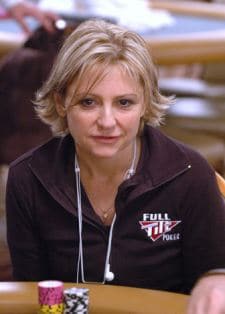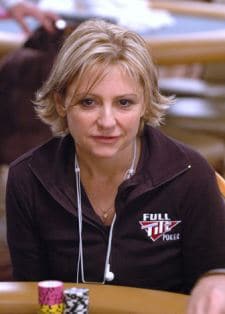 Born in Reno, Nevada in 1964, Harman is widely considered to be the greatest female poker player of all time. She is just one of six women to have won more than one WSOP bracelet. By all accounts, she is the only "regular" in the "Big Game" – the high stakes mixed cash game that features some of the largest pots in live poker. The game has been played often at "Bobby's Room" at the Bellagio and at "Ivey's Room" at the Aria.
After marrying the female poker pro in 2000, Traniello, a hairstylist at the time, became more involved with poker, eventually becoming (like Jennifer), a sponsored pro on Full Tilt Poker
After Black Friday, Full Tilt, of course, went under, and with it the lucrative sponsorship deals to Full Tilt pros came to an abrupt end. And when I say "lucrative," I mean it has been reported that before going broke, pros like Erik Lindgren received monthly checks from FullTilt.com in the $250,000 per month range.
Traniello's monthly check from Full Tilt was undoubtedly much smaller, but considering the Full Tilt faucet of money to both Marco and Jennifer had been cut off, it's easy to understand why there were rumors on the 2+2 forums and in the poker community that Jennifer Harman was broke.
Me and my good buddy Ray D playing 3-6 LH at Binions Horseshoe. #memories pic.twitter.com/bpkmokA6pZ

— Jennifer Harman (@REALJenHarman) January 27, 2017
Adding to the fire was the disclosure that in September of 2011, the couple put up their Las Vegas home for sale for $1.6 million. They had purchased the 4 bedroom, 5,882 square foot mansion for $2.4 million in 2006, according to published reports.
Regardless of how the closure of Full Tilt negatively affected their finances, Jennifer Harman appears to still be active in the big games, whereas he now ex-husband is largely gone from the sport.
Jennifer appears to not have a boyfriend at this time. In one Twitter posting, she writes, "I'm looking for a 95 year old billionaire. If anyone is interested, please DM me. Hahaha I'm drunk."
Marco Traniello
Traniello was born and raised in Italy, and has a very diverse career background, ranging from real estate agent, to ship captain, hairstylist, to more recently, an aspiring music producer.
Contrary to some thoughts out there, Traniello played a lot of poker before meeting his poker pro wife back in 1999. She though, undoubtedly helped and encouraged his game. As of today, he ranks 26th on the list of all time winningest poker players from Italy, according to the Hendon Mob database.
In total, Traniello has career live poker winnings of over $700,000. His biggest score came after making the final table of the $10,000 buy-in Pot Limit Omaha event at the 2007 World Series of Poker. His winnings for his 5th place finish were $156,435.
In addition to that event, Traniello has made it to the final table of a WSOP event on four other occasions, but considering the number of events he's played in, and the combined costs of entry fees and travel, his tournament winning record is unimpressive. In fact, considering he's played in many $10,000 buy-in events, it's a realistic possibility that Traniello is not a winning poker player. (Did I mention he was once a sponsored pro on Full Tilt?)
According to the pretentious wording on his website, Marco Traniello now has a photography business, where he writes: "I am finally pursuing my life-long dream of changing the world one picture at a time."
His portfolio shows a lot of pictures of his girlfriend, along with some wedding photos and a dog. He notes his work has appeared on "globally recognized Instagram accounts."
"I've risen to the top in a wide variety of fields," he adds.
Marco Traniello Twitter
Marco Traniello's Twitter handle is @marcopoker. He has a lot of periscope videos he's uploaded that you can spend time watching if you're so inclined. His Twitter feed has re-tweets of pro-drug messages, and links to articles about like how soy is supposedly bad for babies, and how we should redirect military spending to poor people and other left of center thoughts. Mostly though, he uses Twitter to endlessly promote his new girlfriend's singing appearances. Speaking of which…
Marco Traniello's Girlfriend
Like a lot of men in their mid-life, Marco traded in his longtime wife, for a younger, attractive model.
From the always classy Jennifer Harman, Traniello (born in 1973) is now dating a very young aspiring singer from Las Vegas named Christina Amato.
(Here's a video of Marco Traniello's new girlfriend)
According to her Twitter account, Amato is a "Singer. Songwriter. Makeup Guru." She does a lot of cover songs around Las Vegas. Her Facebook page is full of her performing covers of popular songs. She previously played around Las Vegas with a band called "Zowie Bowie."
Ironically, before the divorce, Jennifer Harman (along with Traniello) co-produced three songs together (according to a posting on Jen's Twitter account). The singles can be found on Itunes, where one of the first "5 star" reviews came from a listener named "marcopoker."