By Steve Beauregard
She's known as a famous actress, from roles in movies ranging from "Let it Ride" and "Liar, Liar" to the cheesy "Chucky" movies, but Jennifer Tilly, the poker player continues to leave her mark on the poker world.
Part of this is because of her constant presence on the tournament poker scene, and part of it is because of her relationship with her famous poker professional boyfriend, Phil Laak.
Jennifer Tilly and Phil Laak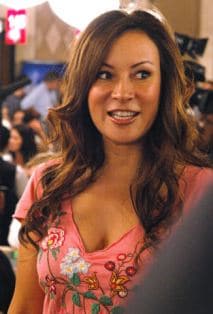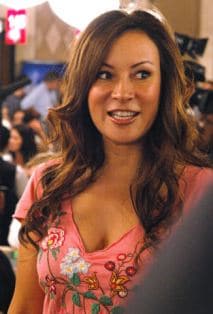 Jennifer Tilly met Phil Laak at the Commerce Casino in Los Angeles, during the World Poker Tour's Celebrity Invitational event.
A very sociable and likeable star with many male friends, Jennifer says that she thought it would be nice to hang around Phil Laak – as friends. In her eyes, the energetic, outspoken professional known as "The Unabomber" seemed to be a fun person who could help immerse her into the poker community.
In an interview with AskMen.com, Laak says Jennifer asked for his number to hang out and talk poker. She never called however, so the next time they hung out, when Jennifer asked for his number again, Phil refused, saying there was no point, as she was not going to call him.
Laak, – who wasn't interested in just hanging around a then-mediocre celebrity poker player as friends – proceeded to get HER phone number. The two soon became an item, with some in the poker community beginning to call her "The Unabombshell."
In the Ladies Room. At the @ABTBallet Fall Gala at Lincoln Center. pic.twitter.com/Cxg4kbPL9B

— Jennifer Tilly (@Jtillathekilla2) October 21, 2016
On the poker front, Phil Laak did give her a lot of tips, especially when it came to tournament strategy. Jennifer says he tried to make poker very simple, by teaching her little easy-to-remember phrases:
"If your cards add up to 20 or more, keep betting."
"No set, no bet."
"Never bet on the river, you'll only get called by a hand that beats you."
While Phil wanted her initial forays into tournament poker to be of the $50 buy-in variety, Tilly insisted on jumping into the high stakes arena.
Her very first poker tournament was the World Poker Tour's Bay 101 event. Once hooked, she jumped headfirst into the big buy-in tournament circuit, where $10,000 entry fees were the norm. She also played many of the $1k buy-in side events as well.
Both Jennifer Tilly and Phil Laak have what Jennifer described as "fake bracelets." This is a play on the criticism from some in the poker community that the Tilly's WSOP Ladies Only tournament win and Phil's WSOP Europe bracelet aren't legitimate, prestigious WSOP events.
In addition to both being WSOP bracelet winners, they both also write columns for Bluff magazine and have appeared together on "Poker Night in America."
The couple often seem to be inseparable. This was never more true than during the couple's magical 2005 WSOP. Phil Laak was there for her in the Rio Hotel and Casino's Amazon Room that summer day in 2005 when she won her WSOP bracelet. In turn, she was there, days later, shown on ESPN, when Laak ended up heads-up versus Johnny Chan in the $2,500 Pot-Limit Hold'em event on June 27th. (Laak would finish second to Chan).
Despite constant rumors of breakups, the celebrity poker couple remains an item. Jennifer was there during the 2014 WSOP, cheering on Phil at the final table of the $5,000 6-handed Pot Limit Omaha tournament. (Laak would finish 6th in the event).
Jennifer Tilly's Husband
Jennifer was married to writer and producer Sam Simon from 1984 to 1991. Simon was co-creator of "The Simpsons" and has said he still earns "tens of millions" per year from the show, despite not having worked on it since the 1990's.
Sam Simon is a poker fan himself, has appeared on the Game Show Network's "High Stakes Poker." Oddly enough, Sam played against Phil Laak during one session.
Simon has cashed in the WSOP Main Event twice, including a deep run in the 2007 Main Event, when he finished 329th out of 6,358 players.
Diagnosed with cancer in 2012, Simon and Tilly have a good relationship, and Tilly has visited her ex-husband during his chemo treatments.
In fact, it seems Tilly has something of "a thing" for poker-playing men. She also once dated (and was reportedly engaged to), the actor Lou Diamond Phillips, who plays poker often, and is always seen at the World Poker Tour Celebrity Invitational tournament at the Commerce – the same event where Jennifer first met Phil Laak.
In 2009, Lou Diamond Phillips made a deep run in the WSOP Main Event, finishing 186th, and winning $36,626.
Little known trivia: Jennifer Tilly has two boyfriends who have cashed in the WSOP Main Event. Phil Laak is not one of them.
Jennifer Tilly's Full House Fold
One of Jen Tilly's most famous film clips is one she'd like to forget. In an NBC "Poker After Dark" episode that aired in March of 2007," Tilly was last to act on the river, holding a full house.
After Patrick Antonius checked to her, Tilly checked her full boat – to the amazement of Antonius, Jennifer Harman, Phil Ivey, and others at the table.
Tilly says that at the time of the fold in question, she had been playing tournament poker for only about a year. She admits to being very nervous, playing against the likes of Phil Ivey and Patrick Anonious.
Jennifer Tilly's Twitter
Her Twitter handle is @jTillathekilla2. The nickname "JTillatheKilla" was given to her by professional poker player Gavin Smith.