By Steve Beauregard (Updated August 2017)
From a little girl living in poverty in rural Canada to an Academy Award nomination, to poker champion, Jennifer Tilly has lived an adventurous life – one in which poker still plays a huge part.
Of all the celebrities who have jumped on and off the poker bandwagon (Tobey Maguire, Oliver Hudson, Ben Affleck), Tilly remains the most involved in the game, and the most successful.
Not many people in the world have won over $800,000 playing tournament poker, and other than Gabe Kaplan (with over a million in tournament cashes), no celebrity has even come close.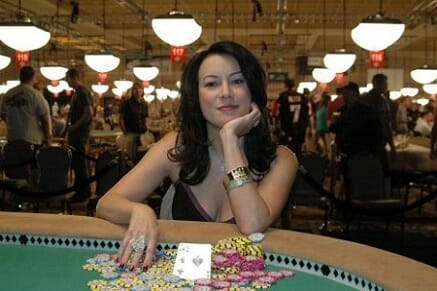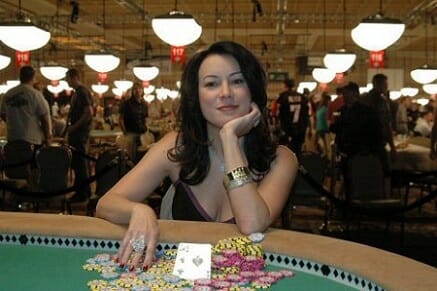 Born in the United States but raised on Texada, an isolated island north west of Vancouver, Canada, Tilly had a very modest upbringing. She, her siblings, mother and step-father basically "lived off the land" she says, due to her step-father wanting to live off of the grid. Collecting oysters and shucking them for dinner was a daily routine she says.
Jennifer Tilly's Poker Background
Jennifer has told interviewers that she has a love/hate relationship with poker, describing the game as sort of like a bad boyfriend who takes and takes, but who rarely gives anything back.
Tilly says she's always chasing that poker "high" you get after a big cash game win, or tournament score.
Either way, poker and card games are in her blood. Her biological father had, what she says was a "poker problem," while her grandma apparently loved pai gow a little too much.
On her mother's side, her grandma and uncle traveled the Bridge tournament circuit. The combination, and her love of cards, has led Jennifer to joke about her poker degeneracy. In fact, the license plate on her Bentley reads: "D-Jen."
Contrary to those who believe she began playing poker after dating professional poker player Phil Laak, Tilly has loved the game for while. (Go here to read more about the Jennifer Tilly and Phil Laak relationship)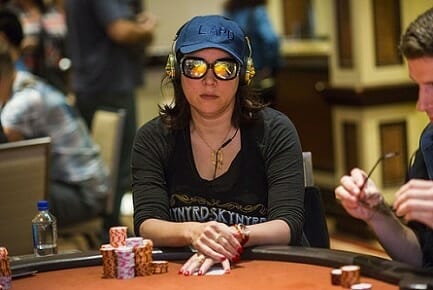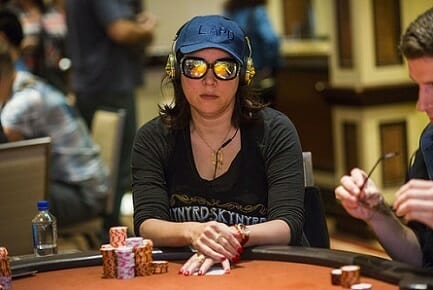 She's been playing in a regular home game since 1991. The game is limit Texas hold'em with a $20 buy-in and blinds of 25/50 cents. Tilly claims that the buy-in and limits have not changed since 1991.
Often times, while on the set of a movie, she has played with Teamsters working the film. She also has taught co-stars how to play hold'em.
Jennifer Tilly Tournament Results
Unlike the Jason Alexanders or Ray Romanos, and other celebrity poker players, who show up for the WSOP Main Event at not much else, Jennifer Tilly has been a regular in the big-time poker tournament scene.
According to the Hendon Mob poker database, Jennifer has over $992,000 in career tournament poker winnings. This makes her the 33rd most successful female poker player in the world (in terms of tournament money won). Those that may criticize her play should know that she has two $100K plus cashes in completely open events with large fields.
Jennifer Tilly at the World Series of Poker
Her most famous tournament win, was her first win: the 2005 World Series of Poker Ladies Only Event. The $1,000 buy-in event had 601 entrants, and her reward for outlasting 600 other poker players was the coveted gold bracelet and $158,355 in cash.
Overall, including the 2017 World Series of Poker, Tilly has 16 cashes at the WSOP for a total of $320,469 in winnings.
For many years, Tilly says she played nearly every WSOP event. If she busted out of the tournament early, she says she'd head on over to the Bellagio to play in their daily tourneys.
Three months after her big WSOP win, Tilly was invited to play in the World Poker Tour's Ladies Night Out freeroll tournament. The made-for-TV event was a basically a six person freezeout, and Jennifer was able to take it down for $25,000.
While she has had many other significant tournament cashes, her other notable big win was at the 2010 Bellagio Cup VI $5,000 No-Limit event, where her first place win (out of 93 entrants), was good for $124,000 and change.
On the cash game front, Tilly plays in many L.A. area home games. In addition to the low limit one running since 1991, she plays with fellow celebrities in some serious high-stakes cash games.
Rick Solomon, he of the Paris Hilton sex tape fame, is one of the participants. According to Tilly, Solomon is always wanting to raise the stakes up from the $600 blinds area all the way up to blinds reaching into the thousands. The game is usually a mixture of no-limit hold'em and Pot-Limit Omaha.
She plays in regular home games on Mondays, Tuesdays, Wednesdays, and sometimes on Thursdays and Saturdays.
In fact, back in the spring of 2014, Tilly says she took a huge hit in one of the home game – a loss so significant to her emotionally, that she was in a self-described "poker rehab." She told her assistant to get rid of her "D-Jen" vanity license plate, told Bluff magazine editor Lance Bradley that she was quitting the column, and asked friends not to text her to invite her to home games.
After a two month exile however, she was back, playing WSOP events – albeit much fewer than her non-stop WSOP heyday.
She also rejoined the cash games. She hinted, (my interpretation here), on the 2+2 pokercast that her first night back, she won an amount in the $18,000 range.
Tilly misses playing online poker, as the variety of different games helped her no-limit game by expanding her mind and poker thinking. Still, she admits to still playing a little online, where she likes to practice stud and Omaha online at lower stakes. To show you how wealthy she is, Jennifer said she once had $36,000 on PokerStars, and $10,000 on Full Tilt, just sitting there, unclaimed.
With gorgeous looks and fun, bubbly personality, Jennifer Tilly is a great poker ambassador. And with a good bankroll outside of poker, combined with a seemingly endless passion for the game, we're sure to see a lot more of Jennifer Tilly on the poker scene for years to come.
(Photos courtesy of the WSOP Media Room and World Poker Tour via Flickr).