By Steve Beauregard
Jerry Yang, a refugee who escaped from his native Laos to Thailand, before arriving in America, was an amateur poker player from Temecula, California when he got his big break: winning a $225 WSOP satellite tournament at a local card room. This gained him a seat into the $10,000 buy-in event and his life would never be the same again.
Since his victory at the 2007 World Series of Poker Main Event, Jerry Yang has been one of the most controversial and talked about former champions. And given the shady reputations of some of past champions, that's no small feat.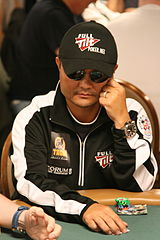 Former Main Event winners have been accused of cheating, and scheming and odd behavior. 2000 WSOP champion Chris Jesus Ferguson , a 20% owner in FullTiltPoker.com, settled a federal civil suit, after being accused of defrauding Full Tilt players out of millions.
And 1972 winner Amarillo Slim Preston pleaded "no contest" to charges of indency with a child. Then there's 2004 WSOP champion Greg Raymer's arrest in a prostitution sting. And three time Main Event champion Stu Ungar not only had domestic violence arrests, he was known for taking a lot of the millions of dollars he earned at the poker table and putting up his nose via cocaine.
Yet it's this mild-mannered immigrant social worker from Southern California has garnered a ton of buzz and talk within the poker community. Most, if not all of the online hate for Mr. Yang comes from his very public displays of his Christian faith at the poker table. Prayers for good cards are nothing new in a poker room of course, but Yang's constant pleas for God to intervene in the flop rubbed many players the wrong way.
I certainly don't have any ill-will towards Jerry Yang (after all, he's donated a ton to charity), however as a Christian, it did bother me to see him – during a crucial juncture of the tournament – seemingly using God as good luck charm.