By Steve Beauregard
At age 21, most of us were working in menial jobs at minimum wage. At 21, Michigan native Joe Cada was winning millions of dollars.
$8,546,435 to be exact.
That was his payday after winning the 2009 World Series of Poker Main Event: the $10,000 championship.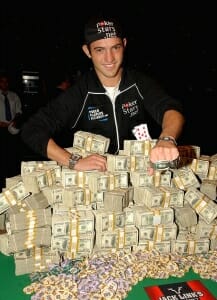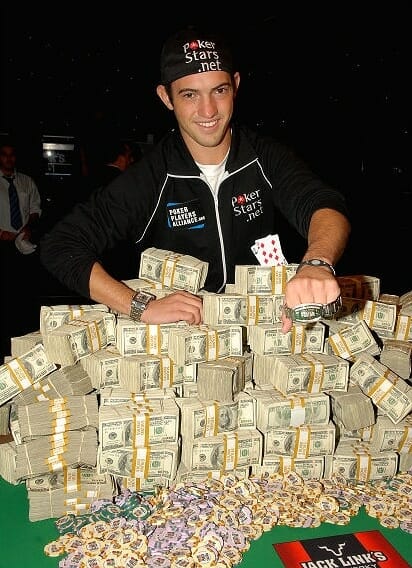 Yet while many WSOP champs are never heard from again, Joe Cada has continued the grind, and has continued to rack up wins and cash. In fact, he is one of just 30 people in the entire world to have over $10 million in live poker tournament winnings.
Joe grew up in Utica, Michigan, and graduated from Utica High School in 2006. His mom was a blackjack dealer at the Motor City Casino in Detroit, but wasn't a big fan of her son's burgeoning interest in poker.
According to a story in the Detroit News by Tim Twentyman, Joe learned the game from his older brother, Jerome Cada.
Although he had played with his brother, and in casual home games with friends, playing 25 cent/50 cent games, Joe because more serious at 18 years of age, when he began playing, and moving up the limit ladders on PokerStars.com. Joe attended Macomb Community College in Detroit, and studied business. He also bussed tables for money, but left the school and job to pursue poker.
He would often play across the river in Windsor, Canada, where you only had to be 19 years of age to play in a casino. He also kept grinding a ton of hours online, taking months off at a time after losing his bankroll.
He eventually rebounded however, and slowly worked his way up to higher stakes, eventually specializing in heads-up No-limit hold'em and Pot-Limit Omaha games. Joe has said he would often play for 80 hours a week and played a lot of $10/20 No-Limit cash games on Party Poker.
With his poker winnings, he entered the PokerStars Caribbean Adventure (PCA) in the Bahamas, and bought a house at the tender age of 19.
Joe Cada and the World Series of Poker
2009 was the first year Cada was eligible to play the World Series of Poker. Before the main event, he had two other cashes in his first series, including a 17th place in a $1,500 No-Limit event, good for $21,533.
In the Main Event, Joe ran well, ending his first day of play as the chip leader. Days later, he would qualify for the November Nine, making it to talent-rich final table that included the likes of Phil Ivey.
At one point at the final table, Cada was down to just 4 big blinds, before doubling up. Another time, he was all-in for his tournament life with pocket 3's versus Jeff Shulman's pocket Jacks. A trey on the flop kept Cada alive.
When three handed, Cada was a big underdog again, when going all-in with pocket 2's versus the pocket Queens of Antoine Saout. Once again, the flop was a Godsend to Joe, as a deuce made him the chip leader.
He ended up heads-up against a likeable amateur, Maryland logger Darvin Moon, who had entered the November Nine as the overwhelming chip leader. Yet Joe was able to close out the win when his pocket 9's won a race against Moon's King/Jack of diamonds.
Just a few days shy of his 22nd birthday, Joe's win at age 21leaped him over Peter Eastgate as the youngest winner in the history of the World Series of Poker Main Event.
Although the $8.5 million cash prize is a lot of money, Cada was backed into the tournament – in other words, investors put up the money for his $10K entry fee in exchange for half of the winnings. In this case, the well-known poker backers Sheets, (Eric Haber), and JohnnyBax (Cliff Josephy), were the wise investors who invested in the future champion.
After media appearances (including an interview on The Late Show with David Letterman), Joe continued to play online, but stopped on Black Friday. He says he didn't play hardly any poker from Black Friday all the way to January of 2013, as he was in a serious relationship.
During that time frame however, he made it to three WSOP final tables. In 2012, he came agonizingly close to that second bracelet when he finished second in a $1,500 No-Limit Hold'em tourney (for $412,414).
The next year he had an incredibly hot start to the series. In fact, in a nine day span in late May/early June during the 2013 WSOP, Joe finished 4th in two different tournaments, winning over $240,000 combined along the way.
In 2014, Cada got that elusive second bracelet, beating out 263 other players in the $10,000 Six-Max No-Limit Hold'em Championship. He won $670,041, his second largest live payday after the Main Event win.
What makes the win even more impressive is that he beat out what could only be called a brutal final table that included the likes of JC Tran and Erick Lindgren. Oh, and the bubble boy in that tournament, the 7th place finisher, was none other than 2014 Main Event Champ Martin Jacobson .
Joe Cada's Girlfriend
At the time of his WSOP win, Joe was dating the then 19 year-old Alanna Constance, who attended classes at Western Michigan University. She was the one seen on ESPN kissing Joe after the final hand.
Shortly after the win the two broke up. Joe then was involved in a long term relationship with Trisha Ann Stephens, who, like Joe, also attended Macomb Community College. The two ended the relationship after four years.
According to Joe's Facebook page, he is single.
Joe Cada Tidbits
* Joe considers himself very competitive, and loves sports.
* Joe now lives in Shelby Charter Township in Michigan, and is able to play online poker by driving about 45 minutes to Canada.
* He once lost $100,000 in one day.
* His online screen name is "jcada99."
* Joe and his father, Jerry Cada, opened Cada's Poker and Sports Grill in Sterling Heights, Michigan in 2012. The established closed in 2013 amid a controversy into whether the bar had secured a proper Michigan liquor licenses.
* Joe says he has had up to 12 different fantasy football teams going at one time. He's also passionate about soccer (playing that is, not watching. Nobody can watch soccer), and enjoys spending time with his dog and on the water.
* Like his fellow 2009 WSOP November Niner Darvin Moon, Joe has played in some Heartland Poker Tour stops, even making a final table in 2014.
* Joe has won more money in poker tournaments than any other person from the state of Michigan.
* Joe is trying to start an online fantasy sports betting site called, "FantasyDraft.com"
* Cada is not the only Michigan boy to do well at the WSOP. Friends and fellow Michigan native Dean Hamrick finished 10th in the 2008 Main Event, while Ryan Riess won it all in 2013.