By Steve Beauregard
She's pretty and talented, and…taken.
She's Kara Scott, known to many men all over the world as the hot hostess of ESPN's coverage of the World Series of Poker.
She's also been a sideline reporter or host for the European Poker Tour, and World Poker Tour, among many others.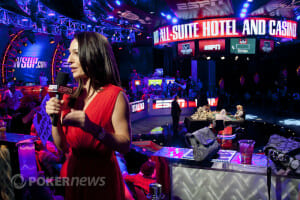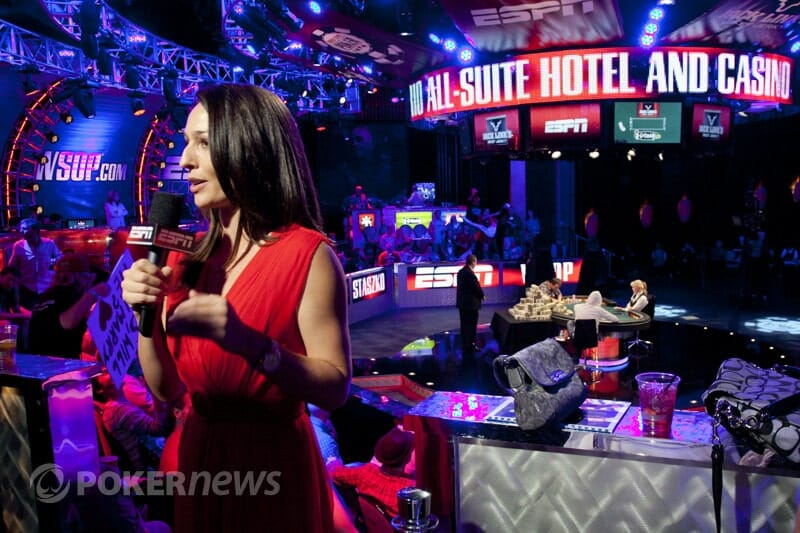 During her deep run in the 2009 WSOP Main Event, ESPN's Norman Chad was so smitten by the Canadian native that he took to calling her "Kara Scott Chad" during the broadcasts. And to this day, some people believe that is her real name.
Unfortunately for Chad, and others with crushes on the poker personality, Kara Scott is now married. She wed Italian professional poker player Giovanni Rizzo in May of 2014.
Rizzo has a law degree, and has written for newspapers. He has also worked as a poker commentator on numerous Italian poker broadcasts and other poker projects, including hosting the Party Poker Big Game.
He told the PokerListings.com Italian version that a few years back, he made some investments in a family renewable energy business that has been profitable.
I do have a pretty good excuse for being late to WSOP this year though … pic.twitter.com/JC4F1dYsVm

— Kara Scott (@KaraOTR) May 31, 2014
The duo became engaged in Venice Italy on April 10th, 2013, at the exact same spot where they shared their first kiss.
Scott told CardsChat.com that they had been friends and colleges for a few years before becoming engaged. In fact, at one time they were both sponsored pros for PartyPoker.com.
The married duo are now involved in a poker events company called Tilt Events. They have no children, and reside in Ljubljana, Slovenia, after briefing living together in Parma, Italy.
Giovanni Rizzo Poker Results
Giovanni Rizzo is a sponsored pro for the Italian poker site Gioco Digitale.
Rizzo is reportedly mostly a cash game player. It's very hard to find much on Rizzo's background online (good for him:)), however one interview reported that he was very successful in online tournaments on PartyPoker.com, and scored his first WSOP Main Event entry thanks to PartyPoker satellites.
We have no idea about his cash game results of course, but in terms of tournament results, Rizzo's statistics are not really noteworthy.
In fact, for his career, Rizzo's poker tournament winnings of $210,297 represents about a third of the poker tournament winnings of his wife, who has won $661,920 in her career. (Figures from the HendonMob.com poker database).
Rizzo's best scores have come in the World Series of Poker.
In the 2010 WSOP Main Event, (the Johnathan Duhamel year), Rizzo outlasted all but 287 players in the massive field of 7,319. His 288th place finish was good for a $41,967 payday.
Oddly, enough, Rizzo, like his wife, cashed in the WSOP Main Event in back-to-back years.
In 2011, (the Pius Heinz year), he finished in 327th place, (out of 6,865 players). Coincidentally, the Italian pro's second good run took place in the same year in which his future bride first worked on the Main Event's TV coverage for ESPN.
His first poker score, (at least, according to the Hendon Mob database), came in the 2008 WSOP, when he finished 29th in a $1,500 H.O.R.S.E tournament, good for a little over $5,000.
WPT Results
It's where he and Kara Scott shared their first kiss, and where they got engaged. Venice is also a place where Rizzo has had good luck on the felt as well.
He has run deep in back-to-back WPT National Series Venice tournaments (the WPT National Series are different than the main WPT events).
Rizzo made the final table of the 2014 Gioco Digitale WPT National Venice Main Event, where his 4th place finish out of 404 players resulted in a payday of $32,612.
The next year, he collected $3,480 by finishing in 17th place in the same tournament.
Giovanni Rizzo's Twitter
Giovanni Rizzo tweets at: https://twitter.com/gioriz84
(Top photo courtesy of the media room at WSOP.com)