By Steve Beauregard
She's smart, successful, and beautiful – not in a drop-dead gorgeous Sports Illustrated swimsuit way – more of a pretty girl-next-door manner. Plus she's great at poker to boot. She's a little on the nutty side when it comes to her extreme left wing political beliefs, but her attractiveness helps us tolerate it. There's only one Kara Scott.
We live in a poker media age where sites like PokerNews.com hire clueless poker hostess based on looks alone. Some of their cringe-worthy hires in the past have conducted interviews at major tournaments despite lacking both knowledge of the game, and interview skills. It's common knowledge in the poker community that watching PokerNews.com's WSOP interviews is much better with the mute button on.
Which is why Kara Scott stands out so brilliantly in the poker world.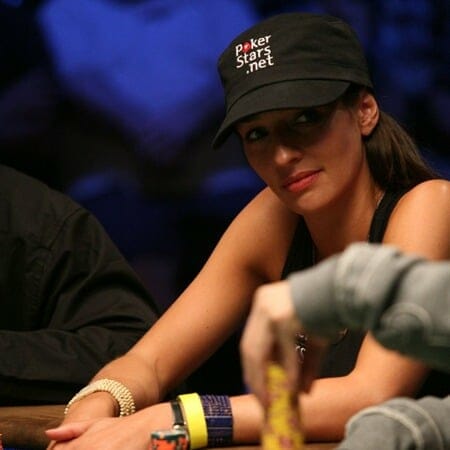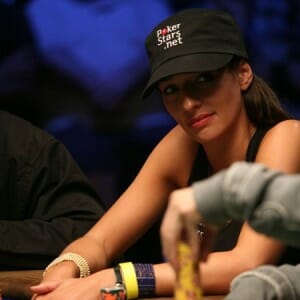 It doesn't hurt that she is easy on the eyes, but she knows how to conduct an interview. More importantly, her success as a poker player and knowledge of the game has earned her a level of credibility severely absent in other onscreen poker reporters – both male and female.
Kara Scott Biography
Kara was born on August 10, 1975 in a small town of around 600 people near Alberta, Canada. She has said her family home did not have running water until she was 14 years old.
She obtained two degrees, one in teaching, and the other in linguistics from the University of Calgary. While at Calgary, she worked as a maid in the athletes dorm.
In 1999, she moved to London to teach in what appears to be a dangerous inner-city school. She wrote on her blog: "I was kicked, punched, spit at, had numerous chairs thrown at me and even a desk once. One student actually tried to light me on fire during a lesson."
Still, I imagine it was better than working with Norman Chad:).
(Kara with 2017 WSOP Main Event final-table player John Hesp)
She then transitioned into media. Her work on something called the "World Series of Backgammon" lead her to work on poker shows in England, including Sky Poker TV. And it's been all uphill since then.
She has done poker commentary and/or reporting for almost every poker show you can imagine: the European Poker Tour, High Stakes Poker, the World Poker Tour, Poker After Dark, NBC Head's Up Championship and others.
Here in the United States of course, she is most famous for her appearances both as a player and hostess on ESPN's popular coverage of the World Series of Poker Main Event.
After receiving a lot of on-air attention from Norman Chad, she became a reporter for the network's coverage of both the WSOP and the WSOP Europe.
Scott was also, for five years, a brand ambassador for Party Poker, however that partnership ended in December of 2014.
Kara Scott Marriage
Kara dated professional poker player Brian Townsend in 2010. A mutual friend had set them up.
In 2013, she became engaged to Italian professional poker player Giovanni Rizzo, with whom she had been sharing a house. The couple were engaged in Venice, and wed in May of 2014. The two started off their marriage in Parma, Italy. In June of 2015, the couple moved to Slovenia.
(Kara Scott with husband)
(Related: Poker Player Giovanni Rizzo – Kara Scott's husband)
She and Rizzo are both now brand ambassador for an Italian poker company called "Tilt Events."
Kara Scott Poker Results
According to the Hendon Mob, Kara has won a total of $661,921. The vast majority of this came from a second place finish in the 2009 Irish Open. The 3,200 Euro event drew 700 players, and her second place finish netted her $413,612.
WSOP
In her career as a player at the World Series of Poker, Kara Scott has earned $107,807 – the vast majority of it coming in two deep back-to-back runs in the WSOP Main Event.
In 2008, the year Peter Eastgate took home the bracelet, Scott outlasted all but 103 players in the 6,844. Her 104th place finish was good for $41,816.
The following year, when Joe Cada won it all, Kara cashed again, this time in 238th place, good for $32,963.
This remarkable 2008/2009 Main Event run made her only the second woman to have ever cashed in the Main Event in back-to-back years.
Her highest WSOP finish was 17th place in a $1,500 No-Limit Hold'em tournament in 2013, good for $18,700.
She has one small cash, and we mean small ($396), from playing in a WSOP Circuit event at Harrah's New Orleans back in 2007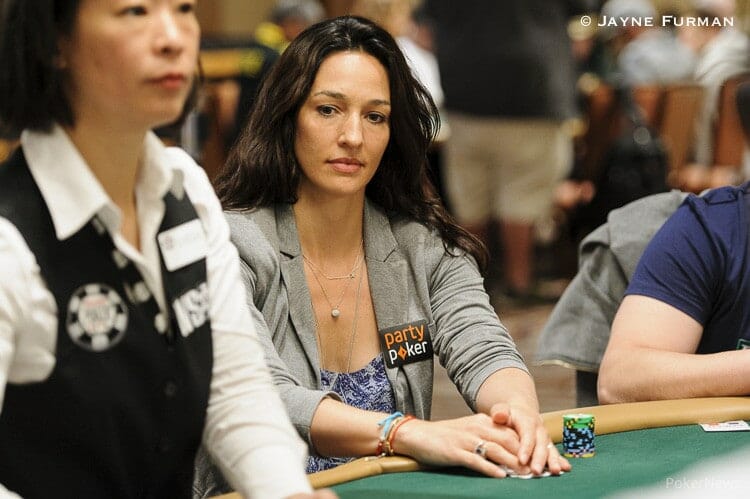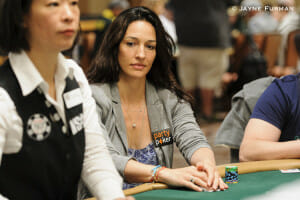 WPT
Kara came close to making a final table at a WPT major, finishing in 14th place at the WPT Paris stop in 2013. She won $26,937.
Kara Scott's Twitter and Blog
Kara tweets frequently at: https://twitter.com/karaotr , but it's basically unreadable due to constant pessimism and the overall "everyone is racist and sexist" vibe going.
She blogs at karascott.co.uk where she likes to post lots of pictures of herself.
Random Kara Scott Tidbits
* She loves Muay Thai fighting. Not only did she work on Muay Thai fighting broadcasts in England, she has fought in six bouts herself.
* As for Kara Scott's height, she is 5 feet and 9 inches tall.
* Her favorite food is cheese.
* Her favorite movie is "Rocky."
Photos courtesy of the media room at WSOP.com