By Steve Beauregard
(Editor's Note: Due to the constantly changing poker room promotions, we have stopped updating this page as of January 2017. Poker rooms were adding or dropping their jackpots at a pace we couldn't keep up with.)
Serious poker grinders hate them. Professional poker players despise them. Tourist fish like me love them: the bad beat jackpot.
A poker room that offers bad beat jackpots is giving the occasional live poker player a thrill above and beyond just chasing that flush draw – it's the opportunity to take home some serious money. In some cases, even life changing money.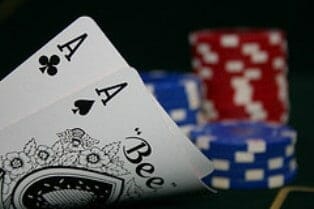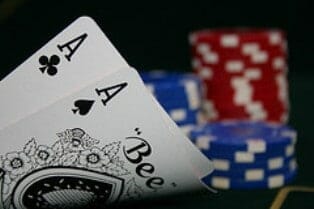 Live pros and the card room regulars who try to supplement their income hate the bad beat jackpot, as it takes money away from each pot, and reduces their hourly rate. Yet for folks like you or I, who only get to Las Vegas a few times a year (if that), the bad beat jackpot is like getting a free lotto ticket while you happen to be playing poker.
A friend of mine played on Party Poker back in the day. One night while playing $2/$4 limit (the lowest limit you could play and still qualify for the bad beat jackpot), he flopped a Royal Flush. Not too bad, and a guaranteed winner of course. But when the river card came out to be a Queen, putting two on the board, it also gave another player at the table four queens. Losing with four of a kind is a brutal, rare loss, but since this was a bad beat jackpot table, the loser of this hand took home the "loser's share" of the jackpot, $32,000, while my friend, got $16,000 for creating the bad beat.
If you had a night playing $2/$4 limit where you won $400, you'd be ecstatic. So imagine winning $16,000 (or much more) playing at such low stakes! This is the appeal of bad beat jackpots for the recreational player.
Las Vegas Poker Rooms With Bad Beat Jackpots
Unfortunately, those of you looking for Las Vegas poker rooms that offer a bad beat jackpot won't find too many. And some that do offer them are "locals" casinos, rather than Strip poker rooms.
As mentioned, many of the big Strip rooms don't offer a jackpot promotion. Some that don't, (Bellagio, Aria, Wynn and MGM), are considered by the pros and serious poker players as the best poker rooms in Las Vegas. But as I've mentioned before, most serious players do not like bad beat jackpots as they consider it to be just added rake taken away. And most of the top poker room ranking stories are compiled by serious poker players – thus the prevalence of non BBJ rooms in the top rankings.
The one Strip property offering a bad beat jackpot is the Flamingo Poker Room. It starts at $20,000.
Another Strip poker room with a BBJ can be found at the Venetian. After having one back in 2014, the Venetian ditched their jackpot, but brought it back in 2017. It starts at $50,000.
Off Strip, you'll find bad beat jackpots at the Orleans, and at the popular Station chain of casinos. These joints are "locals" casinos, are mostly found miles away from the Strip. If you're a tourist like me who sticks to the Strip and downtown, you're unlikely to ever step foot in one of these poker rooms, however we'll touch on it briefly.
Called the Jumbo Hold'em Splash for Cash, this BBJ pays the "loser" $40,000, while the winner gets $20,000. Every other player at the table where the jackpot hit gets $1,000. In addition, players at every other Stations Casino chain of poker rooms gets $50 money added to their 20 pots.
The qualifying hand starts off as four aces beaten. It's subsequently lowered at different intervals when not hit. While there are seven different Stations casinos, only five have poker rooms. Here are the five that contribute to the jackpot:
Green Valley Ranch
Red Rock Casino Resort & Spa
Palace Station
Santa Fe Station
Boulder Station
The nice, friendly and fun little room at Treasure Island doesn't have a bad beat jackpot. Like some other rooms, it offers instead, high hand jackpots, in which you'll win a bonus if you happen to have the best hand for either that day, or a specified hour. In this case, it is $500 for a royal flush, for example.
Other rooms like at the Mandalay Bay, don't offer a bad beat jackpot either, but have other similar high hand bonuses, (some progressive ones too), in which you'll receive anywhere from $100 to $300 for hitting a certain hand during the promotional hours. The Mandalay Bay runs their high hand bonus during football games and basketball games.
(Go here to read about the best low stakes poker room in Las Vegas).
Most of the MGM Resorts properties don't offer a BBJ. The Monte Carlo has a mini bad beat and several high hand promotions, but mostly, if you're love the added chance of scoring a big bad beat jackpot during your poker game, you should head to the Flamingo, Orleans, or one of the Stations Casinos.
****
I had detailed a huge bad beat jackpot seen in Caesars Entertainment poker rooms in Las Vegas, called the "Mega Beat" but it has since been discontinued. Below is what I wrote prior to the ending of the jackpot on 05/20/14:
First let's mention the largest bad beat jackpot in town. It involves seven of the poker rooms owned by the Caesars Entertainment chain of properties. By combining rooms, this jackpot is the largest in Sin City. Started in January of 2013, the jackpot has grown to over $900,000 at times. The loser of that hand, which took place at the Planet Hollywood, took home $182,000.
The Mega Beat Jackpot, as they call it, always has at least $200,000 in it. One interesting attribute of this Caesars Jackpot is that when it hits, any player sitting down in a game in one of the seven rooms will receive a share of the jackpot.
In its relatively short history, this player share has been anywhere from $2,000 to just shy of $6,000 (per player).
The seven poker rooms that are a part of the Caesars Entertainment Mega Beat Progressive Jackpot are as follows:
Caesars Palace
Harrah's Las Vegas
Flamingo Poker Room
The Quad Resort and Casino
The Rio
Bally's
Planet Hollywood.