By Steve Beauregard
He was known for a wild and often erratic personal life, and was reportedly a big winner in some big cash games, however in the poker world, the late Layne Flack is most famously known for his incredible success in poker tournaments.
After all, while most poker legends have nicknames based on physical characteristics (Kid Poker, Puggy Pearson, and Jack "Treetop" Straus), or geographical-based monikers, (Texas Dolly and Amarillo Slim), Layne's nickname was earned as a result of a couple of poker tournaments he had won.
Yet, contrary to legend, Layne didn't earn his "Back to back Flack" nickname from winning back to back WSOP events. Those consecutive wins came from a much smaller tournament.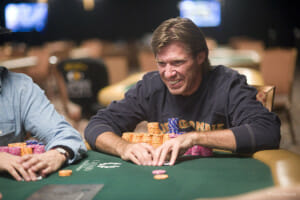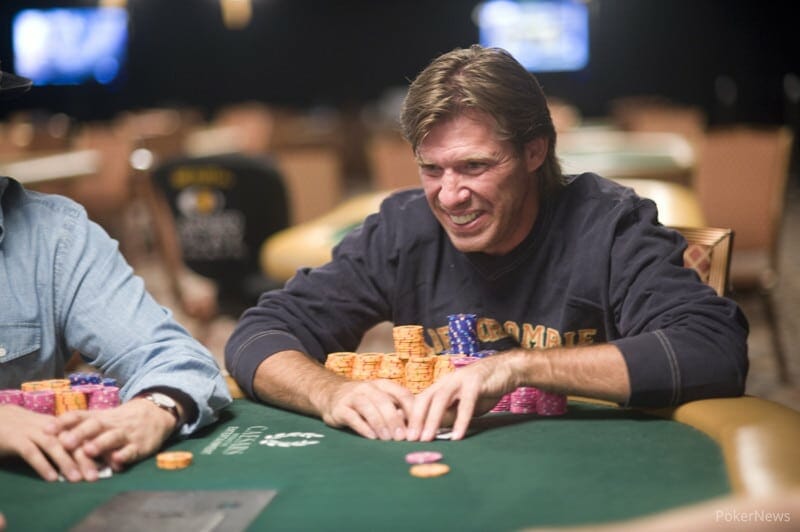 On August 10, 1999, Layne won the 7 Card Stud event at the Legends of Poker Tournament at the Bicycle Casino in Los Angeles. The very next day, he won the Limit Hold'em Shootout event.
Both events had ridiculously small (by today's standards) entry fees of $300. Both tournaments featured less than 170 entrants, and first place prizes of less than $20,000. Yet, the accomplishment was a big deal at the time, as this tournament attracted most of the top pros of the day. As an example, in the 7 Card Stud event Layne won, none other than Chris Jesus Ferguson finished in 4th place.
The consecutive wins in what was then a very prominent series on the poker circuit forever earned him the nickname, "Back to Back Flack."
Layne on TV
Flack was very recognizable to many poker fans – partially due to good timing. He happened to be on a very good run in WPT and WSOP tournaments that would eventually be broadcast on ESPN and the Travel Channel at the start of the poker boom.
While his WPT win in a celebrity invitational preceded the poker boom by a few months, the demand for televised poker after Chris Moneymaker's June 2003 WSOP Main Event win meant the tournament (in which the good-natured Flack beat out the equally likeable L.A. Lakers owner Jerry Buss), would be shown in endless re-runs, thereby making Flack famous.
The star-studded WPT Aruba Tournament in 2004, (in which Flack took home 2nd place at a final table that featured Mike Matusow), was also highly rated on TV.
The following summer, in what had to be one of the most talented final tables in WSOP history, Flack was shown prominently in ESPN's coverage of the $5,000 No-Limit Shorthanded tournament. Flack finished 4th at the table, which included the likes of Minh Ly (second place), Scotty Nguyen (3rd), Jason Lester (6th), and Men "The Master" Nguyen (8th) place. I almost forgot about the winner. It was some guy named Doyle Brunson.
Layne Flack's Career Poker Tournament Winnings
Overall for his career, Layne Flack had $5,081,152 in poker tournament winnings. At the time of his death in July of 20201, it put him 255th all time in global poker tournament winnings, and 140th among players from the United States, according to the Hendon Mob database.
On fifteen different occasions, Layne collected poker tournament winnings in the six figure mark. His biggest cash took place in June of 2008, when he won the $1,500 Pot-Limit Omaha tournament at the WSOP. Flack collected $577,725 for the victory, one of two half-million dollar plus paydays he has experienced.
World Series of Poker (WSOP)
Layne's first splash in the WSOP came a year after he moved to Las Vegas, in 1998, when, at the old Binion's on Fremont Street, he took 2nd place in the $2,000 No-Limit hold'em event, good for a payday of $133,000.
His first of six bracelets would come the following year. Here's a breakdown of Layne's WSOP wins and earnings:
Bracelets
1999 – $3,000 Pot Limit Hold'em. $224,400
2002 – $2,000 NL Hold'em. $303,880
2002 – $1,500 NL Hold'em. $268,020
2003 – $2,500 Limit Omaha Hi/Lo. $119,260
2003 – $1,500 Limit Hold'em Shootout. $120,000
2008 – $1,500 Pot Limit Omaha (with rebuys). $577,725
In total, Layne boasted $2.8 million in earnings from World Series of Poker events. His 58 cashes at the WSOP includied an incredible 20 final table appearances.
Despite his WSOP success, he only cashed at the WSOP Main Event one time, in 2005, when he finished 194th – good for $39,075.
World Poker Tour (WPT)
Layne was that rare tournament pro who has won over a million dollars lifetime at both the WSOP and WPT.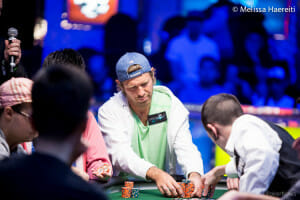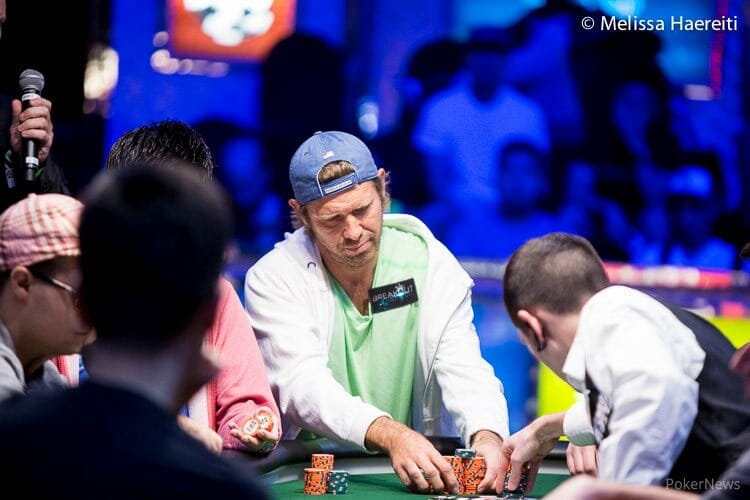 He had 3 final table appearances at WPT events. His one victory came at the WPT Invitational in February of 2003, just before the start of the poker boom. With a small field of just 104 players, Flack's win was good for "only" $125,300.
More notably, at the height of the poker boom in October 2004, Lack famously took second in the highly-rated WPT Aruba Poker Classic (the tournament that took place right before Mike "the Mouth" Matusow went to jail). Layne had flown in his then-young daughter Hailey to watch him play in the event. (And probably enjoy some beach time too).
The familial good-luck charm must have worked, as Flack took second, which resulted in his second best tournament score $500,000.
All total, Flack won $1,022,397 in WPT events. He cashed twenty times, making 3 final tables.
Death
Layne Flack died on July 19th, 2021 in Las Vegas. Thomas Somach, a reporter for the website Gambling911.com, interviewed the Clark County coroner, who told him Flack's cause of death was a drug overdose. Flack was buried in Rapid City, South Dakota in August 2021.
In October 2021, it was announced that Flack was one of ten finalists for the Poker Hall of Fame.
Both photos courtesy of the media photos link from the World Series of Poker press room webpage.