By Steve Beauregard
A man who is fun to hate, Mike "the Mouth" Matusow is undoubtedly one of the top five most interesting people in poker. I personally cannot stand the guy, yet I own his book, and will diligently watch every poker telecast on which he appears.
An emotional volcano that can erupt at the turn of a bad-beat inducing card, Matusow's taunts, screams, crying fits, degenerate lifestyle and personality in which he constantly wears his heart on his sleeve, all combine to make him immensely fascinating and watchable. This is especially true given the current state of televised poker, in which boring, soulless, robotic Euro-trash players seem to dominate every televised final table.
Matusow is that rare bird: a Las Vegas native.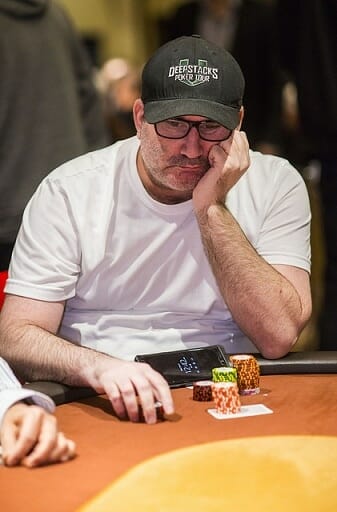 A former video poker degenerate, Matusow stumbled into poker accidently when a friend at Sam's Town (a local's casino in Las Vegas), introduced him to the game and showed him the ropes in Sam's Town low-limit Texas Hold'em games.
The furniture store worker (his parents owned the store), quickly picked up the game, moving up the poker ladder to the $10/$20, then $20/$40 limit hold'em games spread daily at Binion's in downtown Las Vegas. Believe it or not, prior to the poker boom, the Binion's $20/$40 game was one of the biggest in town.
From that point on, Matusow's poker career and bankroll would experience a never-ending series of boom and busts that seems to continue to this very day.
As he wrote in his eye-opening autobiography, Check Raising the Devil, Matusow was the "king" of losing $10,000 bankrolls. He' routinely build up a $10K plus poker bankroll in the Binion's game, only to watch it vanish after a weekend of losing football bets.
All this time, Matusow supplemented his crazy bankroll swings through his steady dealing job, dealing poker at both Sam's Town, and The Orleans casinos.
After a few years of this up and down cycle, Matusow attracted the attention of a backer, whose financial help would enable Matusow to quit the dealing job for good and officially become a full-time professional poker player.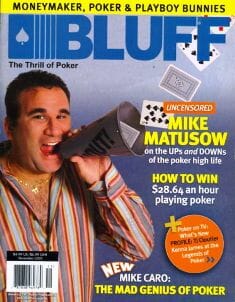 Mike Matusow's breakthrough moment on the poker scene came in 1997, when he finished second at the $2,000 Omaha 8 or Better event, which was good for a $81,700 score (before paying backers and taxes).
Two years later, in 1999, he'd capture his first WSOP bracelet in the $3,500 No-Limit Hold'em event, for $265,000.
In between those two achievements however, Matusow achieved an even bigger score when he had a one-third stake in Scotty Nguyen in the World Series of Poker Main Event.
Nguyen's win of $1,000,000 resulted in a $333,333 pay day for Matusow, which in turn enabled the Mouth to purchase his nice Las Vegas home.
A few years later, after abruptly busting out of a WSOP event in which he was a dominating chip leader going in, Matusow tried drugs for the first time at a bar at the Rio Hotel and Casino. The drug was "ecstasy," and was given to him by "friends" as way to help him emotionally recover from devastation he felt after losing a tournament he just knew he was going to win.
Unfortunately, that first hit of "X" would unknowingly have a huge impact on Matusow's personal life for years to come, even as his professional life thrived.
Drugs soon became a huge part of his life, as the poker pro descended into a non-stop partying world full of high stakes gambling, drugs, and strippers. In fact, it's not clear what Matusow was more addicted to: drugs or strippers.
Mike Matusow admits to moving on the massive consumption of ecstasy towards consistent use of both meth, and cocaine. He even played some tournaments while high. Yet whether on drugs or sober, Mike the Mouth began a remarkable run in the tournament poker world, becoming a hated, but famous poker celebrity along the way.
Matusow entered the national poker consciousness in 2004, when the volatile Mouth played the villain to the nicer, more mild-mannered amateur, Greg Raymer.
The mean, insulting taunts towards Raymer, and his emotional breakdown caught by ESPN cameras later after Raymer helped bust him from the tournament, helped ESPN ratings, while boosting Matusow to the ranks of most interesting poker players to watch.
Later that year, after finishing third at the World Poker Tour's event in Aruba (and collecting a $250,000 pay day in the process), the Mouth begin serving a prison sentence. (Go here for the full story of how Mike Matusow ended up in jail).
Released in the spring of 2005, Matusow began his comeback.
After making such a deep run in the 2004 WSOP Main Event, Mike was able to go even further in the 2005 tournament. Even more unbelievably, his antics garnered the Mouth even more ESPN air time than in 2004.
His battles on the felt with rival Shawn Sheikhan, combined with a legendary cooler (go here for the definition of a cooler in poker), made for intriguing viewing. It also meant that for the second year in a row, Mike Matusow would be the star and major storyline in the World Series of Poker Main Event.
In fact, Matusow made the final table that year, (his second one lifetime), finishing in 9th place for a $1 million dollar payday. He lost most of his stack in the aforementioned cooler, when his pocket kings went all-in preflop against pocket aces.
Just four months later, he'd go on to win the WSOP Tournament of Champions against a talented field, for another $1 million, making Matusow the first poker player to have ever won at least a million dollars in a poker tournament, two different times in one year.
Mike Matusow and Full Tilt
Matusow writes in his autobiography that he was offered a chance to buy in early into the company that would become the online poker giant FullTiltPoker.com.
In typical Matusow fashion, however, he declined co-founder and friend Howard Lederer's offer, as Mike says he needed the $50,000 initial investment to bet on sports.
Full Tilt, of course, would go on to make hundreds of millions of dollars that Matusow would not share in, other than in his role as a sponsored pro on the site.
Matusow would later be accused of owing $700,000 to FullTilt – a figure he denies. In fact, Matusow has told interviewers that he lost millions from FullTilt.
And has been well documented previously, Matusow has claimed to be the victim of the Ultimate Bet cheating scandal. He has hinted that former WSOP Main Event champion Russ Hamilton cheated him out of hundreds of thousands of dollars by being able to see his cards while playing heads-up together online.
With a Las Vegas lifestyle consisting of non-stop partying, drugs, strippers, and high stakes gambling, Mike Matusow has lived a life resembling that of one long bachelor party weekend. While not as big of a presence in the poker world today, never count Mike Matusow out. Televised poker is more interesting with him in it, and oddly enough, poker is better off with him in it as well.
(Photo courtesy of World Poker Tour via Flickr.)