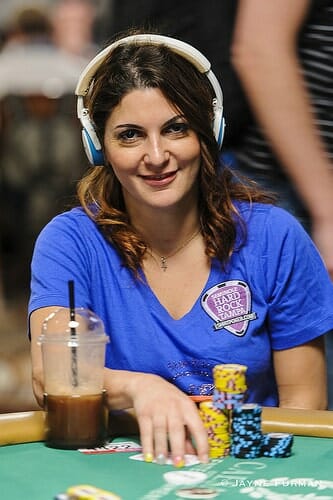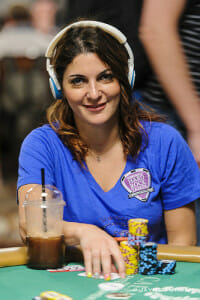 By Steve Beauregard
Natasha Barbour may not be a household name in poker circles quite yet, but considering the results of this successful and attractive Florida-based player, it may be just a matter of time.
After all, she cashed in three WSOP events in 2015, (including a second place), she has over $1 million dollars in tournament poker winnings, and ranks 25th on the list of most successful female tournament poker players of all time. It helps that she seems like a genuinely sweet person.
Plus, between her appearance on shows like "Poker Night in America," along with engagement to poker star Jason Mercier, Barbour is quickly becoming a poker celebrity.
Natasha Barbour Biography
Barbour was born in Beirut, Lebanon in 1987.
According to a profile on the website of the Seminole Hard Rock Hotel and Casino in Tampa Bay, Florida, where she was a sponsored player, Barbour came to the United States in 2003 to attend the University of South Florida. She studied microbiology, and played $1/$2 No-Limit Hold'em as a way of paying for her tuition.
At the @MiamiHurricanes game and got abouy 33% of AMERICAN football rules down!!! LET'S GO CANES!!! pic.twitter.com/7JVGJ7aT8m

— Natasha Barbour (@natashabarbour) October 15, 2016
Oftentimes, she would do her homework while playing poker at the Hard Rock and became quite the fixture there. She told CardPlayer.com that she played at the Seminole Hard Rock "almost every day for 11 years."
Eventually she worked her way up, and grinding out a lot of $2/5 no-limit and $5/10 no-limit cash games.
First Marriage
For a woman who spent nearly every day for 11 years in a poker room, it's fitting that she would meet her future husband on the felt.
Natasha met Mike Raimon, another local poker pro, at the Hard Rock in 2009.
In the Bradenton Florida Herald wedding records on February 3, 2014, they reported that "Michael Dennis Raimon and Natasha andre Barbour" wed.
The marriage, apparently however, was short-lived. A June 12, 2015 PokerNews.com story described Jason Mercier as Barbour's "boyfriend."
On July 8th, 2016, Barbour and Mercier became engaged, when Jason popped the question at the WSOP after Barbour was eliminated in third place at the $5,000 No-Limit event.
It appears the couple wed in November of 2016.
Natasha Barbour's Poker Results
Natasha has $1,064,082 in career live tournament poker winnings, according to the HendonMob.com poker database.
The vast majority of that money was won in the past two years.
Barbour's first tournament poker win of significance came in January of 2010, when she took down a $345 WSOP Circuit event at the Horseshoe in Council Bluffs Iowa, for $12,444.
While she had several cashes in WPT regional tournaments, two small WSOP cashes, and wins in other events, her breakout came in 2014, when she finished in 12 place at the $5,300 Seminole Hard Rock Poker Open (the Hollywood, Florida Hard Rock, not her home poker room at the Tampa Bay Hard Rock).
The cash was oh-so-close to her first six figure score, as she took home $99,775 for the 12 place.
The start of a good poker year saw Barbour cashing for $19,000 cash at a $10K WPT event in February of 2015.
Three months later, however, she would almost strike gold. It was in one of the many "donkaments," or $1,500 No-Limit Hold'em tournaments held at the World Series of Poker.
The field of 1,844 players was whittled down to two, including Barbour, when she ran an ill-timed bluff into three aces. Her second place prize money of $284,911 was her biggest score to date.
Romance at the Rio as @JasonMercier pops the question to @natashabarbour. (She said yes.) https://t.co/91IejUr0vk pic.twitter.com/j42j38awVs

— PokerStarsBlog (@PokerStarsBlog) July 9, 2016
The fact that a woman almost won an open tournament (a rare event at the WSOP), combined with her new boyfriend and poker star Jason Mercier rail birding her at the final table, put Barbour in the poker spotlight. She would go on to have two more cashes in the 2015 WSOP.
(Related: Women who have won a WSOP bracelet)
In 2016, Barbour would have another successful World Series, and would make another final table. This time, in a $5,000 buy-in No-Limit Hold'em tournament. Her third place finish is her biggest live score to date, as she took home $348,374. The 3rd place prize money put her over the $1 million career winnings milestone.
You could also say, without a doubt, that in 2016, Barbour and Mercier repeated their 2015 title as WSOP couple of the year. Between them, they left the Rio in 2016 with 2 bracelets, 5 final table appearances, and one engagement ring.
Natasha Barbour Tidbits
* She graduated from the University of South Florida in 2011.
* She has written for "Ante Up" magazine.
* Barbour and two friends are partners in a poker training company called Epic Poker Training.
* On December 2nd, 2014, and April 27th, 2015, she took part in the filming of the "Poker Night in America" shows on the CBS Sports channel.
* After Jason Mercier won his third WSOP bracelet, she wrote on Instagram:
"Never EVER been this happy for anyone before…. and its a great feeling! ? Congrats @realjasonmercier on your 3rd bracelet!!!!!!"
* She told Cardplayer that she definitely would like to start a family one day. Upper photo courtesy of the media room at WSOP.com