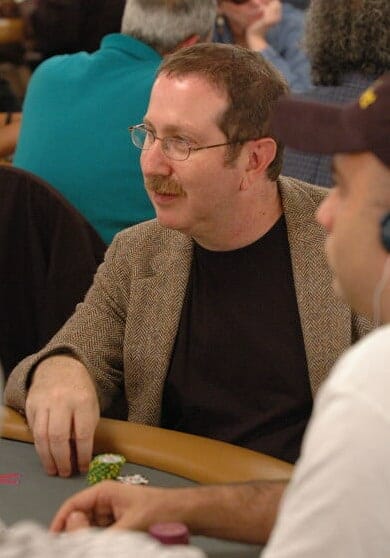 By Steve Beauregard
(Editor's note: On December 21st, 2014, I received the following email from Norman Chad
"Who are you and what is gamboool.com?
A friend of mine just sent me an undated story you did — essentially a biography of me — that was filled with error after error.
Among myriad other untruths, you cite facts about my first two wives/marriages that are complete fiction. Where do you get this stuff?
Norman Chad"
The email was sent from "askthesloutch@aol.com, which is the same email Chad uses in his column to solicit questions.
To clarify, information on this article was complied from a number of interviews, columns and articles Chad has conducted over the years. After Chad's email, I've went back to this article and added the sources in parentheses, which admittedly I should have done originally. I've also replied to Chad, letting him know I would be happy to delete, or correct, any specific item that was incorrect. I have not heard back from him. -Steve)
He's been a stand-up comedian, actor, Sports Illustrated columnist, TV script writer, and has gone through what appears to be twenty thousand marriages. There is only one Norman Chad.
For over a decade now, the quirky, highly-opinionated musings of Norman Chad, have helped make the color commentator an integral part of the success of ESPN's coverage of the world's largest and most prestigious poker tournament, the World Series of Poker Main Event.
A self-described anti-social nerd, ("I was never cool growing up" – Bluff Magazine, December 2007), Chad grew up in Maryland, and attended the University of Maryland – a school he routinely pokes fun of during broadcasts.
During his college years, he acted as a campus newspaper editor, and covered high school sports for the Washington Post, where he was later mentored by the outspoken former ESPN talk show commentator, Tony Kornheiser.
Despite the seemingly cushy gig, Chad gambled on his career, quitting the Post, and moving to Los Angeles to try his hand at screenplays. He would eventually sell five scripts to the sports-related shows, "Coach" and "Arliss." He's also gave a run at doing stand-up comedy. The always honest Chad says didn't exactly pack the comedy clubs, and calls the failed stint his biggest disappointment. ("My biggest professional disappointment is how bad I was as a standup comic," says Chad, 56. "I couldn't make anybody laugh." – Deadspin.com, 11/11/14)
Chad would go back to sports column writing. He's known for a sports picking columns that appeared on Fridays that was nationally syndicated. Unlike most sports betting tout sheet writers and the cheesy 1-900 sports picks phone lines, Chad choose his winners by flipping a coin. He ended the year a winner in 9 of the 11 years.
These are photos of me watching TV, watching people in North Carolina watch TV. pic.twitter.com/SAKMM7IvT1

— Norman Chad (@NormanChad) April 5, 2016
It's his ESPN WSOP work, however, that has made Norman Chad a somewhat of a household name, and recognizable face in the poker world. He even acted on ESPN's great, but short-lived poker-themed fictional poker drama, "Tilt."
As for the WSOP coverage: while his often failed attempts at humor can be groan-inducing, he's an enjoyable presence on the broadcasts. In the vein of another sports commentator, Howard Cosell, Chad isn't afraid to ruffle any feathers, nor call out poker players when they are acting like toolboxes, which they seem to do frequently.
Norman Chad and the WSOP
Through his sports column, Chad had appeared on ESPN several times. When ESPN hired an outside producer to broadcast the 2003 WSOP, a friend of Chad's in the production company asked him to consult with them, as the company was new to covering poker.
Why was Norman chosen by the producers? In Chad's words, it was because he, (Chad), "was the only one they knew who had a gambling problem." (Bluff Magazine, December 2007). After a few months of meetings in helping the producers understand the game, they asked to be a color commentator for the telecast.
The rest is televised poker history, as that 2003 WSOP would go on to start the Chris Moneymaker poker boom. Chad has been a fixture on ESPN's coverage ever since.
Interestingly, he's had this role despite not being a professional or accomplished no-limit tournament player.
In fact, his commentary usually doesn't dive into poker strategy. Chad says that when it comes to poker: "I don't know what I'm talking about." In addition, he wisely points out that like the majority of ESPN viewers, he is less interested in the strategy and card specifics and instead, prefers to focus on the personalities, situations and stories of the variety of players.
For a general ESPN audience – one that may not be poker savvy or looking for detailed strategy – it seems Chad and his co-host Lon McEachern are a perfect fit.
Along with covering the action, Chad is a strong advocate of poker etiquette, and routinely rails against trash talking, mean-spirited players. The former stand-up comic intermingles his lectures with frequent quickly sayings and jokes about his failed marriages and his ex-wives.
Norman Chad's Sayings
There are far more that I'm probably missing here, but "Squadoosh," "Scallywagged" and "Whamboozled" are heard frequently, as is: "Ah, he's a kid with a dream."
Once, after a player busted out of the Main Event on the very first hand, Chad commented:
"He went through ten grand in about ninety seconds. Those are Paris Hilton numbers."
His most famous line was Al Michaels-esque, and occurred moments after the underdog amateur Chris Moneymaker's 2003 winning hand:
"It's beyond fairy tale, it's inconceivable!"
Despite his high-energy television personality, Chad says he's not a people person, and says that other than when in card rooms, he generally does not get recognized often.
Poker
Besides announcing at the WSOP, Norman Chad usually plays two or three events during the series. Each year, he plays a couple of Omaha, or Stud events – or even a H.O.R.S.E tournament.
In 2012, Chad made a WSOP final table, finishing in sixth place in the $2,500 Omaha/Seven Card Stud Hi/Lo event. Two years later, he nearly made his second final table, finishing 10th in the 2014 $10,000 Seven Card Stud Hi-Lo tournament.
Norman Chad's Wives
He's made a million jokes about his ex-wives, and they are apparently real – albeit not in the number Chad talks about during the poker coverage. In fact, Chad has only been divorced twice (thus far).
He met his first wife, Jodi, in college. They dated five years and were married for two years, 1984-1986. (Bluff, December 2007). Chad proposed to her on January 16, 1984, after dinner at an IHOP, or, at least that's what I assumed. (Chad's column in the Washingon Post December 20, 2004: "Actually, I have a bad habit of posing questions at inopportune times leading to often bewildering or detrimental answers. Example: Jan. 16, 1984, right after finishing dinner at IHOP — "Uh, Jodi, will you marry me?"). Right after she left him, Chad says he came up with the term, "Whamboozeld." (ESPN interview – 2009)
He met his second wife, Rhonda, at work, at the now-defunct National Sports Daily. The marriage lasted less than one year. (Bluff Magazine December 2007).
Third wife, Toni he married in 2007, because, he says, "I needed some new material." The couple married at the Rio All Suites Hotel and Casino (home of the WSOP since 2005) just before the start of the 2007 Main Event. (Bluff Magazine – December 2007)
Today, Norman Chad splits time between New York, (where WSOP coverage is edited), and his home in Los Angeles. His biggest hobby is playing poker, (two or three times a week) at his home card room, the Hollywood Park Casino. He also enjoys bowling.