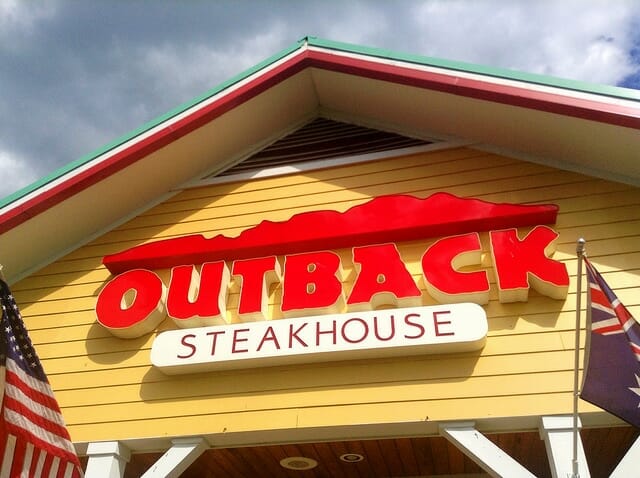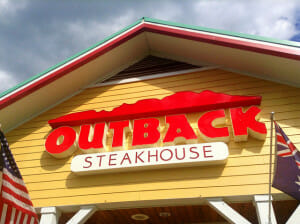 By Steve Beauregard
In a city full of world-renowned steakhouses, the casual atmosphere and affordable prices of the national Outback Steakhouse chains remain very popular in Las Vegas, tempting dinners with their seasoned wood-fired steaks, shrimp, ribs, and of course, the famous Bloomin' Onion.
There are a total of six Outback Steakhouse restaurants in Las Vegas, not including the Outback Steakhouse in nearby Henderson, NV..
Two of the restaurants are located right on the Las Vegas Strip. One is above the Casino Royale, (next to Harrah's), while the other one is in building with the giant Coca-Cola bottle just steps away from the MGM Grand.
You can read more about those two Outbacks here: Outback Steakhouses on the Las Vegas Strip.
Here are the addresses, phone numbers and hours of operation for the other four Outbacks in Las Vegas, which I'll break down in terms of location: North, South, East and West:
North Las Vegas Outback Steakhouse
The northernmost Outback in Las Vegas, this restaurant sits right on Craig Road, (about three miles west of I-15), and is just a little north and east of Cheyenne High School. It's about three miles to the east of Santa Fe Station Hotel and Casino.
2625 W Craig Rd
North Las Vegas, NV 89032-0719

Phone: (702) 647-4152
Hours:
Sunday – Saturday 11:00 a.m. to 10:00 p.m.
(Here is a map of the seven Las Vegas-area Outbacks. Please note the red square is not a restaurant, but rather, the region office for the restaurant chain. Please also note the Outback near Flamingo Road has closed. More on that below.)
North West
Just a block east of Highway 95 on Rainbow, (just south of W. Lake Mead Blvd.), you'll find an Outback settled among an area full of other popular chain restaurants, such as Famous Dave's, and Joe's Crab Shack.
It's also just north of the Courtyard Las Vegas Summerlin and about a quarter mile south east of Cimarron High School.
1950 N Rainbow Blvd
Las Vegas, NV 89108-2797

Phone: (702) 647-1035
Hours:
Sunday – Saturday 11:00 a.m. to 10:00 p.m.
East
Other than the aforementioned Outback Steakhouse in Henderson, there isn't a location on the east side of Las Vegas.
There used to be a franchise off of Flamingo, about three miles east of the Strip at 4141 S. Pecos, however this Outback closed in March of 2013.
South
Located just in front of the Las Vegas Premium Outlets South, this Outback sits next to a Chipotle at the corner of Las Vegas Boulevard and E. Warm Springs Road.
7380 S Las Vegas Blvd
South Las Vegas, NV 89123-1007

Phone (702) 643-3148
Hours:
Sunday -Thursday: 11:00 a.m. to 10:00 p.m.
Friday and Saturday: 11:00 a.m to 11:00 p.m.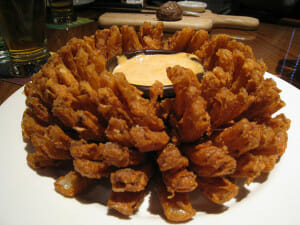 West
This Outback Steakhouse is located right across from the Canyon Gate Country Club, at pretty much the intersection of Sahara and Durango. It's roughly a half mile east of the Village Square Mall. Like the Outback on Rainbow, it is just outside the official boundaries of Summerlin.
8671 W Sahara Ave
Las Vegas, NV 89117-5830
Phone: (702) 228-1088
Hours:
Sunday – Saturday 11:00 a.m. to 10:00 p.m.
Other:
* Other Nevada Outback locations include branches in Reno, Laughlin, and Sparks.
* One final note: sometimes we get questions about the menu selection of these Las Vegas Outbacks, versus the menus in other locations. While we haven't visited the Outback Steakhouses in other areas, our understanding is that the menu options in Las Vegas match, or very closely resemble the menus in those of other locations across the country.
* For a full list of all Outback Steakhouse locations across the country, (or for more information on menus, hours, etc., go to the company's official website here: www.Outback.com (Photos courtesy of Mike Mozart and Mack Male via Flickr).