By Steve Beauregard
Pennsylvanians wanting to get their poker fix no longer have to drive to say, Parx Casino, Wind Creek in Bethlehem, or a Rivers Casino to play in person. Nor do they have to take their chances with a shady, legally-questionable off-shore poker room.
That's because playing poker online (for real money), is now completely legal in all parts of the Commonwealth.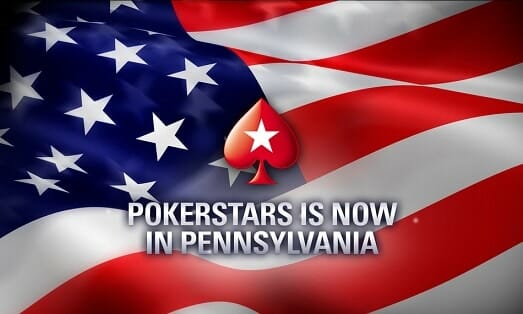 Pennsylvania became the 4th state to legalize online poker on October 30th, 2017, when Governor Tom Wolf signed House Bill 271 (a gambling expansion bill), into law. The Keystone State joins its New Jersey neighbor in allowing its residents to play cards online.
Online poker in Pennsylvania
While it took a painstakingly long two full years later for the online poker dream to become a reality, playing limit or no-limit Texas hold'em, Omaha, Stud, and other poker variants is now up and running as of November 2019.
Currently there is only one state-approved, legally regulated online poker room, however that's soon about to change, with several more soon ready to launch.
The one legal poker site currently allowed is a familiar name that has a state-approved partnership with Mount Airy casino. They have cash games and tournaments available to everyone 21 or older playing on a laptop, phone or desktop that is physically located anywhere within the state's boundaries.
Pokerstars PA
Pokerstars became the first legal online poker site in Pennsylvania, when the site went live on November 4th, 2019.
The undisputed leader in online poker during the internet poker boom of the 2000's is the king of PA poker today, as PokerStars was the first (and only thus far), site to be approved by the Pennsylvania Gaming Control Board, through its partnership with Mount Airy.
You can play games ranging from one cent/two cent limit Texas Hold'em, to multi-player tournaments costing a $500 buy-in.
Games offered include limit, no-limit Texas Hold'em, seven-card stud, Pot-limit Omaha, Omaha hi-lo, Razz, mixed games and more.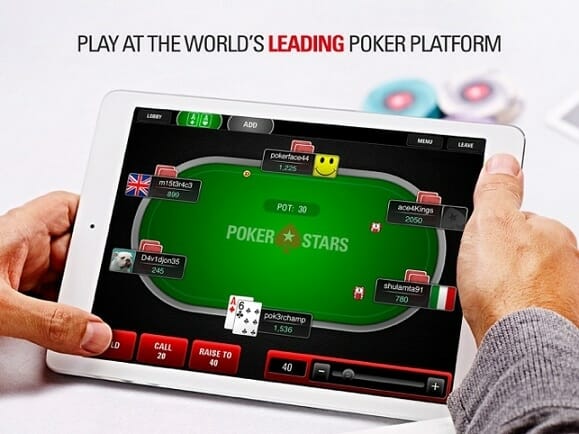 In addition to the full ring cash games, there are sit-n-go's, 6-max games and daily tournaments at various buy-ins.
Peak traffic is later at night, so if you prefer a selection of the lessor-played games, such as Razz, you'll more likely find tables then.
Online Poker a Hit
It's safe to say that online poker in the state has been a hit thus far. The poker news site Pennbets.com reports that during peak hours, there have over 3,000 people playing on PokerStars' Pennsylvania version. And the site's Sunday Guarantee tournament has had over 1,000 entries.
Adding to the total is the introduction of the site's popular tournament series. The winter PACOOP, or Pennsylvania Championship of Online Poker, for example, offers hefty prize pools (over $1 million), and lots of entry-level satellites.
The Spring PASCOOP (Pennsylvania Spring Championship of Online Poker) runs two weeks, with over $2 million in guaranteed prize money. Buy-ins range from $5 to $500.
The Keystone state's population count of 13 million ensures a decent liquidity pool of players, but most of us poker players feel "the more the merrier." Especially if that means more fish.
Back in 2006 or so, I remember seeing over 50,000 players active on PokerStars. Things can change of course, however currently Pokerstars Pennsylvania is exactly that: Pennsylvania, as they do not share a player pool with New Jersey, Delaware nor Nevada.
PokerStars Pennsylvania
To play online poker in the state, you'll first download the PokerStars software on your laptop, desktop or cell phone. After registering, you can then make a deposit ($10 minimum), using Visa/Mastercard, Pay Pal or other options.
Be sure to look for "First Deposit" bonus codes (there are plenty online) as you're likely to get a first deposit match (up to a certain amount) that will definitely help you when starting your bankroll. PokerStars also has special freerolls for first time players. (Freerolls are tournaments with prizes in which you are not charged an entry fee).
Also, if you have degenerate gambling tendencies as I do, you can set maximum deposit limits. For example, you can set it so PokerStars won't allow you to deposit more than $200 in a week. These deposit limits are helpful when you really want to make another $200 reload at 1:36 AM after a fish in the 3 seat calls your pre-flop "all-in" with 8/6 and beats your pocket rockets.
Withdrawals through the "Cashier" button are simple, except that the money is first automatically credited back to the method in which the deposit was made, up to the amount of the deposit.
In other words, let's say you make a first deposit of $100 from say, PayPal. That night, you go on a heater and make $500. You can withdrawal all $500 of course – it's just that the first $100 will be in the form of credit to your PayPal account. The other $400 can be given to you through PayPal, a wire transfer, bank deposit, etc.
Other Online Poker Sites in Pennsylvania
While PokerStars has both the name, and first-in-state status to ensure itself a dominant role in the state's burgeoning online poker industry, several other players are itching to join the fray.
According to the Pennsylvania Gaming Control Board, the following casinos have petitioned the state in order to offer online poker:
Harrah's Philadelphia, Parx Casino, Hollywood Casino at Penn National Race Course, Rivers Casinos, Valley Forge, and Wind Creek Bethlehem. All of these casinos current have – or soon will have – online sports betting, slots and table games.
Once they running, many of these online poker rooms will operate under different names.

WSOP.com
For example, Caesars Entertainment's ownership of both the WSOP brand and Harrah's brand, means Harrah's Philadelphia online poker partner will be WSOP.com and 888.com. (the two sites share player liquidity in New Jersey).
WSOP.com is the most successful online poker site in New Jersey (based on traffic), and will most certainly give PokerStars PA a run for their money. WSOP/888.com is expected to launch their online poker site in Pennsylvania soon.
Party Poker
Back during the poker boom, PartyPoker.com was the pre-PokerStars giant of online poker.
Currently, they operate in New Jersey only, with a partnership with the Borgata Hotel & Casino. Based on active players, they are the third most popular online poker site in New Jersey.
Now, Party Poker (under new ownership), has partnered with Valley Forge Casino, in the same way PokerStars has partnered with Mount Airy Casino. Party Poker PA is expected to start very soon as well.
Casino behemoth MGM does not a physical presence in Pennsylvania, but has applied for online gaming, including an online poker room.
It's unclear how the online poker landscape will shake out in Pennsylvania in the months ahead, but it will be fun to watch. Will PokerStars' first-in status cement itself as the king of PA internet poker? Or will the weight and name of the World Series of Poker brand steal players? Can Party Poker reclaim past glory?
Either way, the increased competition should be good for players, (i.e. better sign-up bonus and rewards), so long as player pools aren't spread out too thin among the various sites.
In addition to the casinos applying for online poker licenses, three other PA casinos: Live! Philadelphia, Mohegan Sun Pocono, and Presque Isle Downs have online slot machines and online table games, but not poker games.
Poker Plus Other Games
In addition to poker, you can also, unfortunately, play online slots and table games legally in Pennsylvania, including on PokerStars.
I say, "unfortunately," because if you're like me (which I hope you're not), you will, on occasion, take the $200 you grinded out five hours playing hold'em and then switch over to the online casino and lose it in ten minutes playing roulette. The fact you're switching from a positive expected-value game to one with a house-edge does not register in your brain.
FAQ
Q. Is Online Poker Legal in PA?
A. Yes! As of November 4th, 2019, online, state-regulated poker games are running. Legislation signed back in 2017 made approved sites (like PokerStars), legal.
Q. How Old Do You Have to be to Play Online Poker in Pennsylvania?
A. You have to be 21 years or older.
Q. If I'm a PA resident, can I still play when I travel out-of-state?
A. No, geo-location technology will prohibit you from playing outside the state borders.
Q. If I'm not a PA resident, can I play when I go to Pennsylvania?
A. Yes. You just have to register as normal, providing the site with your Social Security Number, and a United States address.
Q. What's the Minimum Amount You Can Deposit on PokerStars Pennsylvania?
A. $10
Steve Beauregard is a former PokerNews.com contributor and has zero WSOP Main Event cashes – but not for a lack of trying. Logos courtesy of PokerStars, the PokerStars Apple Store App, and Caesars Entertainment.