By Steve Beauregard
Poker professional Phil Galfond once won $1.6 million in one day of poker. Not bad for a guy who started off with a $50 online poker deposit from money he earned as a camp counselor.
Galfond is one of the winningest poker players of all time, yet it may be a kiddie slide in his apartment for which he is most famous. (More on that later).
The humble, down-to-earth Galfond is that rare online poker superstar who is brilliant, rich, uber-successful, yet still fun, likeable, and approachable. He has sat down for numerous interviews, and seems to enjoy taking questions from regular poker fans.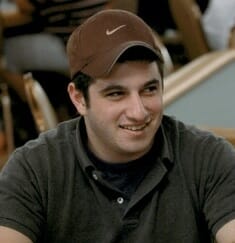 Galfond's Full Tilt poker screen name is now legendary: OMGClayAiken. He said he chose the name as a sort of contrarian approach to the hyper-aggressive and macho monikers often taken by poker players wanting to sound tough.
He says that when Full Tilt went under, he had about a half of million dollars on the site. However, he also says he had just lost about a million dollars on Full Tilt right before Black Friday.
Phil Galfond's Background
Although still young, Galfond has seemingly been in poker forever.
He was born in Rockville, Maryland, and grew up in Gaithersburg, Maryland. He describes his childhood has normal, and happy.
Although a self-described "poor student" in school, he claims to have tested very well, and was able to pass by with "B's" despite a complete lack of motivation.
Phil has a brother who is three years younger, along with a sister who is eight years younger.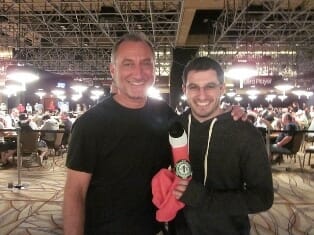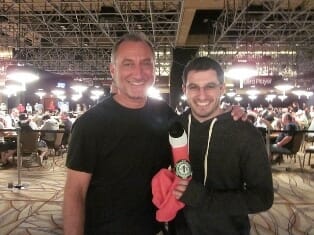 Video games and football were big parts of his childhood, and he played a lot of "Diablo." He also dabbled in soccer and tennis before beginning his obsession with football. He played running back.
Poker Background
Like many of the online superstars, he considered poker to be a fun video game – albeit an incredibly lucrative one.
He started playing card games for money when he was 12 years old. And, like most other players, became more interested in poker after the 2003 WSOP. Yet unlike the masses who wanted to be the next Chris Moneymaker, Galfond says he always enjoyed watching Dutch Boyd.
In his senior year of high school, he and a buddy started playing online blackjack and some online poker.
During the next year, his freshman year at the University of Wisconsin Madison, (he was going to major in philosophy), a friend of his bragged about winning a Party Poker tournament and $30,000. Phil says it was hearing about this big score that opened his eyes to poker's potential.
Phil subsequently picked up several poker books including, "Hold'em for Advanced Players" and made his initial $50 deposit on Party Poker, playing $10 sit-n-go's.
As might be expected, he lost that initial $50 quickly, then deposited another $50, and was able to run that up to $250 – less than a small blind in some of his current games, but a fortune for the then-19 year old struggling college student.
The Sit-n-Go forum on the twoplustwo.com poker site was instrumental in helping jump the learning curve, and soon he was able to rise from the $10 sngs, to the $20 tournaments, then onto $30, where he stayed quite awhile.
Husband & wife do #WSOPMainEvent day 1a. So far my luck is much better than @PhilGalfond's but its ok cause we swap? pic.twitter.com/dL0fBITjtt

— Farah Galfond (@Farah_Galfond) July 10, 2016
Moving on up
Although he considered getting a part-time job his sophomore year, a look at his online poker stats made him realize that he was making in the neighborhood of $20 to $30 per hour playing, and that this, (poker), WAS his part-time job.
Galfond kept learning, reading, and eventually moved up to $100 and $200 sit-n-go's. He enjoyed the "Party Steps" back in the day at "Party Poker" and recalls doing well at the top step, the $1,000 sit-n-go's.
A fellow poker friend convinced him that online cash games were more profitable than the sngs, so he made the transition into $5/10 no-limit online, where he realized that six tabling these games meant he could make a good living in the range of over six figures a year,
Furthering his online poker education, he hired Emil "Whitelime" Patel to be his coach. Peter Jetten, ("Apathy" on 2+2 and online), was also a mentor, as was Andrew Robl, and Tom "Durrr" Dwan. However he says the best learning experience was playing online daily in an office back in Madison, Wisconsin with Dan Quinn.
He stayed and played on PartyPoker until they shut down. At the beginning of his junior year, his heart was no longer in college, and he decided to take a semester off after turning 21, when he became eligible to play the WPT (World Poker Tour), and WSOP (World Series of Poker) events.
He played the 2006 Jack Binion WSOP Circuit in January, just days after turning 21. His 18th place finish was good for a $22,895 score. He played the $10,000 buy-in event, despite having just a $100K bankroll.
This represented typical shot-taking for Galfond. He later told interviewers that he would take shots at $300/$600 no limit when he had only a $700,000 bankroll.
A taste of live play, combined with his huge win rate, led to his decision not to return to school.
Phil Galfond's Online Poker Stats
While we cannot tell what Phil Galfond's net worth may be, sites that specialize in such speculation put it at $10 million. Although he is not flashy, and not really the "balla" type, that figure may be high – especially given the swings in the high stakes games he plays. Phil has said the big game in Macau, with its $2K/$4K stakes, is too big for him. This implies a net worth of well under $10 million.
The respected database Highstakesdb.com states Phil Galfond is the 6th biggest winner all time, of players in their massive online poker-playing database. Between Full Tilt and Poker Stars, he has $6.6 million in online winnings. This doesn't seem to account for PartyPoker winnings, of which Phil often dominated sit-n-go tourneys.
His biggest pot ever won online was $541,000, which occurred in a $500/$1000 No-limit mixed game on January 19, 2009 on Full Tilt, when he flopped a boat, Kings over nines.
The famous $1.6 million winning session took place in March of 2010, when Galfond played heads-up against Victor Blom, otherwise known as "Isildur1" online.
He was offered a FullTiltPoker sponsorship but turned it down as he said it wasn't very lucrative considering he was playing the nosebleed stakes. He specializes now mostly in Pot Limit Omaha.
Although he has a ton of experience with downswings, he still finds them incredibly hard.
As for screen names, Phil goes by: OMGClayAiken on Full Tilt, and Mr Sweets28 on PokerStars.
Phil Galfond's Live Poker Tournament Record on the Hendon Mob
Although he was formerly the king of sit-n-go's, there aren't many live SNGs that make the Hendon Mob list. And as a cash game player mostly, Phil's impressive accomplishments are more of the online cash game variety.
Still, Galfond has a few good tournament scores, including now three WSOP bracelets. He won the first one in the 2008 $5,000 Pot-Limit Omaha tourney, which was good for $817,000.
Overall, Phil has $2.9 million in live tournament winnings, according to the Hendon Mob.
In 2015, Phil captured his second gold bracelet, less than a month after getting married. The event was the $10,000 buy-in No-Limit 2-7 Draw Lowball Championship. His winnings came out to $224,383.
Phil also made the sweet 16 in the 2011 NBC Heads Up Championship.
He nearly won another bracelet in 2013, when he finished second to Steve Sung in the WSOP's $25,000 six-handed No-Limit event. Besides Galfond and Sung, the impressive final table included the likes of Dani Stern, and Shannon Shorr.
His third piece of WSOP hardware came in July of 2018, when Phil took down the $10K Pot-Limit Omaha Eight-or-Better event, which was good for a $567,788 check.
In addition to his three WSOP bracelets and his second place finish, Phil has three other final table appearances, or seven total. Two of his WSOP final tables came during the 2015 series.
This is on top of the fairly deep run (527th place) he made in the 2014 World Series of Poker Main Event.
Phil Galfond's Training Site
With millions in documented winnings on sites like Full Tilt and PokerStars, and countless other money not shown from his days crushing the sit-n-go tournaments on Party Poker, it seems natural that Phil Galfond would be a much sought-after poker coach.
Phil owns and helps run the online poker training site, Runitonce.com
In 2008, he and a business partner, Billy Murphy, started a training site "Blue Fire Poker." Phil left Blue Fire in 2011, after a falling out with Murphy over accounting issues.
In 2012, he started Runitonce.com. Coaches included Hac Dang, Galfond, and Ben Sulsky ("sauce123" online). Other coaches are Brian Rast and Sam Grafton.
In a 2017 blog post Galfond wrote: "I have made no money from Run It Once," letting readers know that revenue is paid out to its respectable stable of coaches, as well as put back into the business.
In that same blog, Phil announced his new project: an online poker site.
The site, Run It Once Poker, is under development, and will be a full online poker site with real money cash games and tournaments. It will not target players in the United States.
Phil Galfond Twitter and Blog
Phil's Twitter handle is: @PhilGalfond, although he doesn't tweet much. When he does, it's mostly about chip counts, or spreading the word about media appearances by his friends.
He famously tweeted: "What's the best way to make a quick $1.4m back? Asking for a friend."
He blogs at PhilGalfond.com, where he has published some very long essays, albeit not very recently.
In addition to social media, he has written columns for Bluff magazine, fulfilling a long-held desire to write. His articles and thoughts about "polarized ranges" brought new insight into the traditional poker mindset.
Phil Galfond Slide at his Apartment
In October 2008, Phil purchased two separate apartment units (one right above the other) in the "A Building" in New York City. He paid $3.2 million (combined) for two units, then hired an architect and contractor to remove walls and combine the units into one large bachelor pad.
The new, 2,400 square feet apartment even featured a putting green on the outdoor terrace. Phil has written that one of his favorite features of the apartment was the wall safe he had. In front of the wall safe, he hung a painting he had commissioned of the exact wall safe behind it.
More famously, he had the architects build a slide. The stainless steel, half-tube slide started at the top floor (the upper level apartment), and took riders down to the lower level, landing at the living room.
Phil told the Mental Game of Poker Podcast that he never really used the slide much, especially in the morning, before he was fully awake, since the slide was very fast and took some agility to complete.
He did use it a lot when playing poker online upstairs, and needed to get to the kitchen downstairs quickly for a drink or snack in-between hands.
He listed it for $3.99 million, eventually selling it for $3.3 million four years later in October 2012. The buyers reportedly removed the slide.
On May 16th, 2015, Phil married his long time girlfriend, former soap opera actress Farah Fath at the couple's Las Vegas home.
Congratulations to @FarahFromKY! pic.twitter.com/ZE7OSUbrtx

— Phil Galfond (@PhilGalfond) May 17, 2015
When not playing poker, Phil says he watches a lot of TV. He once even had a $7,500 prop bet on the outcome of "The Voice."
(Photos courtesy of Supl0v Poker and AmyLizH via Flickr).