By Steve Beauregard
In one of the great ironies of poker, Phil Hellmuth, a man who often acts insane when things aren't going his way at the tables, is married to a psychologist, Kathy Hellmuth, (or Katherine Sanborn as she is known professionally).
Actually, her official title at Stanford University, where she works, is "Clinical Assistant Professor, Psychiatry & Behavioral Science – Behavioral Medicine." ESPN's poker commentator Norman Chad, has called her "a saint and an angel" for her patience in having to deal with such a temperamental husband.
The couple met when both Phil and Katherine Sanborn, were attending the University of Wisconsin at Madison.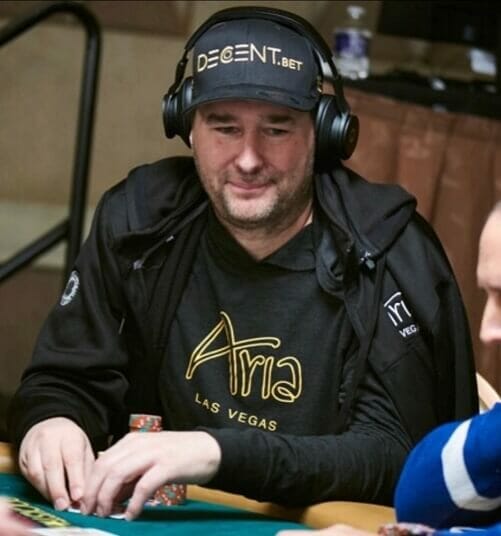 The couple wed in 1990 – one year after Phil had made poker history by becoming the youngest ever winner of the World Series of Poker Main Event.
Three years after their wedding, Katherine graduated from the University of Wisconsin Medical School. In 1999, she completed her residency at the Stanford University School of Medicine.
By all accounts, the couple has a good, steady relationship, now going over 27 years strong. Phil has, however, told interviewers that he enjoys going to clubs, where he often gets the VIP treatment, and where he claims beautiful women flock to him. Despite all that, he's told Bluff magazine, among other publications many times: "I've never cheated on my wife. I'm very proud of that."
(Kathy Hellmuth can be seen towards the end of this footage)
Still, like any marriage, the union is not without its struggles as Hellmuth mentioned while writing his autobiography. In 2017, Hellmuth told Pokernews.com: "My wife almost left me in 2001/2002.., " adding, "I'm married to someone who's brilliant. I was ready to leave her two years ago and I wrote about that too…"
Although she is publicity shy, Kathy Sanborn Hellmuth may be one of the most recognizable spouses in the poker world – all because of ESPN television exposure.
Because of his rants, and celebrity status, ratings seem to spike whenever Phil Hellmuth is shown on ESPN's broadcast of the World Series of Poker Main Event, or on the few other WSOP tournaments they still broadcast. As a result Hellmuth's table is often featured as one of the two "featured tables" prominently shown in the broadcast.
In many, if not most of these broadcasts, Phil Hellmuth's wife, Kathy Hellmuth, is shown in the stands, rail birding her husband and rooting him on. Cameras have shown her cheering and smiling enthusiastically when Phil wins a big pot. They've also shown her in the unenviable role of having to console the poker brat, after he's either lost a big pot, or gotten knocked out of the tournament.
They say opposites attract, and there's no better proof than what Phil said about his wife: "She hates to be on camera."
That's evidence in a segment from the 2006 WSOP, where she is shown in the stands wearing sunglasses. After a losing a pot, Phil approaches her upset, whereupon she consoles him by telling him: "Let it go. You know you're not out. You're not out. Let it go. You're not out, and everything can turn around. But you've got to let it go."
While at the table Phil often shouts out to her in the stands, seemingly not so much to talk with her as to make sure he is heard and that the focus is on him. A lound, "Honey! I hope he doesn't have aces!" is one example of his attention-whoring.
Although she doesn't seem to share her husband's love of poker, Kathy Hellmuth is reported to have played in the 2005 Ladies Only World Series of Poker tournament. I cannot verify that, but the same reports state she was knocked out of the tournament by eventual champion Jennifer Tilly.
Phil and Kathy Hellmuth have two adult children, Phil III and Nick. The family resides in Palo Alto, California. According to Phil, Kathy Hellmuth enjoys their life there. He says he occasionally tries to talk her into moving to Las Vegas, closer to the poker action, but she demurs, preferring the slower pace of Palo Alto.
For all his faults, of which there seem to be many, Phil Hellmuth has succeeded wildly in the love department, having a long, steady and seemingly loving relationship with a beautiful, smart, and intelligent woman. Her support for her husband – in both good times and bad – has no doubt helped enable the poker brat reach the pinnacle of tournament poker success.
Although they may not emulate his style of play, nor hopefully his table manners, the young gun up and coming professionals in the poker world would be well-advised to attempt to copy exactly Phil Hellmuth's recipe for family and relational success.