By Steve Beauregard
When you're widely considered the best poker player in the world – where your every move on and off the felt is gossip fodder for untold legions of poker fans – a high-profile, costly divorce will capture the attention of the poker world like nothing else.
Such has been the case for the drawn out divorce drama involving super star celebrity poker player Phil Ivey and his now ex-wife, Luciaetta Ivey. This was a process that started (legally) in 2009 and effectively ended in the spring of 2013.
Some quick background:
The two met before Phil became the wealthy, poker king he is today.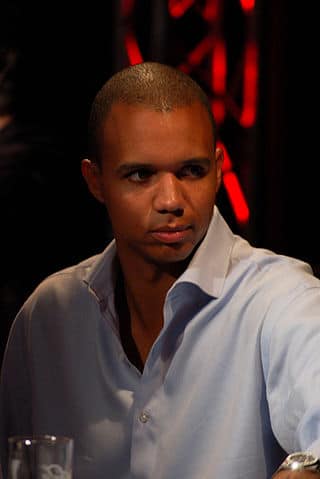 In fact, they were high school sweethearts back in Roselle, New Jersey, where they met when Phil was 17 years old. Luciaetta told the Las Vegas Review-Journal that she and Phil continued to date while she attended Rutgers University. At the time, Phil was tearing up the Atlantic City poker scene – using a fake I.D. to do so.
They were married on May 19th, 2002 at the Little White Wedding Chapel, just north of the Stratosphere on Las Vegas Boulevard in Las Vegas. In 2004, the couple moved full time to Las Vegas.
From the outside, it appeared they had a happy marriage. I remember reading an interview with Phi, when he talked about how he got his wife to start playing online at very small micro-stakes. We're talking 1/2 cent no-limit hold'em. And yes I said "cent." Phil said he would come home after losing hundreds of thousands of dollars, only to have to console his wife, who had lost in the range of seventy-five cents.
In another interview, I recall the interviewer asking Phil why he doesn't wear sunglasses at the table. Phil told him that one time his wife had bought him a very expensive, fancy pair of sunglasses. But when wearing them at the poker table, Phil said he misread the suit of a card (clubs versus spades I believe), and the misread cost him a huge pot – whereupon he immediately threw his wife's costly gift into the trash.
(More here: Is Phil Ivey broke?)
According to court documents, the Ivey's combined income (like community property) for 2008 was approximately $8 million dollars.
This kind of money set the stage for your typical all-out brawl when it comes to dividing the assets of a wealthy, famous couple. However, the couple (both of whom reportedly wanted the divorce) quickly agreed on terms in a sealed divorce settlement.
In the divorce, Phil was represented by one of the best: high profile Las Vegas lawyer (and reportedly a great poker player in his own right), David Chesnoff. Chesnoff had previously worked for one of Phil's fellow red pros at Full Tilt Poker, representing Mike "the Mouth," back in 2004, just before Mike Matusow went to jail.
Meanwhile, Luciaetta Ivey was represented by John Spilotro. In an odd twist (at least to guys like me who've never been divorced), Phil Ivey paid Spilotro $10,000 to represent his soon-to-be ex-wife.
The divorce was granted on December 29th 2009. However the decision a few months later by both Phil Ivey and his high-powered Las Vegas lawyer to donate money to the campaign of the judge who presided over the divorce proceedings would result in a flurry of legal activity down the road.
On April 17, 2010, Phil Ivey donated $5,000 to the campaign of Las Vegas family court judge Bill Gonzalez. Gonzalez had presided over the Ivey's divorce proceedings.
Nevertheless, this wasn't seemingly an issue at the time, and the divorce seemed to go OK – as far as costly divorces go.
Then Poker's Black Friday hit.
Like Erick Lindgren before him, the sudden stop of the incredible 24 hour-a-day money printing press known as Full Tilt Poker would affect Phil Ivey's financial situation as well.
Not that he ever had money troubles like Lindgren, but the loss of that Full Tilt gravy train created a turn of events in what was a fairly amicable Ivey vs. Ivey divorce arrangement – a divorce that was originally sealed and therefore hidden from curious eyes.
Prior to Black Friday, Phil Ivey received a monthly check totaling $920,000 from Tiltware – the poker software company owned by Full Tilt Poker.
As part of their divorce settlement, Luciaetta Ivey received a whopping $180,000 per month from January 2010 until April of 2011. Phil kept the other $740,000 per month, according to court documents.
It didn't take long after the Full Tilt gravy train stopped before Luciaetta wanted to revisit the divorce settlement. According to a story in the Las Vegas Review-Journal, "In June, Luciaetta Ivey filed a motion in Clark County Family Court that raised new issues in the divorce case."
In a petition filed by Luciaetta in September of 2011, she claimed her husband stopped paying alimony in April of 2011 (the month of Black Friday). She and her new lawyer, Bruce Shapiro, had also tried, but failed, at efforts to disqualify Judge Gonzalez. But looking at it objectively, the donation by Phil Ivey to the judge came after the divorce case was settled and sealed.
What Luciaetta was successful at, was bringing the sealed divorce case front and center to the public eye.
It was soon revealed that as part of the original settlement, Luciaetta Ivey received $1.2 million worth of purses, more than one million dollars worth of jewelry, and the aforementioned $180,000 per month in alimony.
And while he got to keep the other $740,000 per month coming from (basically) Full Tilt Poker, Phil Ivey assumed a stunning $170,000 in credit card debt (who charges that much to Visa?), and an even more stunning $15.1 million in "gambling and other debt."
In March of 2013, the Nevada State Supreme Court rule against Luciaetta Ivey, effectively ending the long, drawn-out divorce involving her and her famous, poker-playing husband.
According to several media outlets, Luciaetta Ivey now lives in Tampa Bay, Florida. One south Florida website says a Luciaetta M. Ivey owns a large home in a ritzy area of northwest Tampa. According to Zillow, the home has 4 bedrooms, 4 baths, a swimming pool, and 3,722 square feet. It was purchased for $695,000 on November 24, 2010.
Luciaetta Ivey, who post-divorce went by the name Luciaetta Roberts, is a senior partner at something called "The Rich Ventures Group," – a private equity firm where it seems she worked in public relations. According to her Twitter account, Luciaetta married Chris Rich (also a senior partner in the Rich Ventures Group) on April 4, 2014. (She posted a photo of herself looking very beautiful in a white gown). Presumably, Phil Ivey's $180,000 alimony payments are now a thing of the past.
Phil's ex-wife now goes by the name of Luciaetta Rich. Unlike most people on Twitter, her tweets are gentle, and not dumb or full of curse words. She describes herself as a "Christian first."