By Steve Beauregard
He's smooth, cool, calculating, a divorced man, an accused cheat, a lover of craps, and likely the best poker player on the planet. However there is one thing that Phil Ivey is not: broke.
And yet, the question is constantly being buzzed about in the poker community and on poker forums: Is Phil Ivey broke?
Part of the speculation is due to Ivey's notorious love of craps. (More on that in a second). But part of it appears to be the fascination with what many consider to be a "poker god," and the human tendency to want to see our stars come crashing back to Earth.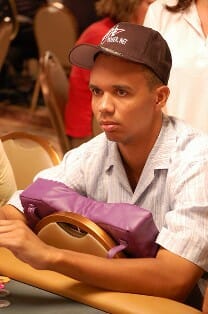 Gossip about Phil Ivey being broke increased when wealthy poker-playing playboy celebrity Dan Bilzerian – who plays in super nosebleed private poker games – told Cardplayer Magazine in January of 2014 that, "Phil Ivey just went broke."
For his part, Ivey says he doesn't think he's every played a hand with Bilzerian, and that Bilzerian wouldn't know his financial status. (Go here to get an estimate of Phil Ivey's net worth.)
And in fact, less than a month after Bilzerian's broke rumor statement, Ivey entered the high roller event at the Aussie Millions. Officially called the 250,000 No-Limit Hold'em Challenge, the event cost 250,000 Austrian dollars to enter, or roughly the U.S. equivilent of $220,000. Ivey went on to win the event, taking home over $3.5 million. Not bad for a "broke" guy.
(Here's video of Phil Ivey talking about the broke rumors)
And yet, Ivey has gone broke before. Several times, in fact, back earlier in his poker career. Ivey has told interviewers that as a twenty year old (with a fake I.D.), he'd save up earnings from his telemarketing job to go play limit poker in Atlantic City.
On his way up the poker ladder, he'd sometimes go bust. On those times he went busto, he'd go back to telemarketing to earn a bankroll, then return to A.C. to try again.
Daniel Negreanu tells the story of Ivey going broke playing $75/$150 Stud. Daniel knows this because Phil asked him for a loan. Daniel says his confidence in the future poker star was so great, he loaned Ivey about half of his own bankroll. (Which was quickly paid back by the way). Another one of my favorite stories Daniel tells about Phil is the time when, at the Wynn, Ivey once sent 80 bottles, (yes 80) of Cristal champagne to a table of people.
Today Ivey is a star, with varied business interests and a jet-setting lifestyle that has him frequently playing the high stakes cash games against Chinese billionaires in Macau.
Despite his loss of huge monthly earnings and equity from his former ownership in Full Tilt Poker, and despite his marriage ending, (go here to read about Phil Ivey's divorce), Ivey is, by all accounts, doing well.
Phil Ivey and Craps
Many a man who excelled on the poker felt has blow their poker winnings in the pits; it's practically a tradition. Whether it be T.J. Cloutier, Michael "The Grinder" Mizrachi, or Ivey, the list of famous poker pros rumored tp have lost their bankrolls in negative EV casino pit games is a large one.
Ivey hasn't been shy about his love of craps, and says he's played it across the world. Sightings of the poker legend deep in chips while throwing dice are frequent. There have been reports of Ivey having hundreds of thousands in play at craps table as places like the Bellagio and Wynn.
Good friend Daniel Negreanu has said Ivey is "almost certainly the biggest gambler in Vegas. I won't touch on amounts, but it's ALOT." (His emphasis).
He doesn't play "as much" as he used to, but still plays "here and there". He says he "likes to take some chances sometimes" and thinks a craps diversion is fine, as long as long as you have the bankroll for it.
There is other support for the notion that Phil Ivey is far from broke, and that is the millions he has won playing baccarat. The figure is just over $20 million won in 2012. At least, that's what we know of, and admittedly, we don't know his losses (if any).
The wins in Londn and Atlantic City are now the subject of various lawsuits. (Go here to read about the Phil Ivey baccarat scandal).
Overall, Phi Ivey seems to be enjoying the fruits of his poker spoils, including the opportunity to frequently indulge in his love of craps. But as long as there is a poker game going on somewhere in the world, it's doubtful Phil Ivey will ever be broke.
(Photo courtesy of Matt Waldron via Flickr).