By Steve Beauregard
Although the couple doesn't seem to be flashy and promote their relationship, poker stud Phil Ivey is in a long term relationship with his girlfriend, Nellie Garcia.
The World Poker Tour blog reported that after playing in the WPT Alpha 8 tournament in Johannesburg, South Africa in 2014, Ivey was joined, "by his girlfriend, Nellie Garcia." The couple was shown spending time with kids at an elementary school in Vosloorus, South Africa, where they distributed good bags and books.
Ivey, of course, is widely considered to be the best poker player in the world. Not only does he crush it online and in the high stakes live games in Macau, he has over $23 million in live tournament poker winnings.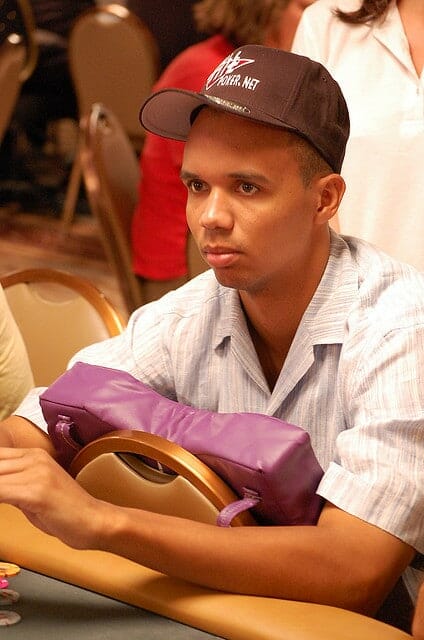 In December 2009, Ivey and his high school sweetheart, Luciaetta Ivey, divorced.
As for his new flame, the couple appears to have been dating since at least March of 2013. That's when she posted a picture on Instagram from a rocky shoreline in Cabo, Mexico. In the background is Phil Ivey's house.
She has apparently had accompanied Phil to Macau as well, as her Instagram has many photos from the high-stake poker mecca, including helicopter rides above Hong Kong. She's also posted a photo of herself on the streets of London, where Phil Ivey was caught up in the infamous edge sorting cheating scandal at Crockfords Casino Playing Baccarat. (Although to be far, most of us wouldn't call it cheating – simply taking advantage of legal situation).
(Here's a photo from Nellie's Twitter account on June 26, 2014)
"@Bikini_Pro1: The beauty sexy #fitness bikini #FF @nellie_garcia RT pic.twitter.com/oHHekLDVZG" thank you 🙂

— Nellie Garcia (@nellie_garcia) June 27, 2014
In any case, Garcia has also been at the Rio Hotel and Casino in Las Vegas, sweating Phil during WSOP tournaments, including the "Big Drop" tournament, which, in 2014, had an entry fee of $1 million.
Based on her Twitter and Instagram messages, she comes across as a very happy, positive, sincere person.
Not much is known about her, except that she was born on Veteran's Day, November 11. She appears to have gone to college at Texas State in San Marcos, Texas.
From her Twitter account, it appears she has both an older, and younger sister and a little brother.
She writes that she enjoys working out, and traveling. She likes the San Antonio Spurs, and Seattle Seahawks. She posted a photo showing tickets to a Miley Cyrus concert, but we won't hold that against her:). She also seems to enjoy going to big time fights and MMA matches.
(A photo from Nellie Garcia's Instagram, from May 2015)
She is an IFBB (International Federation of Body Building and Fitness) bikini participant. In 2014, she competed in the NPC Fitness Bikini Competition at the Southern California Championships and won first place in the novice division and in the open division.
We're not sure if there are future wedding plans, however the relationship appears to be very serious. By all indications, she and Phil are living together.
In March of 2015, she tweeted a photo labeled "@home" that showed her relaxing on the patio of a luxurious golf-course fronting home that shows the Las Vegas Strip in a distance. The home and view is near identical to photos Phil Ivey has posted of his home.
(Top photo courtesy of Matt Waldron via Flickr).