By Steve Beauregard
The world's greatest poker player is a business owner, celebrity, former Full Tilt co-owner, and high stakes gambler who routinely wins millions of dollars in both cash games, and tournaments. So what is Phil Ivey's net worth?
While it's likely in the $50 million range, (more on that later), we really don't know. A cool, cutthroat professional who keeps his emotions in check at the poker table also keeps his cards to the chest when it comes to his personal financial matters.
One website (Celebritynetworth.com), that speculates in such things (and it is pure speculation), estimates Phil Ivey's net worth to be $100 million.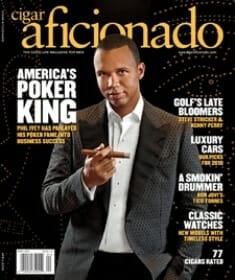 At first glance, this seems extraordinarily high and optimistic given the public record. Yet a further look reveals it is possible given the incredibly high stakes cash games Ivey seemingly seems to play non-stop. In other words, despite the rumors, Phil Ivey is not broke.
On top of that, boxing ring announcer and poker fan Bruce Buffer once told a radio interviewer (back in 2010) that he knew Ivey was worth "one hundred million."
There's not a lot of stone cold data available at Phil Ivey's net worth, but there are some tidbits.
Legal Clues into Ivey's Net Worth
In legal proceedings during the Phil Ivey/Luciaetta Ivey divorce in 2011, it was revealed that the couple's total community income in 2008 was $8 million.
During those same proceedings, it was also revealed that as part of the divorce settlement, Phil Ivey would assume "$15.1 million in gambling and other debt."
It's unknown if this $15.1 million consisted of casino markers, money owed to fellow Full Tilt co-owners, or was part of the "poker player's underground banking economy," in which high stakes bets on the felt or golf course involving hundreds of thousands of dollars are added up on cocktail napkins or on golf score cards.
On the plus side, Ivey has $23.8 million in live tournament winnings.
Expenses
But that $23.8 million figure represents "winnings" and doesn't take into account taxes, travel fees, and entry fees. The entry fees alone could knock $5 or $6 million off of that $23.8 million – especially when realizing Ivey entered the WSOP One Drop tournament in 2012 and 2014, when the entry fee was $1 million dollars each time. (He also played the 2013 and 2015 One Drop when the entry fee both times was "just" $111,111.)
Ivey frequently plays in many high roller tournaments, which would seem to bump up the total entry fee expenses, however back in the day, Full Tilt presumably paid a lot of Ivey's entry fees during the company's glory days. So we'll be conservative and say of the $23.8 million in winnings, $6 million goes out the door for entry fees.
So given a top income tax rate of 39.6%, $6 million in entry fees, (along with a very roughly estimated $1 million and change in travel expenses), Ivey's live poker tournament profit could likely be in the $8 to $9 million range.
But then there are his online poker winnings.
Online Winnings
While playing under his real name on FullTiltPoker.com, he profited $19,242,744. With the re-launch of FullTilt, his new screen name is "Polarizing," and to date, he has lost over $6 million. (In 2015 alone he lost $3.7 million online). Still, this means his recorded online profit still comes out to over $13 million.
In addition to the poker room, Ivey has been known to visit other parts of the casino on occasion.
His huge monetary swings at the craps table have been well documented, and Ivey admits to a love of sports betting. While we'd like to assume the pit games would reduce Phil Ivey's net worth several million, we just don't know how much he has lost. And we are assuming he has lost in house-edge games in the long run.
Baccarat
We do know there is not a house edge when Ivey plays baccarat in certain places. Court papers in a lawsuit reveal Ivey won just over $21 million playing baccarat in 2012. This includes a $9.6 million dollar session in Atlantic City, along with a $10 million plus winning session in London. (Go here to read about the Phil Ivey cheating scandal).
After years of back and forth in British courts, Ivey lost the London case, meaning he did not collect the $10 million baccarat payday.
The Borgata case in New Jersy is still in legal limbo right now, with lawsuit and appeals going back and forth. Therefore we won't count that for now.
Summary of Phil Ivey's Net Worth
So to recap our estimation of Phil Ivey's net worth:
Live tournament poker profit: $8 million
Online poker profit: $13 million
Gambling and other debt revealed in the divorce settlement: minus $15 million.
That equates to $6 million that is fairly well documented. What it leaves out of course, are baccarat losses (and wins), along with loses in craps games, sports bets, and bets on the golf course.
More importantly, it also does not include the untold millions or tens of millions Ivey has made in the cash poker games, particularly in the lucrative cash games against the Chinese billionaires in Macau. There is simply no way to know how much Ivey has won or lost in those games.
And just how big are those games? Tom Dwan said he had his biggest loss ever at one of the Macau games recently, (his previous biggest recorded loss was $2 million, so we know it's more than that.)
For his part, Ivey shared with ESPN some info as to the stakes he plays: "You could play in a poker game where you could lose five, ten million."
Ivey's real net worth would also need to include the equity in his cars, homes, and business interests.
Ivey, for example, owns a home on the golf course in Las Vegas, and one in Cabo, Mexico. According to the great poker writer Michael Kaplan, Ivey owns two Rolls Royce "Phantoms" and a Mercedes McLaren – the latter of which costs nearly $500,000.
So given the documented online and live tournament poker profit and subtracting the divorce-related gambling debt, we have a base figure of $6 million. But Ivey's estimate poker net worth is surely higher. In 2015 alone, he had back-to-back losing weeks where he lost $600,000 each week.
In addition, who knows what Ivey's real estate, cars, business interests and portfolio is worth? Perhaps more significantly, who knows how much Phil is collecting from the Chinese billionaires in Macau? It has to be worthwhile for him, as he has a home in Macau.
Given the $6 million base figure before real estate, cars, jewelry, etc., (and of course, depending on how much Ivey wins or loses in sports bets, at craps, and in the cash games), it's not unreasonable to picture Phil Ivey's net worth in the $35 million to $50 million range, unless he is completely dominating the Macau game, in which case it could reach up to $60 to $70 million.